posted by Jamie on December 14, 2016
Overnight Toffee Cinnamon Rolls will make you even more happy it's Christmas morning. The make-ahead dough makes it possible!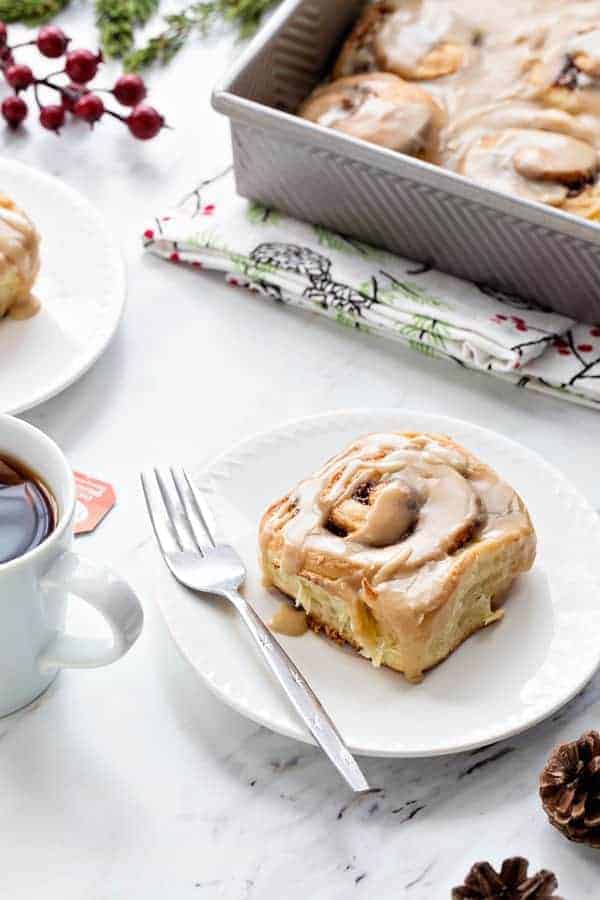 This is a sponsored post on behalf of Fleischmann's® Yeast.
The turkey leftovers are gone, pumpkin pie all but decimated, and now it's time to focus on winter, Christmas, and all things cozy, people.
I'm starting with what I plan to serve for breakfast on Christmas day. These OvernightToffee Cinnamon Rolls are it!
Having the only grandchild on my side of the family means Christmas morning is a little intense around here. Everyone wants to be here to watch Elle open her presents.
There's just something about watching a two-year-old rip into festive wrapping paper to make the season feel extra bright, you know?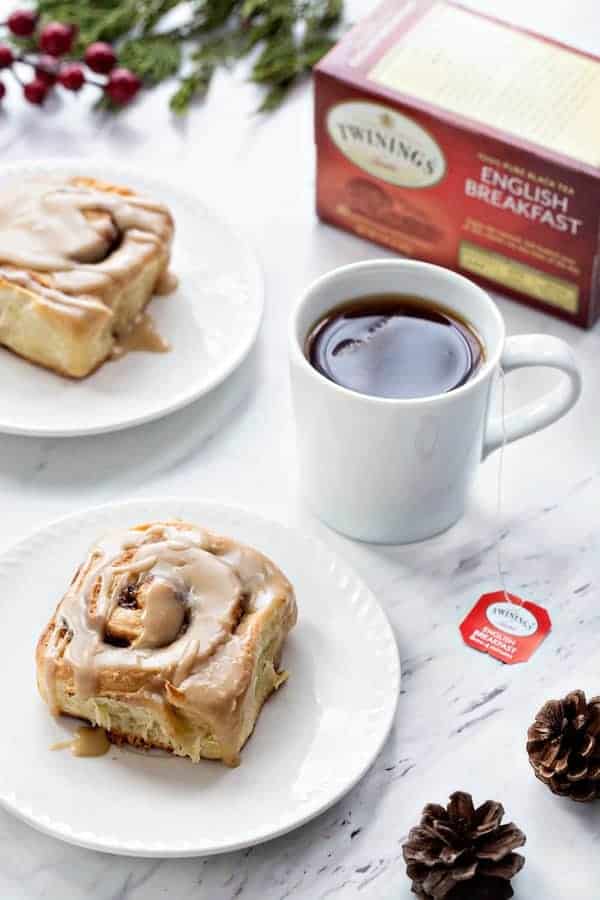 Since we'll have a crowd, and they'll be here super early, we always serve breakfast and I am definitely baking up a little extra to make sure the whole family gets a bite. And of course with copious amounts of coffee and hot tea. We might be on our second or third caffeinated beverage by 8 a.m., is what I'm saying.
I love to create a little coffee and hot tea bar on our kitchen counter next to the coffee maker and electric tea kettle. I stock it full of flavored creamers, sweeteners and some of my favorite tea bags like Twinings English Breakfast and Earl Gray. I find them to both be really well balanced in flavor and they pair perfectly with these Overnight Toffee Cinnamon Rolls.
These cinnamon rolls have a dough that can be made ahead, making them perfect for Christmas morning. All you'll have to do is pop them in the oven for proofing as people start walking in the door, and before the tea kettle starts ringing that the water is warm, they'll be ready for devouring.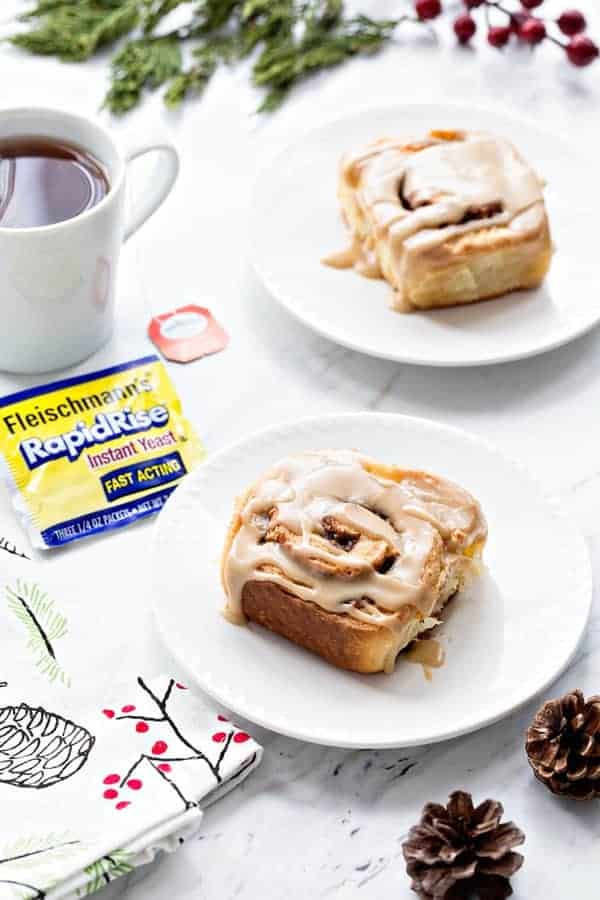 You can make the dough up to 2 days ahead of time. They'll still need about an hour of rising time before they go into the oven to bake, so stick them in your oven on the proof setting, or in a warm place as soon as you get up.
Thanks to using Fleischmann's® RapidRise™ Yeast, they only need that hour, and a single rise.
When they've doubled in size, (about an hour), bake them for half an hour. While your family helps clean up wrapping and tissue paper, you can retreat to the kitchen to whip up the caramel icing.
Totally justified, and acceptable, because caramel.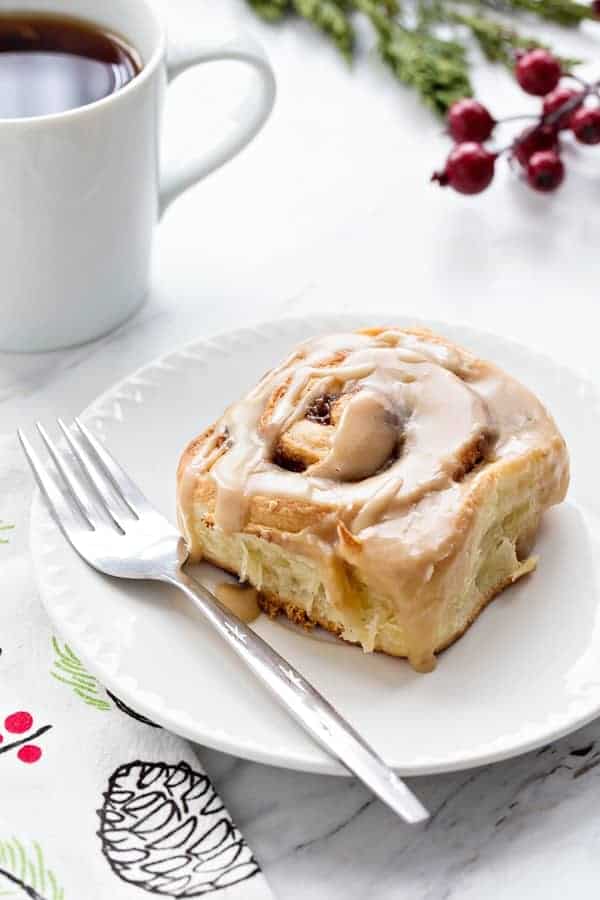 The original Overnight Toffee Cinnamon Rolls calls for less toffee in the filling and the addition of pecans, but I went a little crazy and added more toffee, and no pecans.
I love pecans, don't get me wrong, but all of mine got used in a homemade cheeseball (why are they so addicting?!), so I wanted to try focusing on the amazing taste of toffee.
I'm glad I did, because it allows the toffee to envelope your taste buds, and I just dare you not to want more than one of these rolls.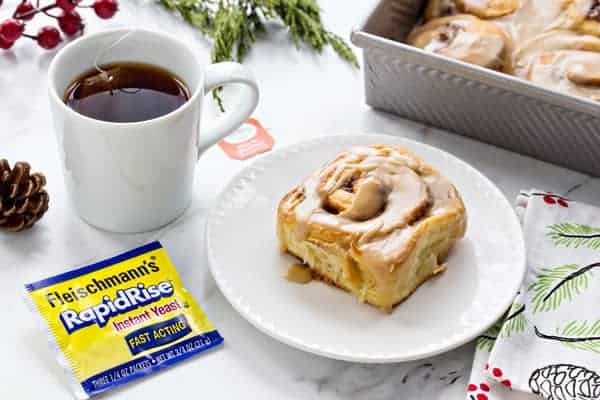 Be sure to bake a little extra because these Overnight Toffee Cinnamon Rolls are sure to disappear! Serve these rolls up alongside my Make-Ahead Breakfast Casserole and you're all set for a delectable Christmas morning!
For more delicious recipes using Fleischmann's® Yeast, be sure to check out these Blueberry Cream Cheese Kolaches and this Honey Walnut Nut Roll.
Overnight Toffee Cinnamon Rolls
Yield: 16 rolls
Prep Time: 50 minutes + rise time
Cook Time: 35 minutes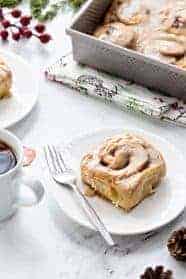 Ingredients:
3-1/3 cups all-purpose flour

1/4 cup sugar

1 teaspoon salt

1/2 cup unsalted butter, softened

1 envelope Fleischmann's® RapidRise™ Yeast

1 cup whipping cream

1/2 cup milk

3 egg yolks
FOR THE TOFFEE FILLING:
2 tablespoons unsalted butter, softened

1/4 cup brown sugar

1-1/2 teaspoons Spice Islands® Ground Saigon Cinnamon

1/2 cup toffee bits
FOR THE CARAMEL ICING:
1/4 cup unsalted butter

1/2 cup brown sugar

4 tablespoons milk

1-1/2 cups powdered sugar

1 teaspoon Spice Islands® Pure Vanilla Extract
Directions:
Combine flour, sugar and salt in a large bowl. Cut in butter with pastry blender or two forks until mixture resembles coarse crumbs. Stir in undissolved yeast.

Heat the cream and milk until very warm over stovetop or microwave (120° to 130°F). Add egg yolks, mixing well.

Add to flour mixture and stir just until dry ingredients are moistened. Spread light film of butter on dough to prevent drying. Cover bowl with plastic wrap and refrigerate overnight or up to 2 days.

Turn dough out onto a lightly floured surface and knead a few turns to shape into a ball. Roll the dough into a 12 x 16-inch rectangle. Spread with softened butter.

Combine brown sugar and cinnamon and sprinkle over butter, followed by the toffee chips. Roll up jellyroll style and pinch seams to seal. Cut roll into 15 equal slices. Arrange cut side up, in a greased 13 x 9-inch pan.

Let rolls rise in a warm place until nearly double, about 1 hour. Bake in preheated 350°F oven for 30 to 35 minutes or until light brown. If rolls are browning too quickly, cover lightly with a piece of foil for the last 5 to 10 minutes of baking.

Remove rolls from oven and let cool a few minutes before removing from pan. Cool 10 minutes and frost.

To make caramel icing, melt butter in small saucepan. Add brown sugar and cook, stirring constantly, until mixture just comes to a boil. Remove from heat; stir in milk. Add powdered sugar and vanilla, beating until smooth. Drizzle warm icing over rolls.
Notes:
TIPS:
Use the residue of butter on the butter wrapper to coat top of dough.

If the caramel glaze is a bit too thick to drizzle, add in a little more milk, one teaspoon at a time until you reach the desired consistency.


Link to the original: Source link