Updated January 24, 2017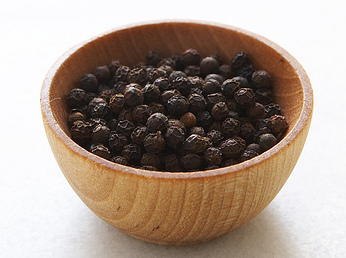 You pick it, friend—whatever cut you want to use. Most restaurants opt for sirloin (at Les Halles we use the relatively obscure pavé), but because of the flavorful sauce it's perfectly appropriate to use filet mignon for this one. Filet, while tender as all get-out, lacks somewhat in the flavor arena. A healthy wallop of crunchy black peppercorns more than compensates.
Serves4

OccasionCasual Dinner Party, Cooking for a date, Family Get-together
Dietary ConsiderationEgg-free, Gluten-free, Low Carb, Peanut Free, Soy Free
Taste and TextureButtery, Hot & Spicy, Juicy, Meaty, Rich, Savory, Sharp
Ingredients
4 8-ounce (225-g)

steaks

2 ounces (56 ml)

olive oil

2 ounces (56 g) freshly cracked

peppercorns

(meaning crushed but not ground to powder!)
4 ounces (112 g)

butter

1 ounce (28 ml) good

Cognac

4 ounces (110 ml) strong, dark

veal stock

(right now, you really could use a tiny bit of that demi-glace I told you to keep in your freezer)

Salt

and pepper
Instructions
Cook the Steaks: Preheat the oven to 425°F (220°C). Moisten the meat very slightly with oil, then dredge each of the steaks in the crushed peppercorns to thoroughly coat. Don't be shy with the pepper. Heat the remaining oil in the skillet over high heat. Once the oil is hot, add 2 ounces (56 g) of the butter. Place the steaks in the pan and brown on all sides, about 5 minutes per side. Transfer the pan to the oven and cook to desired doneness, about 5 to 7 minutes for rare, 10 minutes for medium rare, and so on. Remove the pan from the oven and remove the steaks from the pan to rest. Have I told you yet to always rest your meat after cooking? I've told you now.

The Sauce: Return the skillet to the stovetop and carefully stir in the Cognac. As much fun as it is to create a column of flame as you add flammable material to an incredibly hot pan, it's not really desirable or necessary—especially in a home kitchen. Unless you're a pyromaniac, I recommend carefully adding the Cognac to the still-hot pan off the flame, stirring and scraping with the wooden spoon to get every scrap, every peppercorn, every rumor of flavor clinging to the bottom of the pan. Now place the pan on the flame again and cook it down a bit, by about half. Stir in the veal stock (and demi-glace) and reduce over medium heat until thick enough to coat the back of the spoon. Whisk in the remaining butter and season with salt and pepper. Serve immediately with French fries or sautéed potatoes.
Variation
Incredible as it seems, this dish used to be a tableside standard at many restaurants, meaning waiters would prepare the dish in the dining room over Sterno, usually with great panache—and to inadvertent comic effect. My friend Jack used to order it just so everybody else in the dining room would go home smelling like his dinner. Often, waiters would sneak in a touch of heavy cream, ensuring a richer, easier, faster thickening of the sauce. As well, they'd sometimes offer the variation of a steak Diane, which was essentially the same dish but with a spoon of Dijon mustard and a touch of cream whisked into the final sauce.
A Note on Searing
With any recipe that calls for searing meat and then using the pan to make a sauce, be careful to avoid blackening the pan; your sauce will taste burnt. Adjust the heat to, say, medium high, so it will still sear the meat but not scorch the pan juices. But stoves and pans vary, so pay attention.
2004 Anthony Bourdain
YOUR RECENTLY VIEWED RECIPES
We are adding your Comments.

Thank you! Your comment has been added.
We are sorry. There was an error tyring to post your rating and review.


Link to the original: Source link