Lemon Broccoli Tortellini-Cheese tortellini with roasted broccoli, spinach, lemon, and parmesan cheese. This easy pasta dish is a favorite weeknight dinner.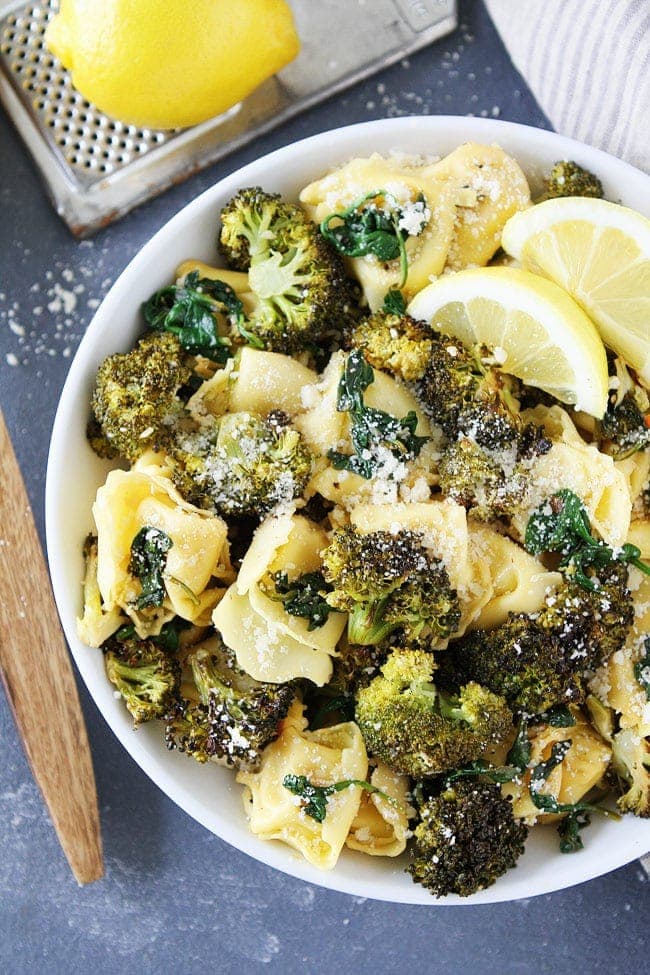 How do you get your kids to eat broccoli? You make them Lemon Broccoli Tortellini. It's that simple.
Our boys go back and forth when it comes to broccoli and I never know what nights will be a broccoli win. I do know that when I serve them Lemon Broccoli Tortellini there is never a complaint and they clean their plates. This recipe is magic, at least I consider it magic, mom magic. Any night our boys eat their vegetables, clean their plate, and don't complain is a magical night and a huge mom win!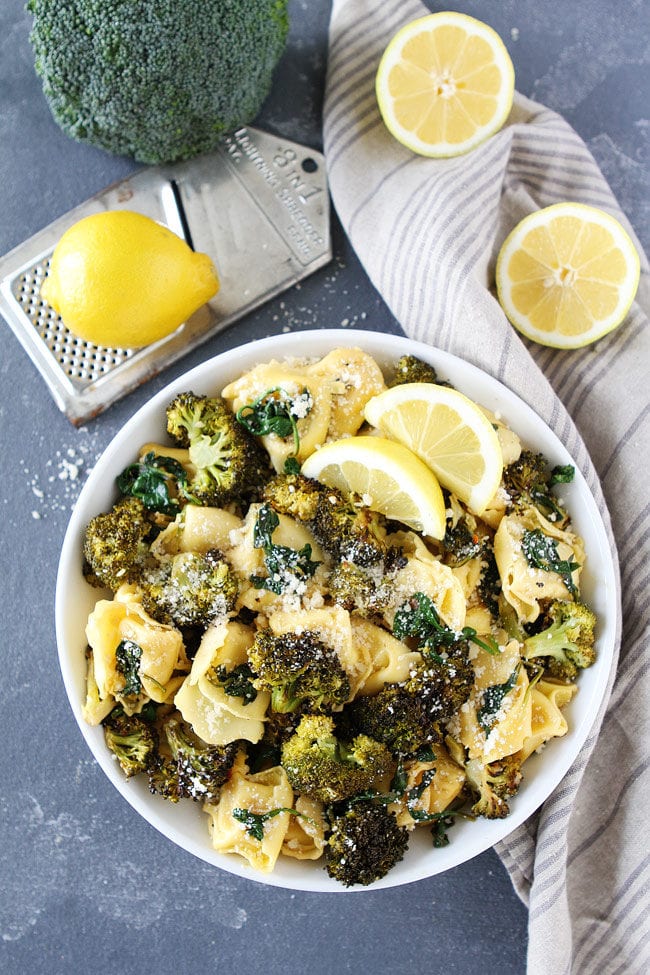 For this recipe, I roast the broccoli which brings out the BEST flavor. Roasted broccoli is my all-time favorite vegetable. If you haven't tried roasted broccoli you are really missing out, but don't worry, you won't be missing out for long because you are going to make this recipe and fall sooooo in love!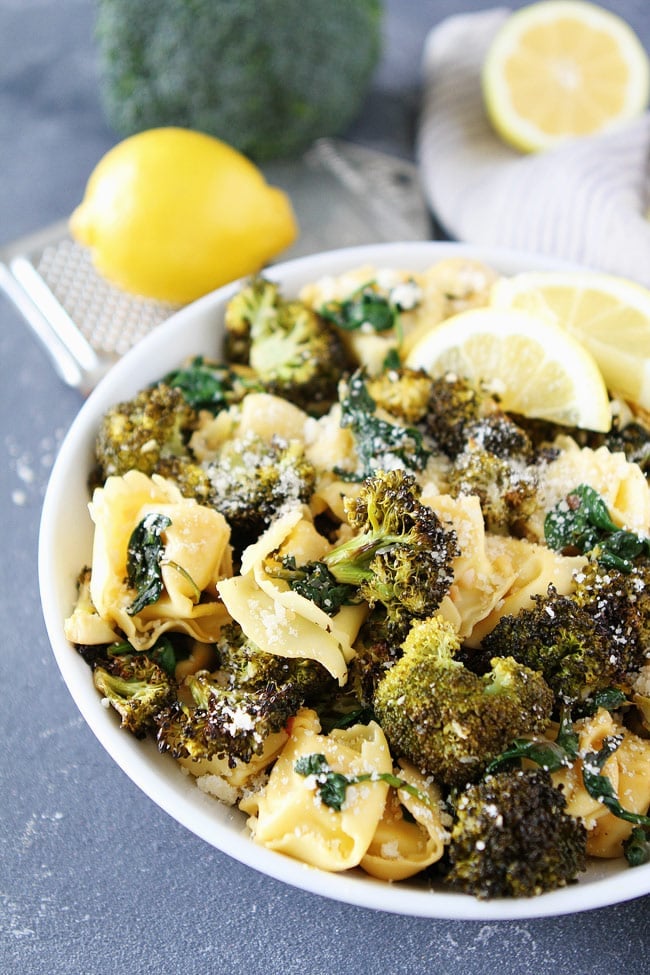 The roasted lemon broccoli gets tossed into buttery, garlicky cheese tortellini. I also add in some spinach because the boys never notice and two green vegetables in one dinner is a major victory!
The broccoli and tortellini are bursting with a nice and light lemon flavor. To finish off the dish, I sprinkle freshly grated Parmesan cheese over the top. This easy Lemon Broccoli Tortellini is a dinner winner at our house and I think you will like it too. I serve it as a main dish, usually with fruit on the side. You could also serve this pasta dish as a side with chicken, fish, or steak. Enjoy!
If you like this Lemon Broccoli Tortellini, you might also like: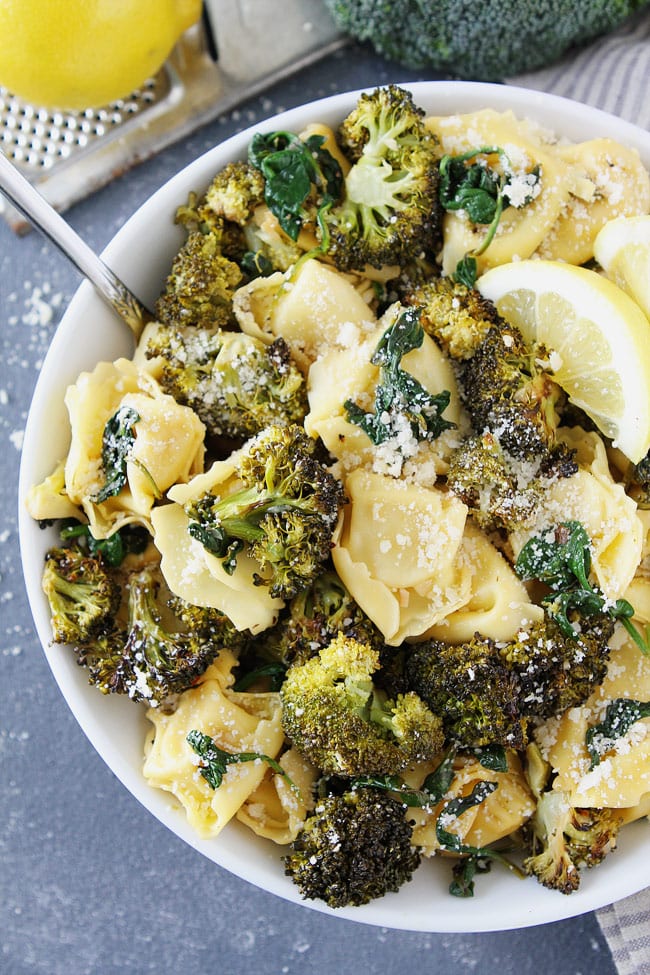 Lemon Broccoli Tortellini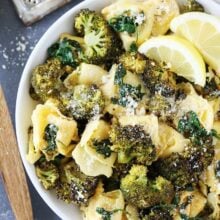 This easy and cheesy pasta dish is bursting with lemon and roasted broccoli. It is great served as a side dish or main dish.
Yield: Serves 6-8
Prep Time: 10 minutes
Cook Time: 35 minutes
Total Time: 45 minutes
Ingredients:
For the Roasted Broccoli:
1 1/2 pounds broccoli, cut into bite size pieces
1 tablespoon olive oil
1 tablespoon fresh lemon juice
2 cloves garlic, chopped
Salt and black pepper, to taste
For the Tortellini:
1 pound cheese tortellini (refrigerated or frozen)
3 tablespoons unsalted butter
1 tablespoon minced shallot
2 cloves garlic, minced
Dash of crushed red pepper
3 cups packed fresh spinach
Zest of 1 large lemon
Juice of 1 large lemon
1/2 cup freshly grated Parmesan cheese
Salt and black pepper, to taste
Directions:
Preheat the oven to 400 degrees F. Place the broccoli pieces on a large baking sheet. Drizzle with olive oil and lemon juice. Add the garlic and toss broccoli until well coated. Season with salt and pepper, to taste. Place baking sheet in the oven and roast for 20-25 minutes, stirring once. Remove broccoli when it is crisp and slightly charred. Set aside.
Meanwhile, bring a large pot of salted water to a boil. Cook tortellini according to package instructions. When cooked, drain, but reserve 1/2 cup of the pasta water. Set the water and tortellini aside.
Put the pot back on the stove and melt the butter over medium heat. Add the shallot, garlic, crushed red pepper, and spinach and cook until spinach is wilted, about 3 minutes. Add the lemon zest and stir.
Turn the heat to low and add the cooked tortellini and roasted broccoli to the pot. Stir in the reserved pasta water and lemon juice. Cook on low until tortellini is warm, about two minutes. Sprinkle Parmesan cheese over the tortellini and season with salt and pepper, to taste. Serve warm.
Note-the tortellini will keep in the refrigerator for up to 3 days. After reheating, drizzle a little olive oil and fresh lemon juice over the top and toss to freshen it up. You can also garnish it with additional Parmesan cheese.
Follow twopeasandpod on Instagram and show us what recipes you are making from our blog! Use the hashtag #twopeasandtheirpod! We want to see what you are making in your kitchen!


Link to the original: Source link