I'm going to revisit one of my favorite cookie recipes today. Made using 100% whole wheat flour and hand-chopped chocolate chips, this is a skillet-baked twist on Kim Boyce's celebrated chocolate chip cookies. It's also a fantastic recipe to make with kids. We had a house guest this weekend, and this was the recipe he wanted to make. Instead of shaping individual cookies, you spread cookie dough across an oven-proof pan or skillet, and bake it. You can cut the finished cookies into wedges or squares, or whatever shape you like. You can also bake individual versions in tiny skillets or these tiny cast-iron Staubs. Served warm with a little dollop of vanilla ice cream – you get the idea. They're fun, fast, and couldn't be simpler. You can see how it all comes together, and meet my favorite kitchen helper, in the video below 😉 Enjoy!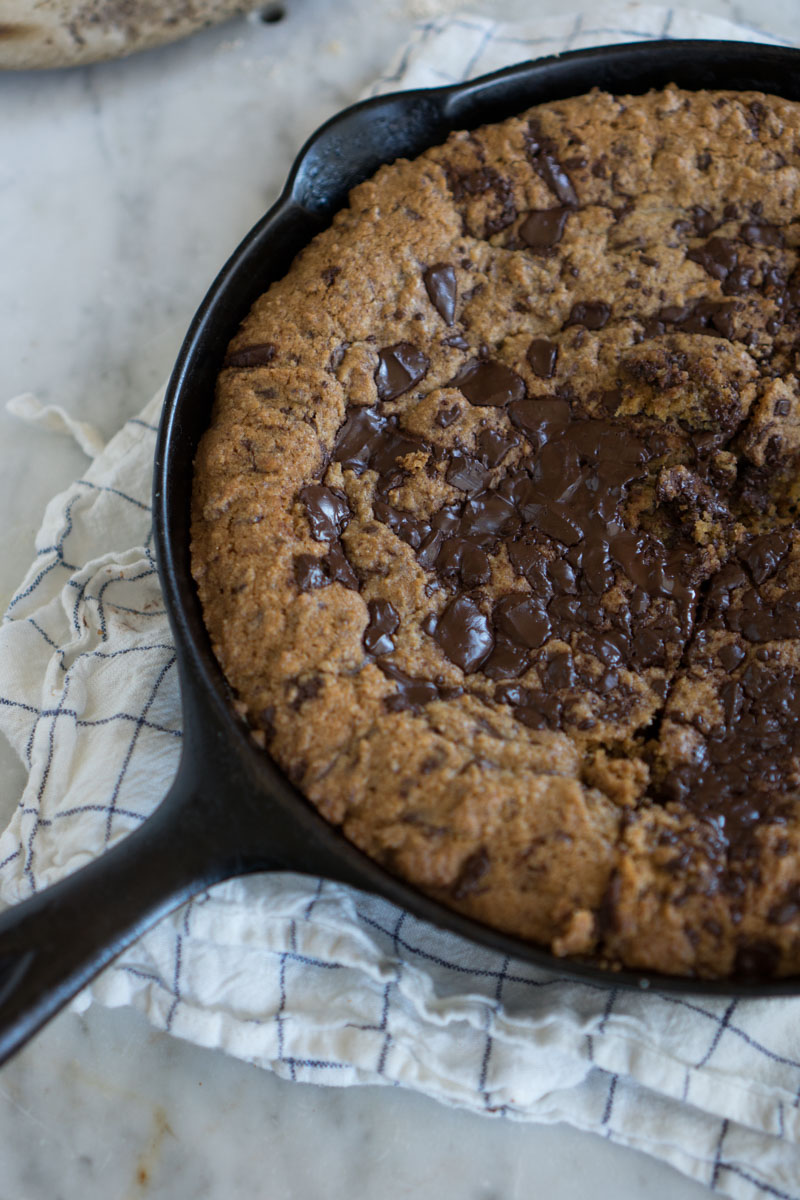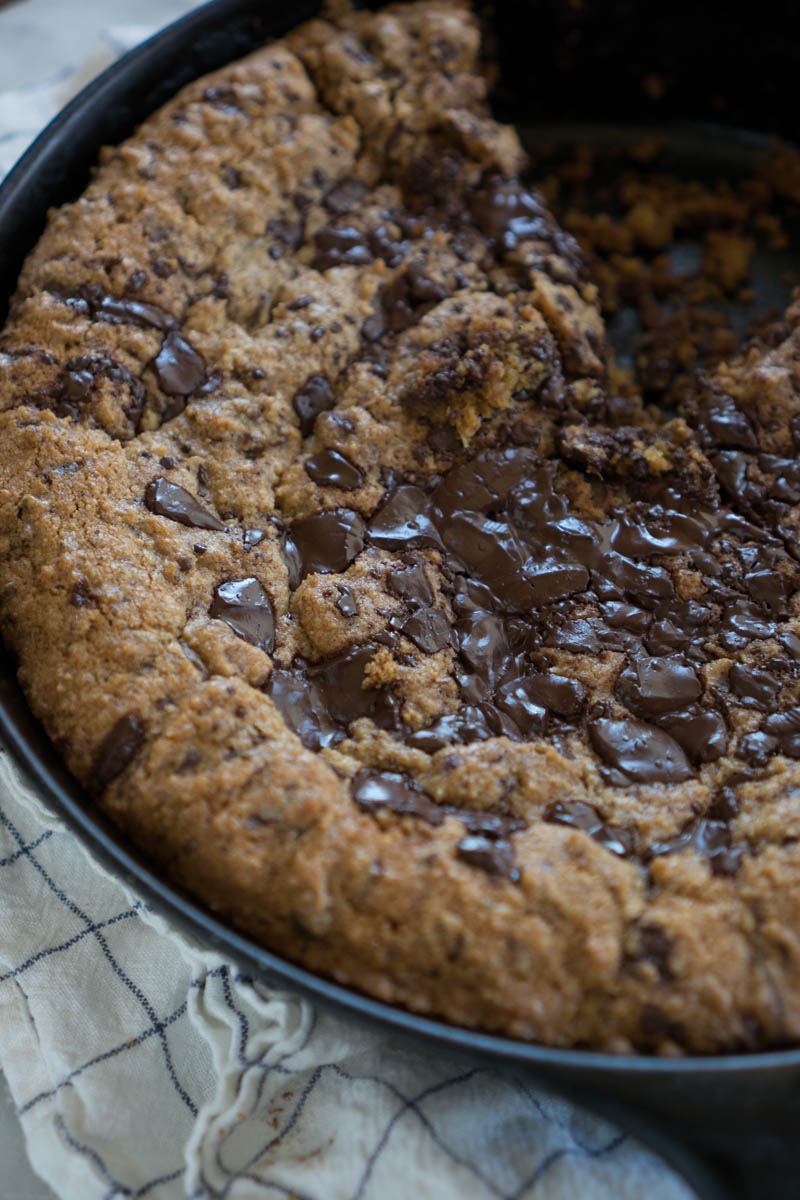 You can make these using a stand mixer or mix them by hand (as shown in the video).
3 cups / 13.5 oz / 380 g whole-wheat flour
1 1/2 teaspoon baking powder
1 teaspoon baking soda
1 1/4 teaspoon fine grain sea salt

8 ounces / 225 g (2 sticks) room temperature unsalted butter, plus more for buttering the pan

1 cup / 5 oz / 140 g dark brown sugar
1 cup / 7 oz / 200 g natural cane sugar
2 large eggs
2 teaspoons pure vanilla extract

8 ounces / 225 g bittersweet chocolate, roughly chopped into 1/4- and 1/2-inch pieces
Preheat the oven to 350°F / 175°C degree oven, with a rack in the middle. Butter a 10 (25cm) or 11-inch (28cm) ovenproof skillet, one that is at least 2-inches (5 cm) deep. If you're unsure, measure, because if you use a too small skillet, you'll have a messy overflow.
Sift the dry ingredients into a large bowl.
In another large bowl, or in the bowl of a stand mixer fitted with the paddle attachment, add the butter and the sugars. Mix just until the butter and sugars are blended, about 2 minutes using the mixer on low speed. Use a spatula to scrape down the sides of the bowl along the way. Add the eggs one at a time, mixing until each is combined. Mix in the vanilla. Add the flour mixture to the bowl and blend on low speed until the flour is barely combined, about 30 seconds. Scrape down the sides and bottom of the bowl.
Add most of the chocolate to the batter. Mix just until the chocolate is evenly incorporated. Use a spatula to scrape down the sides and bottom of the bowl, then scrape the batter out into the skillet, pressing it out into an even layer. Sprinkle any remaining chocolate across the top, and casually press it into the dough a bit, just enough that it isn't riding directly on top of the dough.
Bake the cookies for 35-45 minutes, or until until the dough is a deep golden brown along the edge, and the center has set. Remove from oven and let cool a bit before slicing into. Cute into wedges or small squares.
Makes one large skillet cookie, which you can cut into as many cookies as you like.
Inspired by the Chocolate Chip Cookies in Good to the Grain by Kim Boyce (Stewart, Tabori and Chang, 2010)
Prep time: 10 min –
Cook time: 40 min
Print Recipe


Link to the original: Source link