Updated May 18, 2017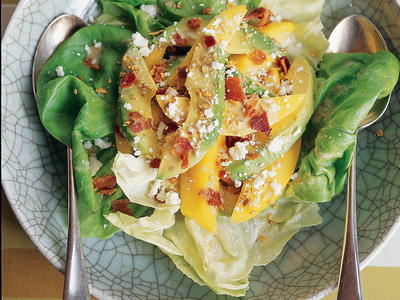 Editor's Note: Here's a recipe that looks like it's super complicated, but it's actually easy to make. In this recipe for Avocado-Mango Salad with Fresh (or Blue) Cheese, Bacon, and Toasted Pumpkin Seeds, you'll use an assortment of flavors that will result in a salad that's miles ahead of a pre-made salad you can purchase at a grocery store. You'll love serving this delicious salad for an elegant lunch with your friends or as part of a quick dinner at home. This recipe includes several twists and variations, too, so you can go ahead and get creative when making this easy salad recipe. Just check out the suggestions below the recipe's instructions to get started.
From the Mexican perspective, both buttery avocado and tropical mango derive beautiful benefits from chile, salt and lime, all three of which form a foundation for this salad's dressing, along with sautéed garlic's savory aroma and honey's mellowness. Add the crunch of toasted pumpkin seeds, the tenderness of Boston lettuce and the savory saltiness of crisp bacon and fresh Mexican cheese, and you have a compelling dish. It's the least substantial of my main-course salads – perfect for hot-weather appetites. Also, feel free to scale down the size of the portions so you can use the delicia as the first course for a special dinner. Or serve the large portions with grilled chicken breasts for a more robust meal.
Serves4
OccasionCasual Dinner Party
Recipe CourseAppetizer, Main Course, Side Dish
Taste and TextureCheesy, Crisp, Crunchy, Fruity, Garlicky, Smoky, Tangy
Type of DishMain Course Salad, Salad
Ingredients
4 slices

bacon

½ cup hulled untoasted

pumpkin seeds

1/3 cup fresh

lime juice

1/3 cup

vegetable oil

or olive oil
2

garlic

cloves, peeled
Fresh hot green chile or taste (I like a large Serrano or a small

jalapeno

), stemmed (optional)
1 tablespoon

honey

Salt

1 large head Boston/butterhead lettuce (or an equivalent amount of

Bibb lettuce

), leaves separated
2 large ripe

avocados

2 ripe

mangoes

A generous ¾ cup coarsely crumbled Mexican

queso fresco

or mild blue cheese (Gorgonzola is great)
Instructions
Arrange the bacon slices between a double layer of paper towels on a microwaveable plate. Microwave on high (100%) for 2 ½ to 3 ½ minutes, until crispy.

Pour the pumpkin seeds into a small skillet and set over medium heat. Once the first one pops, stir constantly until all have popped from flat to round, about 5 minutes. Scoop about one-third of the seeds into a blender jar and add the lime juice. Pour the remainder into a small dish.

Return the skilled to medium heat and measure in the oil. Add the garlic and optional chile. Cook, stirring regularly, until the garlic is soft and lightly browned, about 5 minutes. Scrape the oil, garlic, and optional chile into the blender. Add the honey and ½ teaspoon salt. Process until smooth. Taste and season with more salt if you think necessary. (It should be highly seasoned.)

Divide the lettuce among four dinner plates. Pit the avocados, scoop the flesh from the skin and cut it into slices. Peel the mangoes, then cut the flesh from the pits. Slice to match the avocado pieces. Arrange the avocados and mangoes in the center of the lettuce. Drizzle the dressing over everything, then sprinkle with the cheese and the reserved toasted pumpkin seeds. Crumble the bacon and strew it over the top, and the salad is ready.
A Few Simple Riffs
* The bacon can be replaced with flaked hot-smoked salmon, eel, trout, or other smoked fish.
* To make the salad vegetarian, leave out the bacon or replace it with pan-grilled onion slices.
* The pumpkin seeds can be replaced with pine nuts (they toast – and burn – much faster than pumpkin seeds).
* The luscious texture of mango works well with avocado, but so would ripe peaches or nectarines.
* The green chile could be replaced by ground hot red chile (like arbol) – sprinkle it over the salad rather than blending it with the dressing.
* Crumbled goat cheese is another good stand-in for the queso fresco.
Over-the-Top Crab-Avocado-Mango Salad
Sprinkle a generous portion of crabmeat over the avocado and mango before drizzling with the dressing.
2009 Rick Bayless
YOUR RECENTLY VIEWED RECIPES
We are adding your Comments.

Thank you! Your comment has been added.
We are sorry. There was an error tyring to post your rating and review.
Your comment will appear after our editors have had a chance to review it.


Link to the original: Source link