This DUTCH OVEN LASAGNA will blow your mind! You'll never make traditional lasagna again after making this easy stove-top version. We are addicted to this recipe!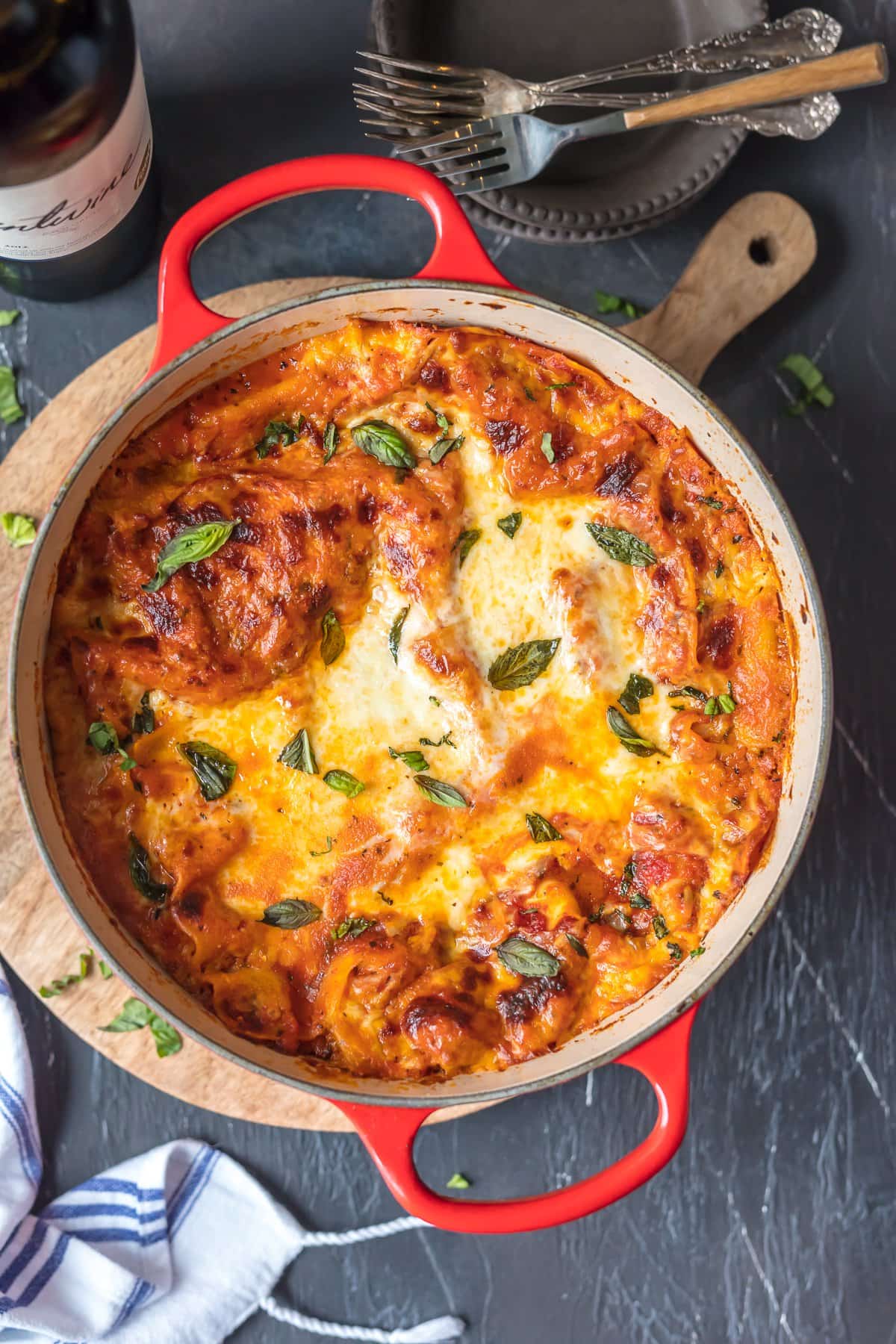 TIME FOR COMFORT FOOD! And the ultimate comfort food at that. Oh and EASY comfort food made in a DUTCH OVEN!? One pot meal…one pot cleanup…all the flavor?? Sign me up. If you need me I'll be chowing down on this Easy Dutch Oven Lasagna all dang day with only one dish to do because that's how I roll. Or at least that's how I roll today. This recipe is so delicious and so simple. You can feel like you're eating at the best restaurant while in the comfort of your own home. I love that feeling.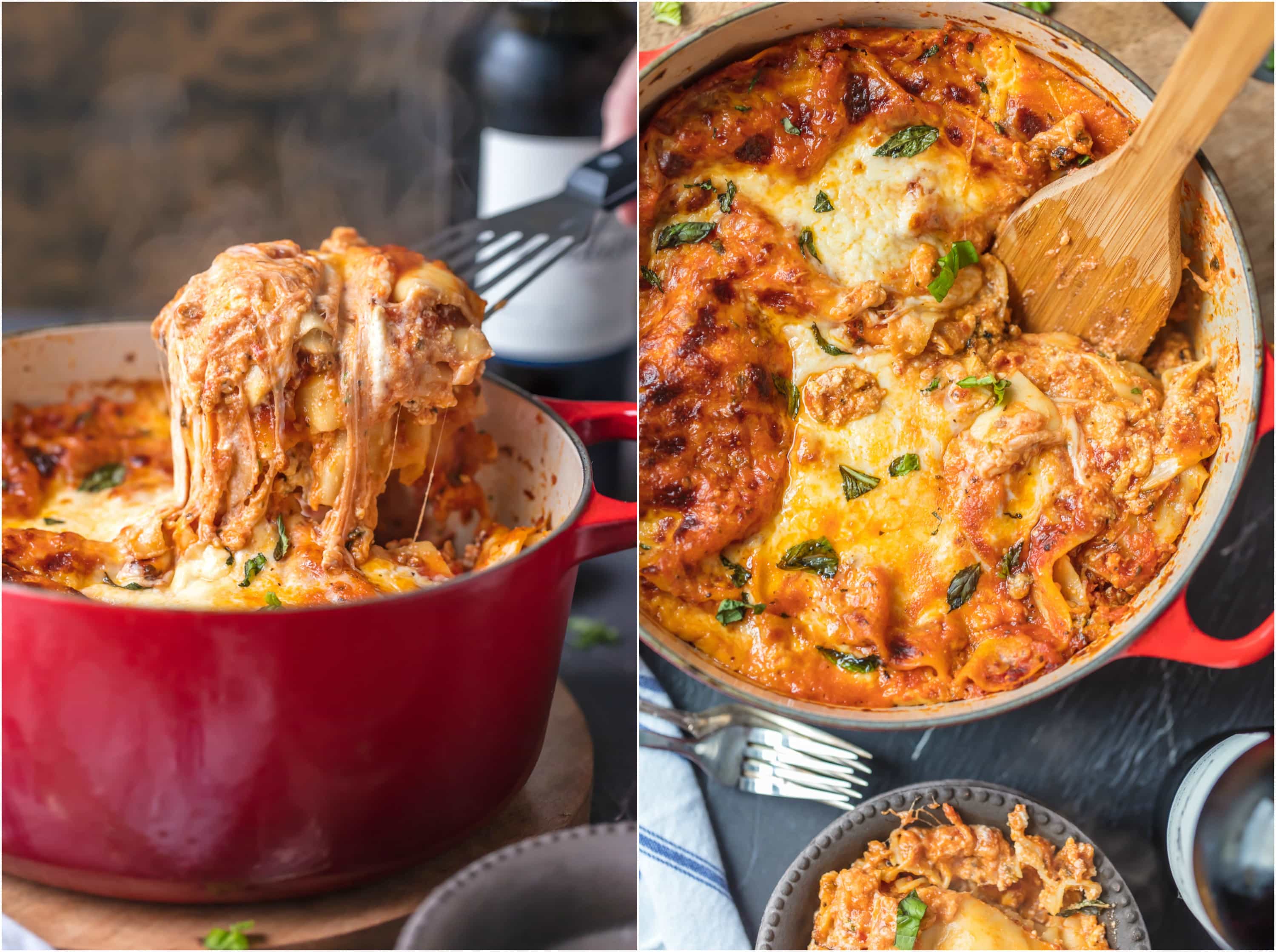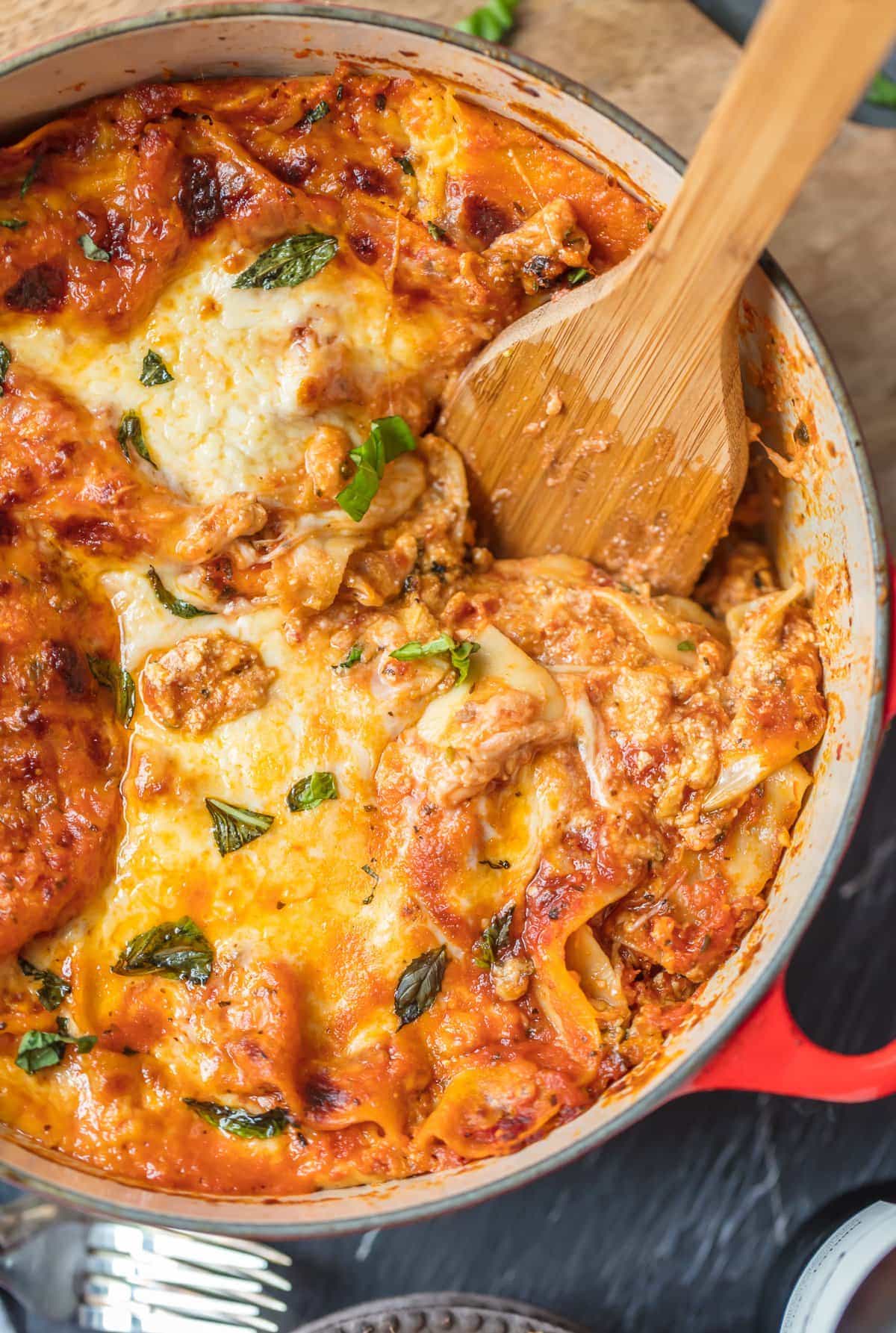 I mean, do you SEE all that cheese? You guys know I have an addiction. I'm so glad I can be honest and share that with you all. I'm totally trying to be on Weight Watchers after this baby, but this lasagna is all I can think about. And I'm breastfeeding…so I mean doesn't that mean I can have some extra calories?! Let's just go with that, shall we?? I'm fine with it.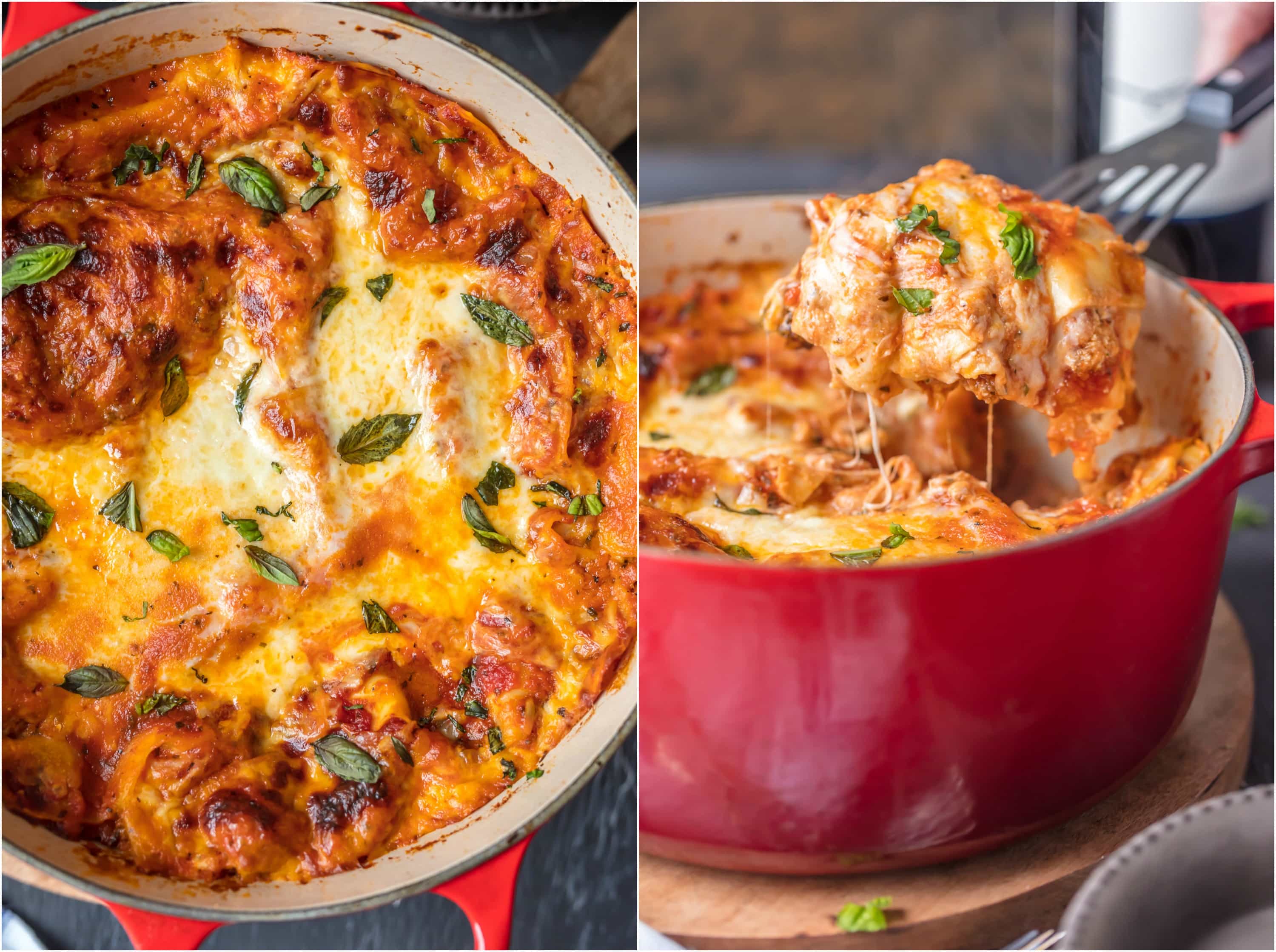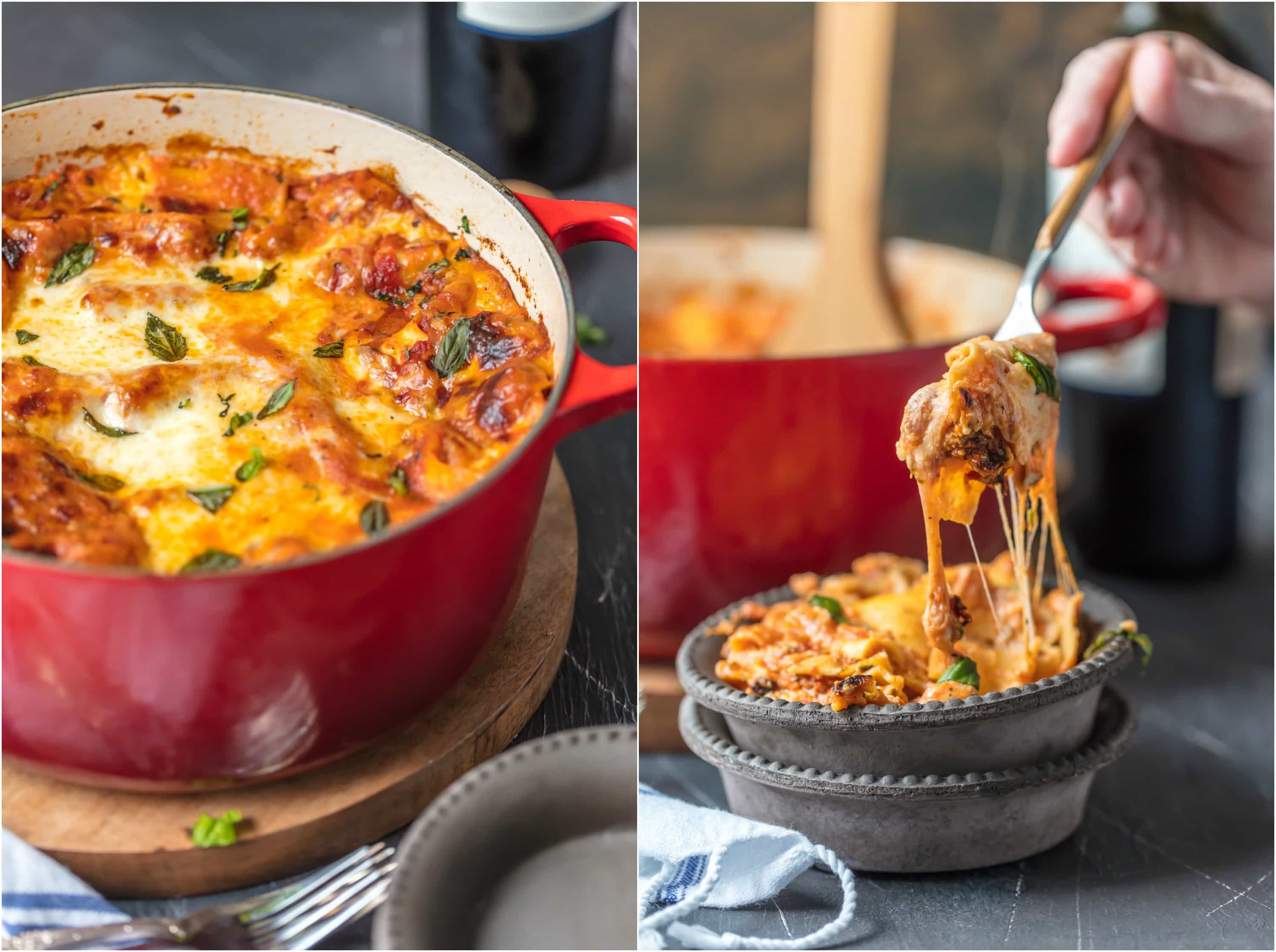 I cannot wait for you guys to try this Dutch Oven Lasagna and let me know how you like it. I have a feeling you're going to love it and make it part of the rotation around your table. One pot meals are always the best for the busy week nights when doing dishes is the absolute last thing you want to be stuck doing. Or on weekends when fun is calling. Nothing better than noodles, tomatoes, cheese, and basil. It's just that simple.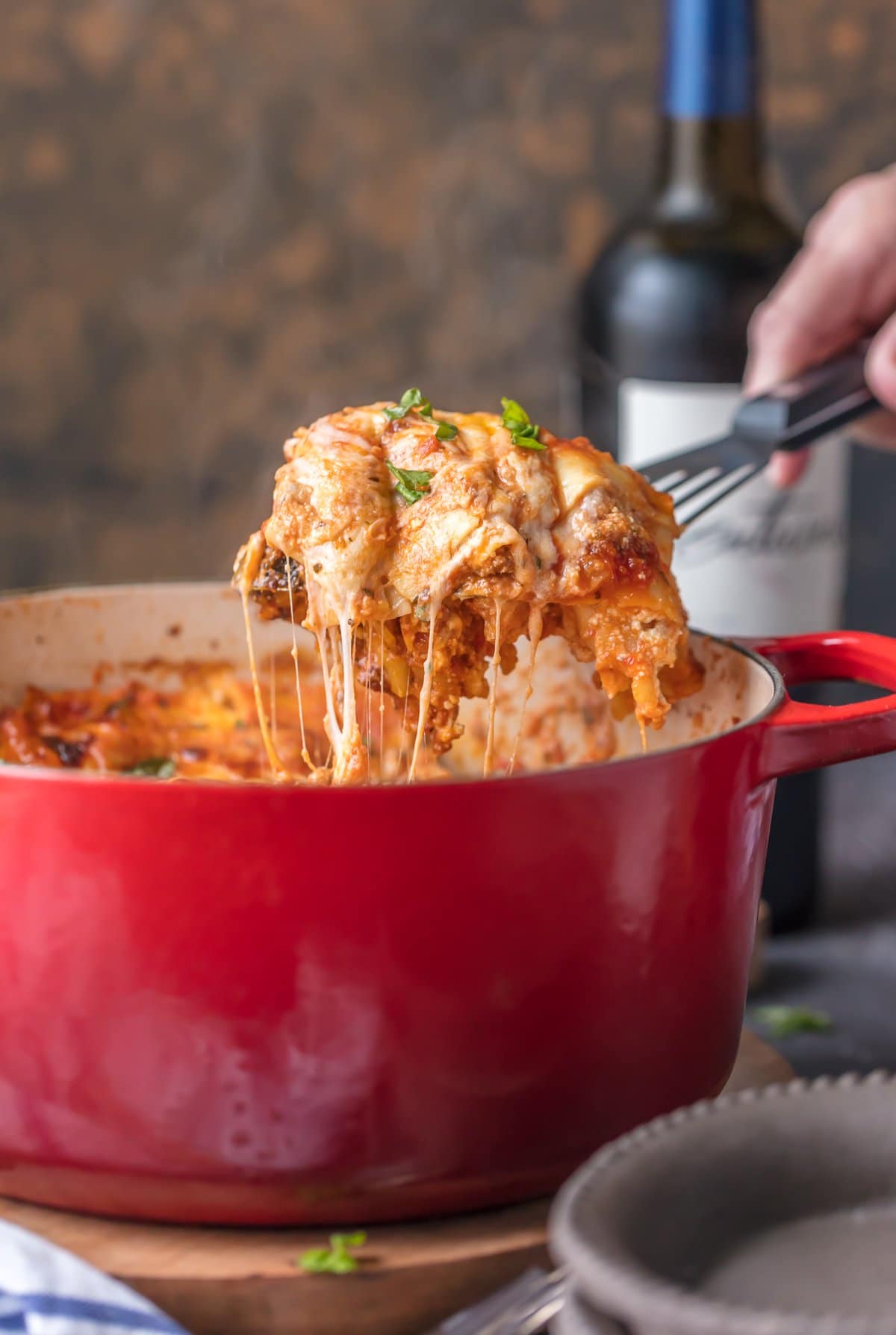 Don't let the fact that it's Summer deter you from making this comfort food. There's always time for lasagna, no matter the temperature. Or at least there is at our house!
Enjoy 🙂
Ingredients
9 oz. package no-boil lasagna noodles
1 egg lightly beaten
1 (15 oz) carton ricotta cheese or cottage cheese
1 tablespoon fresh minced parsley
1 lb. ground chuck
1 lb. ground Italian sausage
1 medium yellow onion, diced
3 cloves garlic, minced
½ cup dry or semi-dry red wine (can replace with water or chicken broth)
1/8 teaspoon (2-3 dashes) red pepper flakes
32-48 oz. marinara sauce, your favorite
2 cups shredded mozzarella cheese or slices of fresh mozzarella
½ cup grated Parmesan
fresh basil, rough chopped
Instructions
In a small bowl, beat together the egg, ricotta and parsley. Set aside.
In the Dutch oven, over medium-high heat, brown the beef and sausage. Drain the meat reserving 2 tablespoons fat (add 2 tablespoons olive oil, if there isn't enough reserved fat). Transfer the drained meat to a large, heatproof bowl and set aside.
In the same pot, sauté the diced onion until it becomes translucent. Add the minced garlic and cook for an additional 30 seconds. Add red wine, red pepper flakes and the marinara sauce and cook an additional 5 minutes. Transfer the marinara mixture to the bowl with the meat and mix to combine.
With the Dutch oven over low-medium heat, ladle 2 cups of the marinara meat mixture into the bottom of the pot and cover the sauce with a layer of lasagna noodles (breaking the noodles to fit). Then, ladle the noodles with a layer of the marinara meat mixture.
Place spoonfuls of the ricotta/egg mixture over the marinara mixture and then add some mozzarella and grated Parmesan. Repeat the layers three more times (except there will be only three layers with the ricotta mixture).
The lasagna should be layered like this from the bottom layer to the top layer:
Marinara meat sauce, noodles, marinara meat sauce, ricotta mixture, mozzarella, Parmesan, noodles, marinara, ricotta, mozzarella, Parmesan, noodles, marinara, ricotta, mozzarella, noodles, marinara, mozzarella and finish with Parmesan.
Turn the heat to low and cook, covered, 25-35 minutes or until the noodles are cooked through, and the lasagna is hot & bubbly. When the lasagna is cooked through and noodles have softened, it can be placed under the broiler for a few minutes to brown the cheese.
After removing the lasagna from the heat, garnish it with fresh basil and let it rest 10-15 minutes before serving.
Enjoy!
7.6.2
2407

JOIN OUR MAILING LIST
TO GET COOKING!
Subscibe to recieve all the latest, greatest, and EASIEST recipes sent straight to your email inbox. If we post something yummy, you'll be the first to know.


Link to the original: Source link