These ICEBOX DINNER ROLLS are the perfect easy homemade bread for every occasion, especially Thanksgiving and Christmas! Impress your holiday guests with these delicious and soft rolls.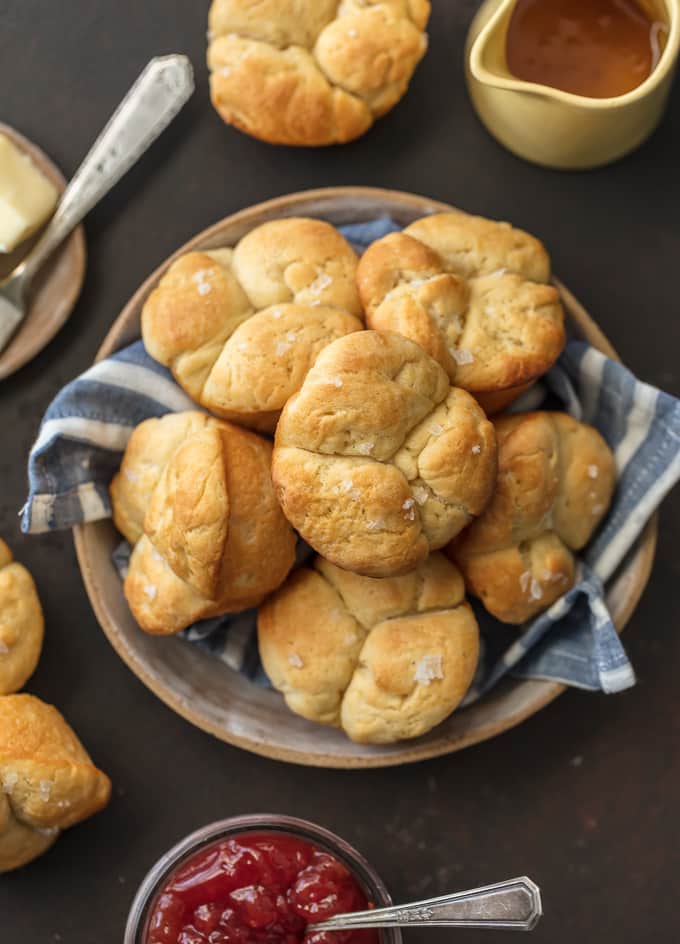 WHOOOOHOOO! We made bread! Easy simple delicious ICEBOX DINNER ROLLS just begging to be made for Thanksgiving and Christmas. You don't have time to be slaving away on breads in the kitchen during the holidays, so these Icebox Dinner Rolls are perfect. The dough for these rolls can be made the day before and then popped in the oven whenever you're ready, making them super convenient for the busy holiday season. They're fluffy, pretty, and begging to be doused in butter and jam. Yay!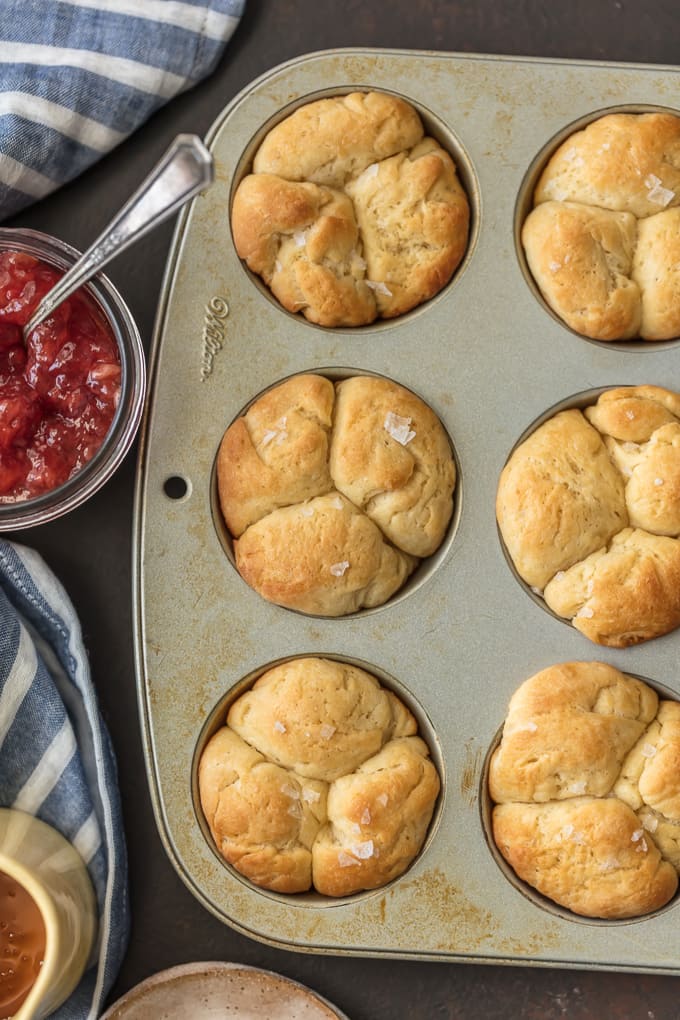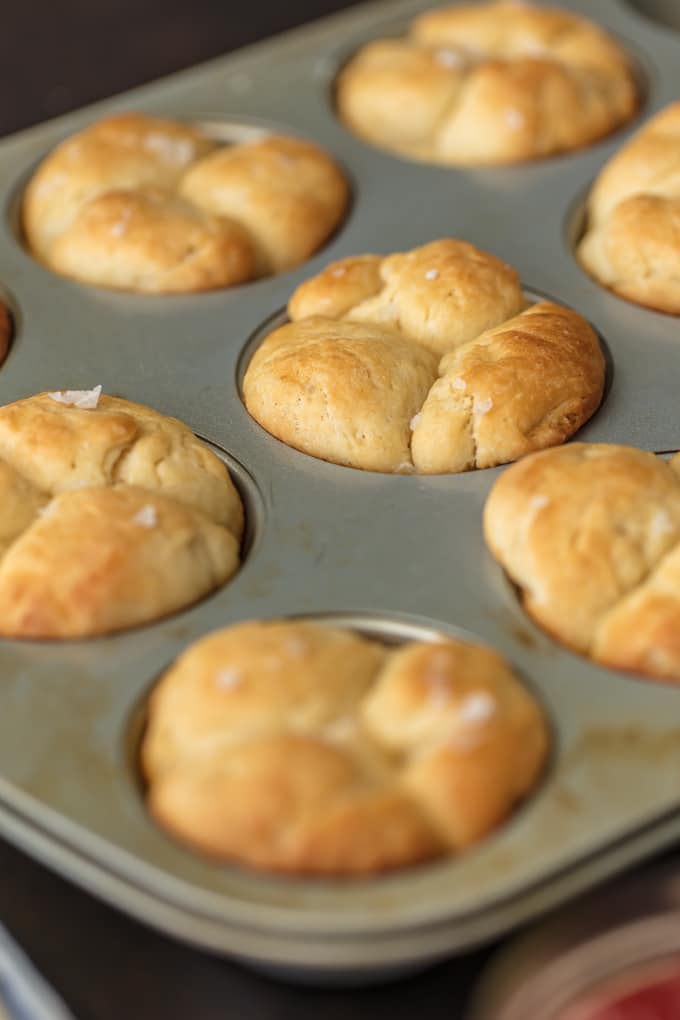 I feel like no other recipes make you feel as accomplished as a great bread recipe. I was always too nervous to make breads before and didn't even register for a bread maker at my wedding because NO, way too hard for me. Well these Icebox Dinner Rolls are so easy anyone can make them, and you can impress your guests with homemade rolls! Yum yum!! Pillsbury has nothing on you!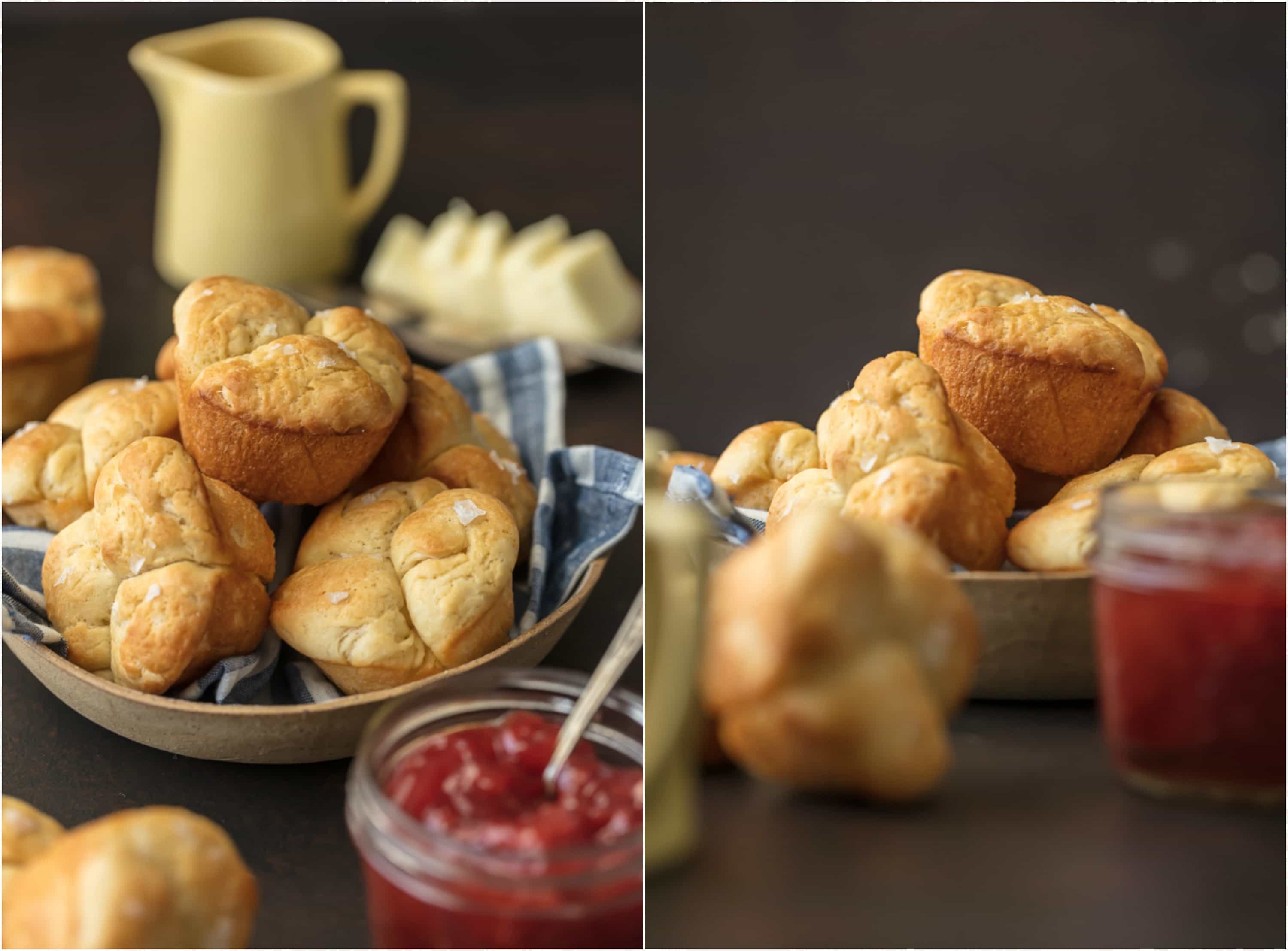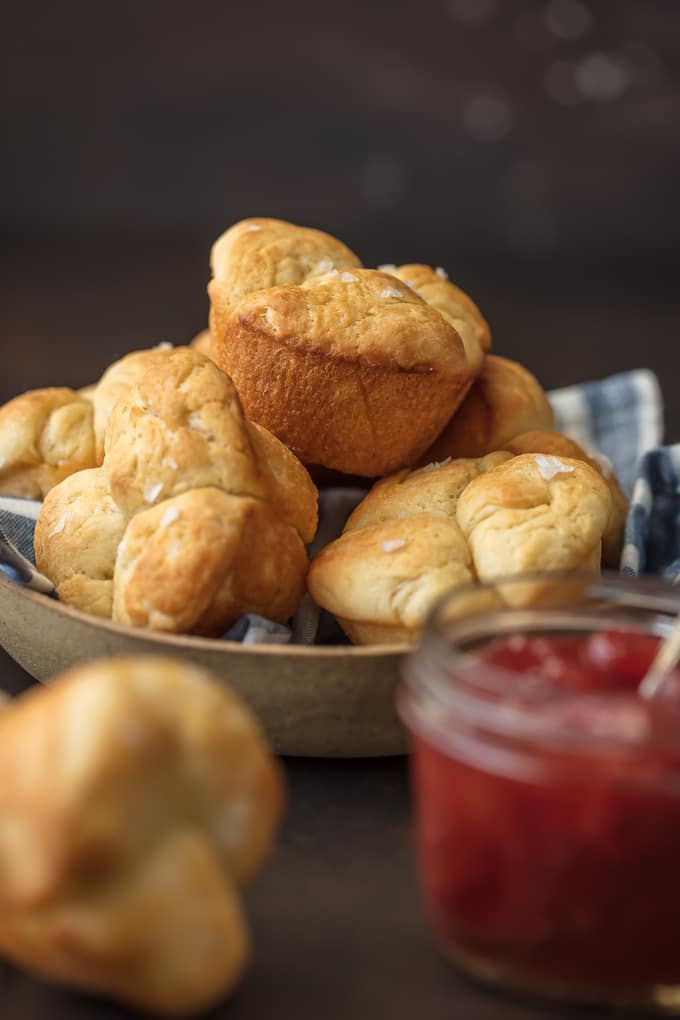 Aren't they so pretty?? Can you tell we are proud? This makes our third side dish bread recipe and any of them will be big hits. Cornbread Drop Biscuits, Garlic Butter Hawaiian Rolls, and now Icebox Dinner Rolls. Three simple and AMAZING bread recipes to knock the socks off your guests this Thanksgiving.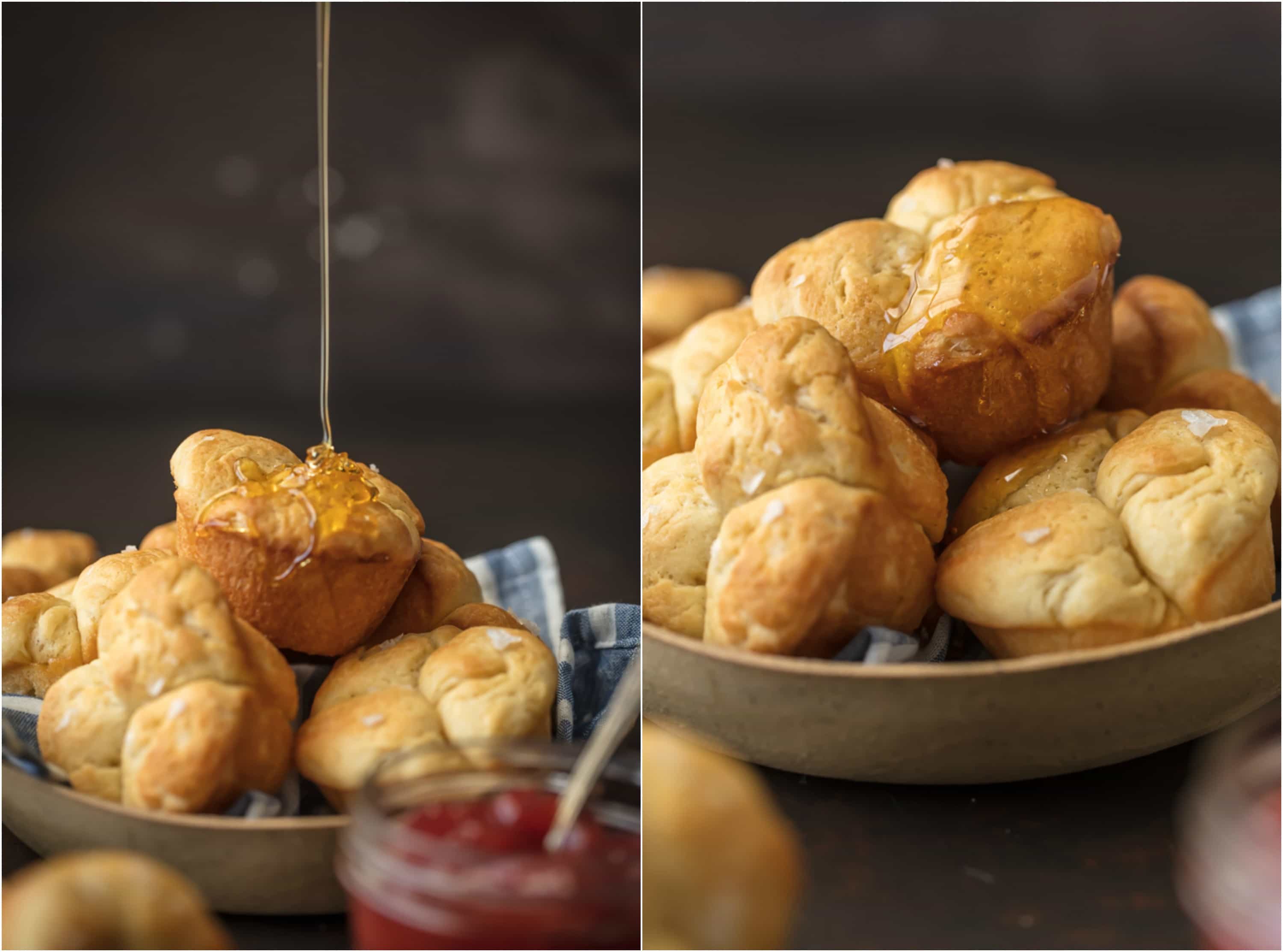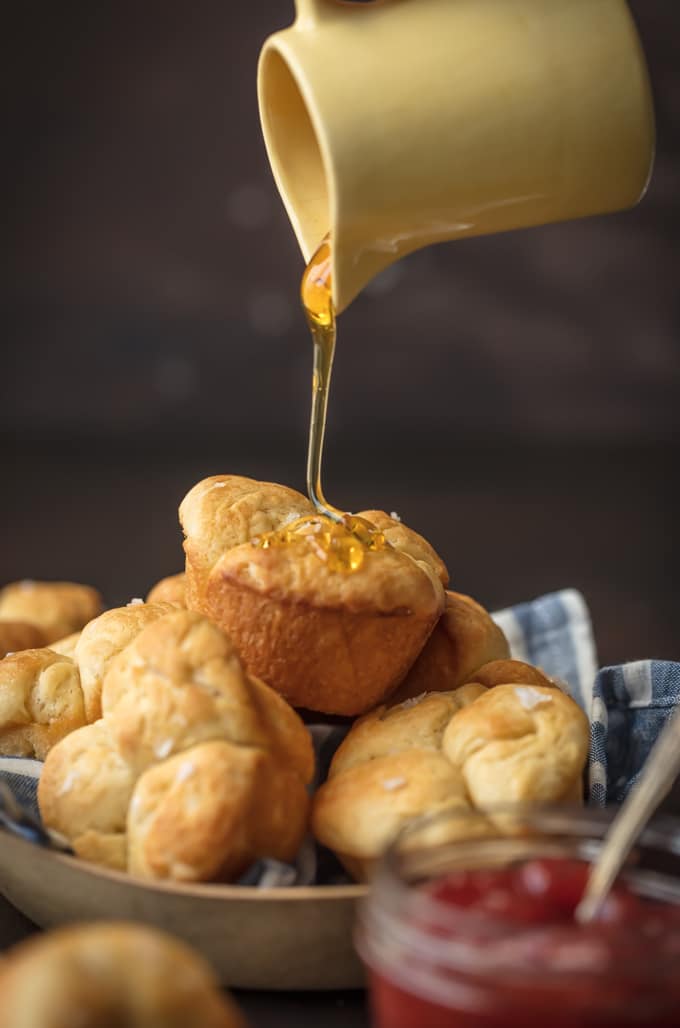 These Icebox Dinner Rolls go with literally EVERY meal. Turkey? Check. Ham? Check. Lasagna? Check. You can't go wrong.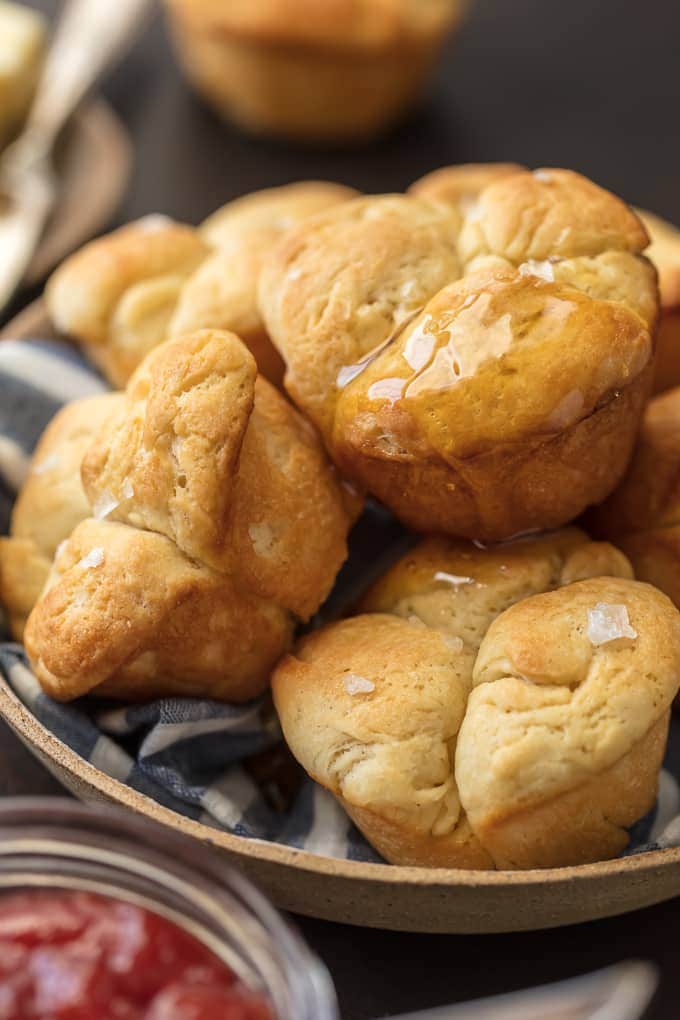 Cheers to the holidays being here before we know it. Good thing for easy and convenient make ahead recipes, AM I RIGHT?!
Enjoy!
Ingredients
2 cups boiling water
1½ cups (12 tablespoons) shortening
2/3 cup granulated sugar
2 teaspoons salt
2 teaspoons kosher salt
2 (1/4 oz.) envelopes active dry yeast
½ cup warm water (105° – 115°)
2 eggs, lightly beaten
7½-8 cups all-purpose flour
½ cup butter, divided and melted
Flake Sea Salt, optional
Instructions
Place the shortening, sugar and salt in the bowl of a stand mixer. Pour the boiling water over all. Stir on low until shortening melts and the sugar and salt have dissolved. Let stand until the mixture registers 110°F.
In a 1-cup measuring cup, combine yeast and warm water. Be sure water is between 105°F-115°F. Stir with a fork approximately 10 times and let stand 5 minutes.
Add the yeast mixture and lightly beaten eggs to the shortening mixture, and beat on low until combined. Add the flour, ¼ cup at-a-time, while mixer is on low speed. This should take 2-3 minutes. Dough is ready when it begins to pull away from the sides of the bowl. Dough should be very soft and smooth.
Place the dough in a large, lightly greased mixing bowl. Turn the dough over in the bowl, so all sides are greased. Cover the bowl with plastic wrap and refrigerate 8-24 hours.
When ready to use, place the amount of dough needed on a floured surface. (Cover any remaining dough with plastic wrap and keep refrigerated up to 24 hours, total.) Knead the removed dough until smooth and elastic, approximately 2 minutes.
Lightly grease a muffin pan. Shape dough into 1-inch balls. Dip each ball into melted butter then place in a muffin cups. Place three balls, side-by-side, into each muffin cup.
Cover rolls loosely with plastic wrap or clean (lightweight) dishtowel. Allow dough to rise in a warm place (85°F-100°F works best), until double in size (approximately 45-60 minutes).
Preheat oven to 400°F. If desired, sprinkle rolls very lightly with flake sea salt (like Maldon's). Bake rolls 8-12 minutes or until golden brown. Brush with remaining butter and serve immediately.
Enjoy!
Notes
Adapted from Southern Living Magazine
7.6.4
2447

JOIN OUR MAILING LIST
TO GET COOKING!
Subscibe to recieve all the latest, greatest, and EASIEST recipes sent straight to your email inbox. If we post something yummy, you'll be the first to know. 


Link to the original: Source link