Simple and delicious, this is truly the best glazed meatloaf recipe ever and a huge family favorite. Tender and flavorful and slathered with the most delicious glaze, it is a keeper!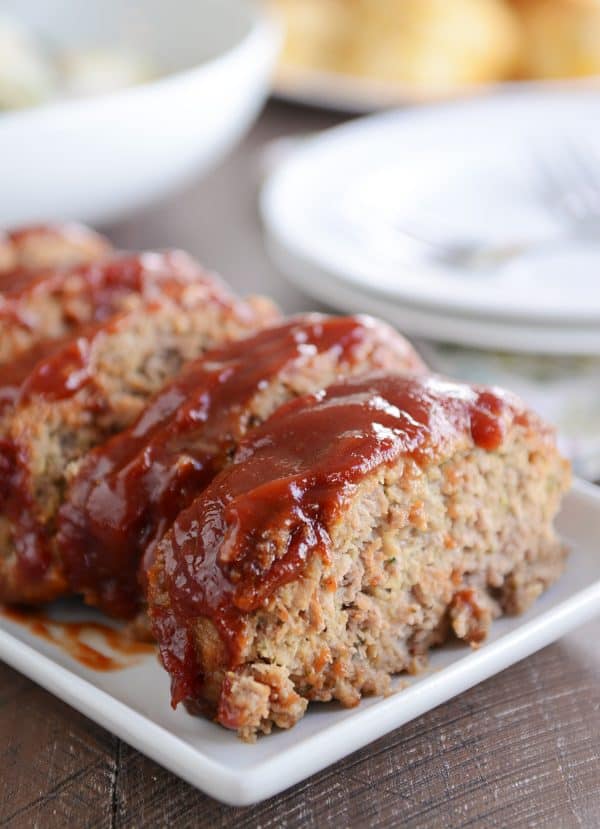 My family has a long sordid history with meatloaf.
Sufficeth to say, it's taken a while to land on The Best Meatloaf Recipe in all the land.
One that will please everyone. The onion haters. The soggy bread haters. The texture haters.
This is it. The recipe that's united us all to a family of meatloaf lovers, and I'm sticking with it for all time (because to be quite honest, getting a meatloaf recipe to please the masses has been exhausting).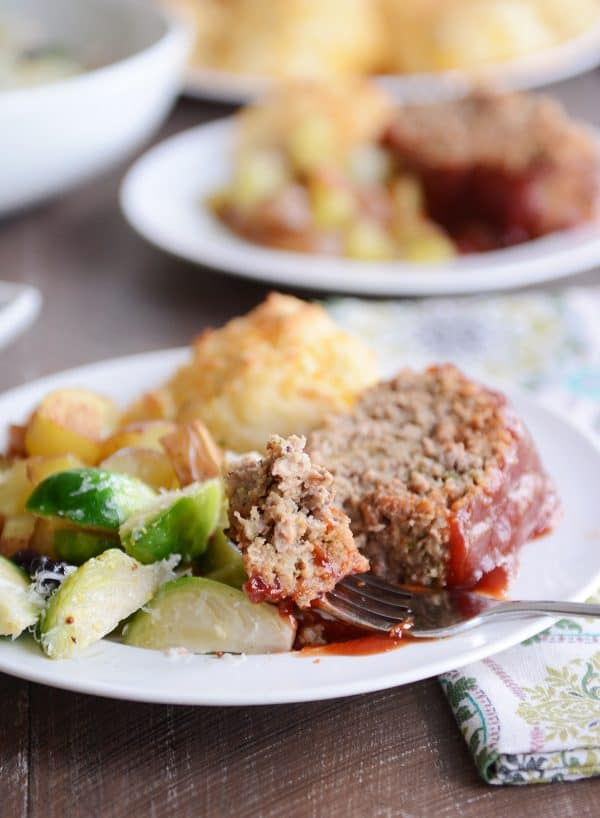 Long, long ago, I posted this recipe for a fantastic, classic meatloaf recipe, and it's been a standby when I've needed a go-to meatloaf recipe. While meatloaf isn't necessarily a staple meal for us, it is an oft-requested birthday meal and an occasional Sunday dinner throughout the fall and winter.
However several of my kids are anti-taste-any-chunks-of-onions type of humans.
While I would normally tell them to grin and bear it (all in the name of trying to raise adventurous eaters), I figured in this case if I could come up with a meatloaf recipe I loved just as much without the onion pieces and requiring less work than that original recipe, it would be a success for me and them.
Gathering a few notes from this popular Mini Meatloaves recipe I went to work and found the perfect mashup to create the best glazed meatloaf recipe ever.
This meatloaf recipe really is perfect. Perfect in its simplicity. Perfect in its flavor.
Considering my kids (and Brian) do all sorts of weird happy dance moves when they find out meatloaf is on the menu these days, I'd say we've settled on our go-to meatloaf recipe once and for all.
And if you want a comfort meal made in heaven, consider serving the tasty meatloaf with:
Cheesy Funeral Potatoes or Cheesy Bacon and Garlic Smashed Potatoes
a roasted vegetable (like brussels sprouts or broccoli) or these tasty skillet green beans
and these easy buttermilk drop biscuits or these cheesy garlic herb biscuits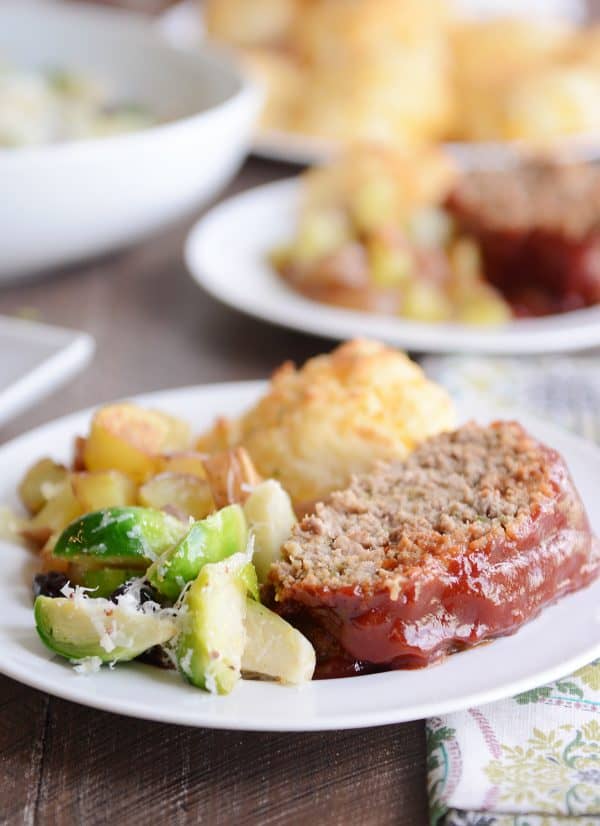 Here are a few frequently asked questions I get about meatloaf in case it helps others:
What kind of meat can I use for meatloaf?
I've given notes below in the recipe, but my favorite blend is to use half ground beef and half ground pork for flavor and tenderness. You can experiment using 100% ground turkey or ground beef or creating your own signature ground meat mixture.
How do I know when meatloaf is done cooking?
If you have an instant-read thermometer, it should register about 160 degrees F at the center of the meatloaf. If you don't have a thermometer, a meatloaf shaped into a 9X4-inch loaf will bake in approximately 50-60 minutes at 375 degrees.
Can I cook meatloaf in the Instant Pot?
I've done this a time or two and while I'm still perfecting the method to officially post, it does work! Instead of forming the meatloaf into a long loaf shape, instead shape it so it will fit in the Instant Pot (a thick round shape). I do the following: place the rack inside the Instant Pot and pour in 1 cup water. Make a foil sling for the meatloaf that is wide enough to hold the meatloaf and long enough to pull the foil edges up and out of the Instant Pot when it is finished cooking.
Place the meatloaf on the foil and place it on the rack inside the Instant Pot. Make sure the foil is completely tucked inside and not hanging out. Glaze the meatloaf. Secure the lid and cook on high pressure for 35 minutes. Quick release the pressure and then carefully lift the meatloaf (using the ends of the foil sling) up and out of the pot. Let it rest for 10 minutes or so before slicing and serving.


Roasted vegetables (broccoli, brussels sprouts, etc)
Cheesy Funeral Potatoes or Cheesy Bacon and Garlic Smashed Potatoes
Buttermilk Drop Biscuits
One Year Ago: Pumpkin Cream Cheese Muffins
Two Years Ago: Double Chocolate Chunk Muffins
Three Years Ago: White Bean Chicken Chili
Four Years Ago: Classic Slow Cooker Chili
Five Years Ago: White Texas Sheet Cake
Yield: 6 servings
The Best Glazed Meatloaf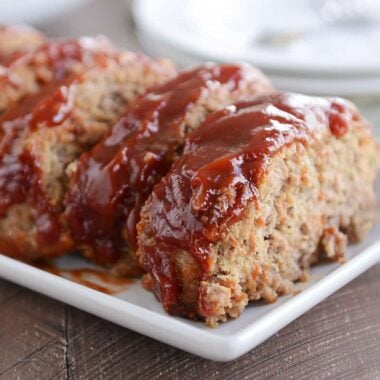 Ingredients:
Meatloaf:
1 cup crushed saltines (25-30 crackers)
1/3 cup milk
1/4 to 1/2 cup minced fresh parsley
2 large eggs, lightly beaten
2 teaspoons onion powder (see note to use fresh onions)
3 garlic cloves, finely minced or 1 teaspoon garlic powder
1 tablespoon Dijon mustard
3 tablespoons Worcestershire sauce
1 1/2 teaspoons salt (I use coarse, kosher salt – use slightly less for table salt)
1/2 teaspoon black pepper (I use coarse black pepper – use slightly less for finely ground)
2 pounds ground meat (I use half ground beef/half ground pork – see note)
Glaze:
2/3 cup ketchup or BBQ sauce (or a combination)
2 tablespoons brown sugar
2 tablespoons apple cider or red wine vinegar
Directions:
For the meatloaf, in a large mixing bowl, add the crushed saltines and milk and let the mixture sit for 5-10 minutes. Add the parsley, eggs, onion powder, garlic, Dijon mustard, Worcestershire sauce, salt and pepper. Mix well.
Add the ground meat and mix until evenly and well combined. (You can use a food processor for all of the above if you want a an even more well combined spice and meat mixture.)
For the glaze, combine the ketchup (or BBQ sauce), brown sugar, and vinegar and whisk to combine.
Preheat the oven to 375 degrees F. Line a baking sheet with foil and lightly grease with cooking spray.
Pile the meat mixture in the middle of the prepared pan and shape into a loaf about 9 inches long and 4 inches wide (it doesn't have to be perfect; just try to get it an even thickness throughout).
Spoon the glaze over the meatloaf. Bake for 45-50 minutes until an instant-read thermometer registers 160 degrees F in the center of the meatloaf.
Loosely tent with foil and let the meatloaf rest for 10-15 minutes before slicing and serving.
Notes:
I prefer using half ground beef and half ground pork for this recipe. You could also try using 100% ground beef or ground turkey (or half ground beef/ground turkey). 
If you want to serve some of the glaze on the side, double the ingredients and reserve half to serve after the meatloaf has baked (if desired, you can simmer the reserved glaze and serve warm). 
Over the years, we've come to prefer onion powder over fresh onions since several of my kids don't like onion pieces in the cooked meatloaf; however, if you want the flavor of fresh onions, make sure they are very finely chopped and/or precook them in a skillet to make sure they are tender when the meatloaf is finished cooking.
All images and text ©Mel's Kitchen Cafe.
Follow @melskitchencafe on Instagram and show me the recipes you are making from my blog using the hashtag #melskitchencafe. I love seeing all the goodness you are whipping up in your kitchens!
Recipe Source: from Mel's Kitchen Cafe (varied from this old favorite)


Link to the original: Source link