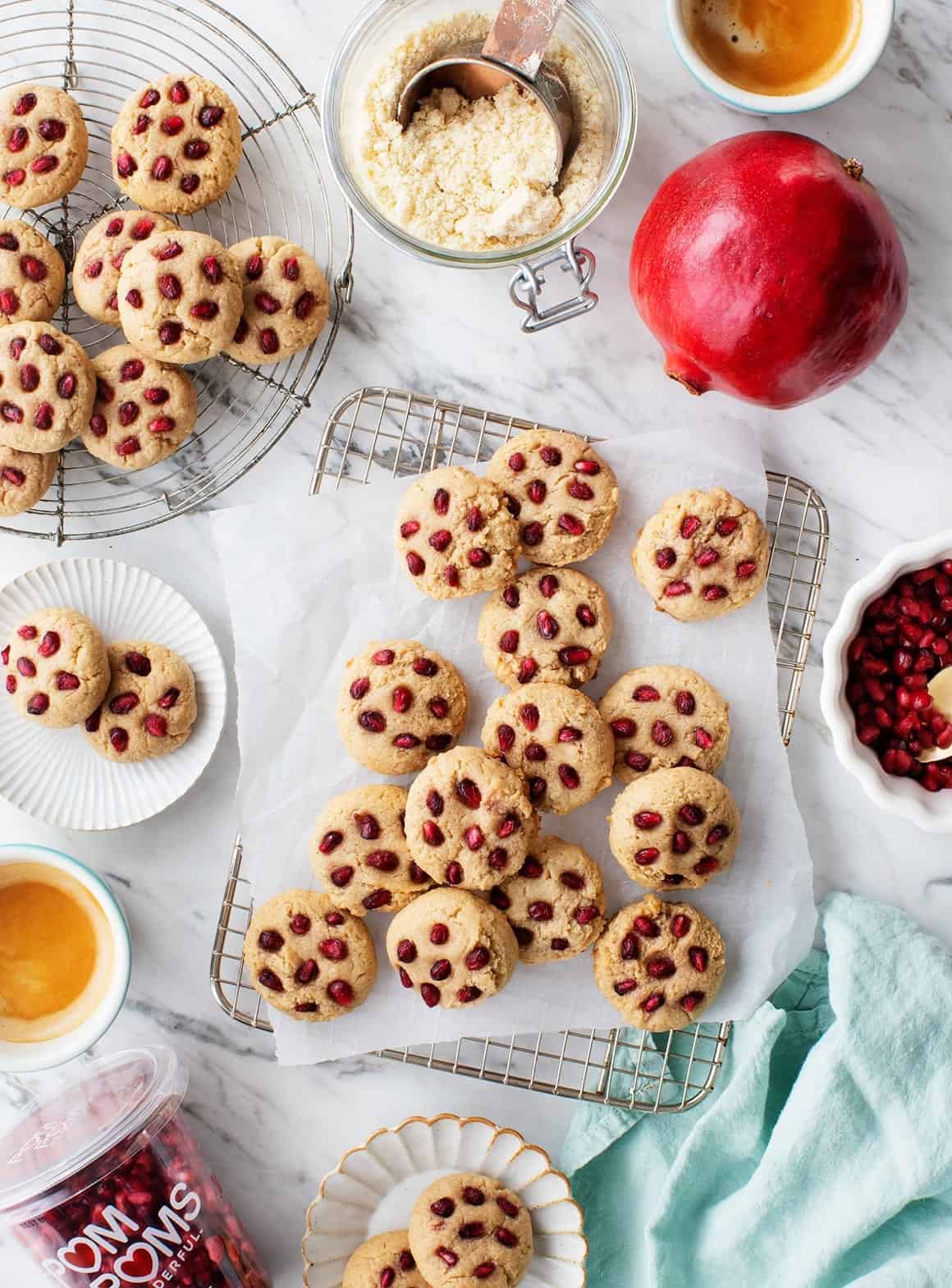 I'm not sure why the heck it took me 7 years of blogging about natural foods (that's 7 holiday seasons) to think of using pomegranates to decorate cookies. Of course, I've used them atop Christmas crostini and even holiday hummus, but come on Jeanine, it's December and what we really need are cookies! These tahini almond cookies are such yummy little treats… they also happen to be vegan and gluten free.
For this post, we're partnering, once again, with POM Wonderful because if I haven't stated it enough on this blog over the years – we think pomegranates ARE wonderful! ? Those cute little POM POMS arils bring such a sweet pop of flavor, plus who doesn't love a little antioxidant boost by way of dessert?
This cookie dough is made with almond flour as the base, tahini as the binder, and maple syrup as the sweetener. To enhance the almond I used almond extract instead of the vanilla that I would normally use. And to make them extra nice, I spiced them with cinnamon, cardamom, and ginger. These flavors are so lovely with the nutty tahini.
This is a super easy one-bowl recipe. Just mix the dough, scoop them, and lightly flatten them (they won't spread too much in the oven).
And decorate them! I can't get over the little ruby red gems. These make me so happy!
POM POMS (POM Wonderful's brand of arils, or seeds, derived from fresh pomegranates), are available now through January in convenient 4.3 and 8-ounce packs. Find them in the cut fruit produce section of most grocery stores.
These cookies freeze well. Make an extra batch (pictured are 2 batches), and freeze any that you might have leftover. Or better yet, bring them to a holiday cookie swap to share.
Tahini & Pomegranate Almond Cookies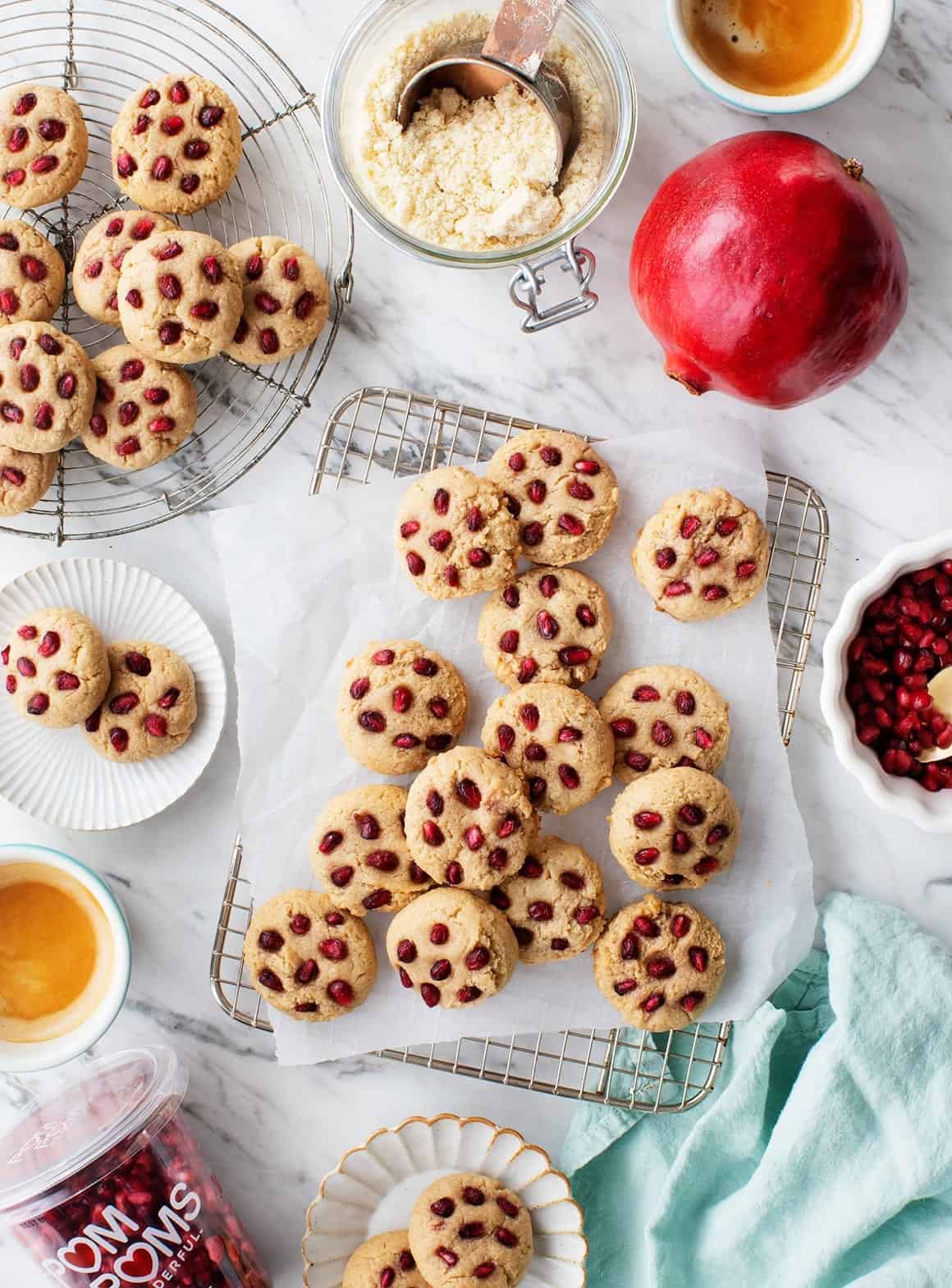 ¾ cup tahini*
½ cup maple syrup
1 teaspoon almond extract
2 cups almond flour
½ teaspoon cinnamon
¼ teaspoon ground cardamom
¼ teaspoon ground ginger
½ teaspoon baking powder
½ teaspoon sea salt
½ cup pomegranate arils
Preheat the oven to 350°F and line a large baking sheet with parchment paper.
In a large bowl, whisk together the tahini, maple syrup, and almond extract until smooth. Add the almond flour and sprinkle the cinnamon, cardamom, ginger, baking powder, and salt evenly over the mixture. Use a spatula or wood spoon to stir until well combined.
Use a 2-tablespoon cookie scoop to scoop the dough and use your hands to roll it into balls. Place them on the baking sheet and press down to flatten slightly. Sprinkle with pomegranates and bake for 15 to 17 minutes or until lightly browned. Cool on the pan for 10 minutes, then transfer to a wire rack to finish cooling.
*Make sure your tahini is smooth (as pictured), and not dry or chunky.
Note: I made two batches of cookies for these photos – they freeze well so I love having extra around!
3.4.3177
Special thanks to POM Wonderful for partnering on this post!


Link to the original: Source link