Easy5 mins
"Nooch" (a.k.a. Nutritional Yeast) Popcorn is super-easy to make on the stovetop, it's naturally both vegan and gluten-free, and it's always a crowd fave!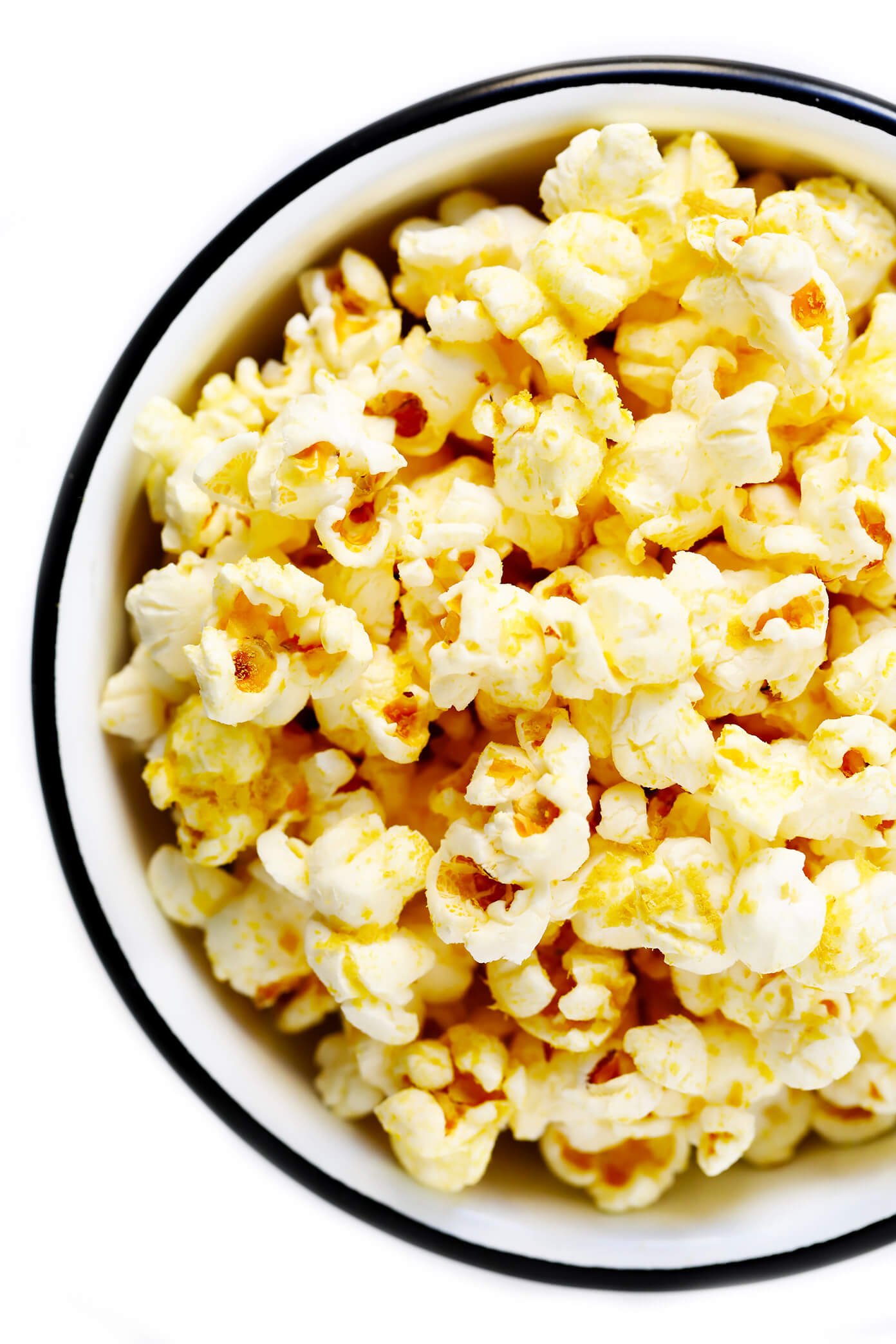 Guys, if you haven't tried nooch popcorn yet — it's time. ♡
I made the switch nearly a decade ago from making my stovetop popcorn with butter to making it with nutritional yeast instead — or "nooch", for short — and I've gotta say, I haven't looked back since.  We are 100% obsessed with this popcorn in our house.  And over the years, dozens upon dozens of friends who have tried our nooch popcorn recipe have become instantly obsessed as well.

MY
LATEST VIDEOS
It's easy to whip up a quick batch in just 5 minutes with 4 pantry ingredients.  And I'm telling you — the nooch adds this cheesy, buttery, nutty, magical flavor that is just downright irresistible with popcorn.  Nutritional yeast is also obviously much lighter than butter, and it's naturally gluten-free and vegan as well.  So over the years, it has become our go-to snack to whip up when having people over to our place.  Or anytime we need a good munchie for a road trip, or a picnic, or a happy hour with friends.  Or — most often — when we're hangin' out at home watching Netflix on a weeknight and get a case of the munchies.
Nooch popcorn will always be there to save the day.
Let's make some!!
Nooch Popcorn Recipe | 1-Minute Video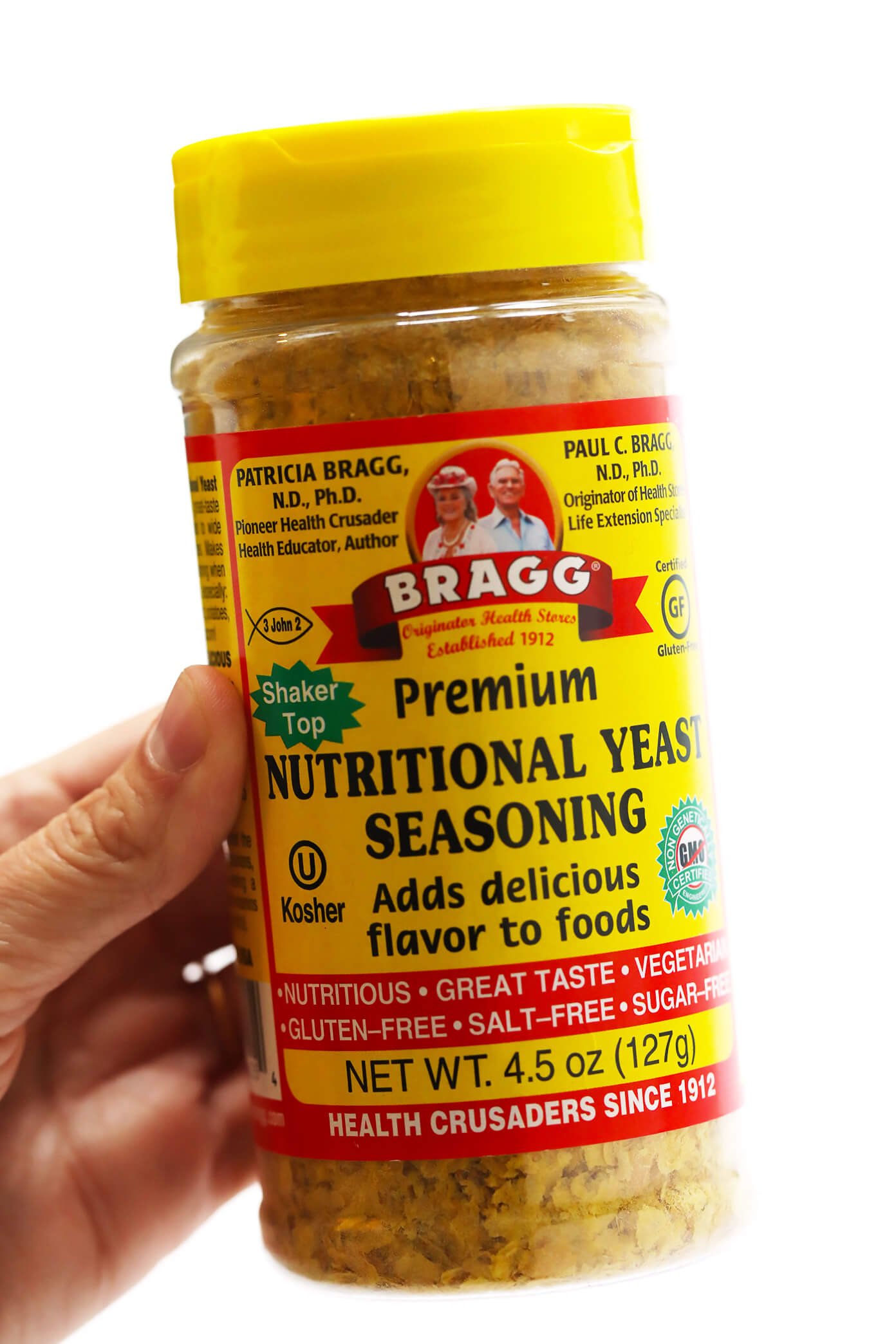 What Is Nutritional Yeast?
If you're new to our starring ingredient here, you may be asking — just exactly what is nutritional yeast?  I know, the name sounds hopelessly unappetizing.  But nutritional yeast — or "nooch", for short — is one of my favorite ingredients!  It's simply a deactivated yeast that is typically sold in a flaky or powdery form.  It has an irresistibly cheesy, nutty, savory flavor.  It's naturally both vegan and gluten-free.  And best of all, it's a rich source of vitamins, protein and fiber.
I've long been partial to Bragg's nutritional yeast, especially when making popcorn.  But different brands of nooch can vary in flavor, so I recommend doing some taste-testing to see which one you love best. ♡
Nutritional Yeast Popcorn Ingredients:
The best thing about nooch popcorn?  All of the ingredients are easy to keep on hand in your pantry so that you can pop up a quick batch when the craving strikes.  You will need:
Popcorn kernels: I'm a big fan of the "jumbo" kernels, but any kind of popcorn kernels will do.  (Here's an Amazon link to my favorite brand, although it is usually considerably cheaper in stores.)
Oil: I've always used coconut oil for this recipe, which gives it a super-subtly-sweet undertone that everyone always comments on and loves.  But avocado oil, olive oil, or safflower oil are good alternatives too.
Nutritional yeast: I always use Bragg's!
Salt: Fine sea salt (or even regular iodonized table salt) will do.  Just add however much you like, to taste.
Also, very importantly, you will need:
A saucepan or stockpot: I've written the recipe below to work in a medium saucepan.  But feel free to increase the proportions a bit for it to work in a larger stockpot for a bigger batch.
Large food storage container (with a lid): It's also essential to have some sort of large food storage container with a lid, such as this one, in order to shake the popcorn together with the nooch and salt.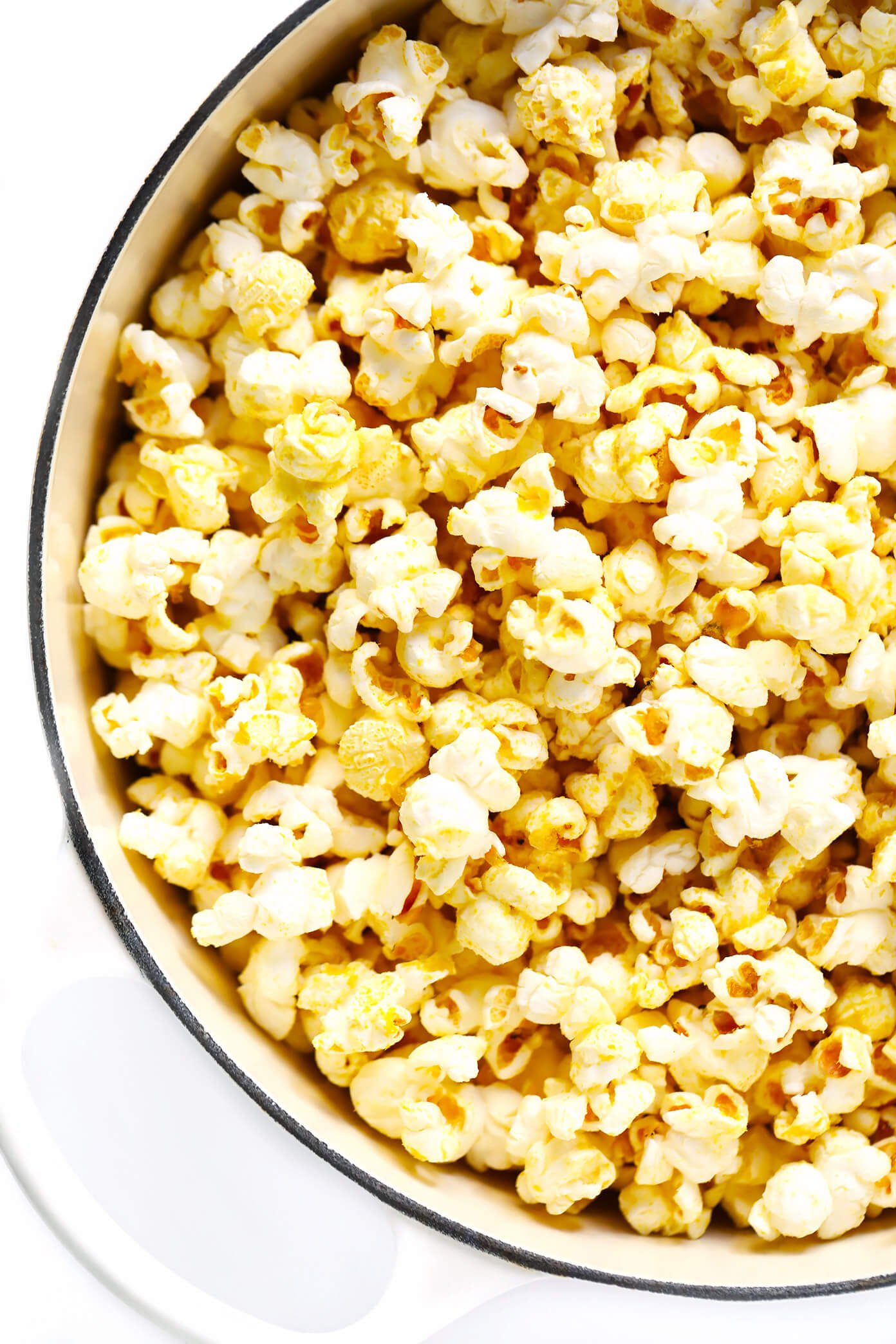 How To Make Stovetop Popcorn:
To make stovetop popcorn with nutritional yeast, simply:
Prepare the nooch and salt.  Before you begin popping the popcorn (or you can multitask this step while it's popping), go ahead and shake a bunch of nooch into a large food storage container, along with your desired amount of salt.  I recommend adding a liberal amount of nooch, and then if there is any extra, you can always shake it up with a second batch of popcorn afterwards.
Heat the oil.  Next, in a medium saucepan, add enough oil to generously coat the bottom of the pan (about 2mm or so deep).  Heat over medium-high heat until the oil is nice and hot.  Then to test when the oil is ready to go, just drop 3 or 4 popcorn kernels into the pan.  And once they pop, it's ready!
Add the popcorn kernels. Add in enough popcorn kernels to cover the bottom of the saucepan in a single layer.  (If you add any more, the saucepan will not have room for them once the pop!)
Pop that corn!  Then once the kernels begin to pop, stay close by to keep an eye on them, giving the pan a good shake every 15 seconds or so in order to make sure that the kernels fall to the bottom of the pan.  Let the popcorn continue popping until it slows down significantly and there are a few seconds remaining between pops.  Then immediately…
Pour the popcorn into the storage container.  And do so quickly so that the kernels don't burn in the pan and the popcorn stays nice and hot.  Then quickly place the lid on the container and give the popcorn a good 10-second shake until it is evenly coated with the nooch.  Then…it's popcorn time!
Serve warm and enjoy.  This popcorn definitely tastes best right away.  Although you're welcome to store it in the food storage container for a few days.  (It will just start to get a bit chewy over time, as cooked popcorn tends to do once it has set out awhile.  But even if it's chewy, it will still taste good.)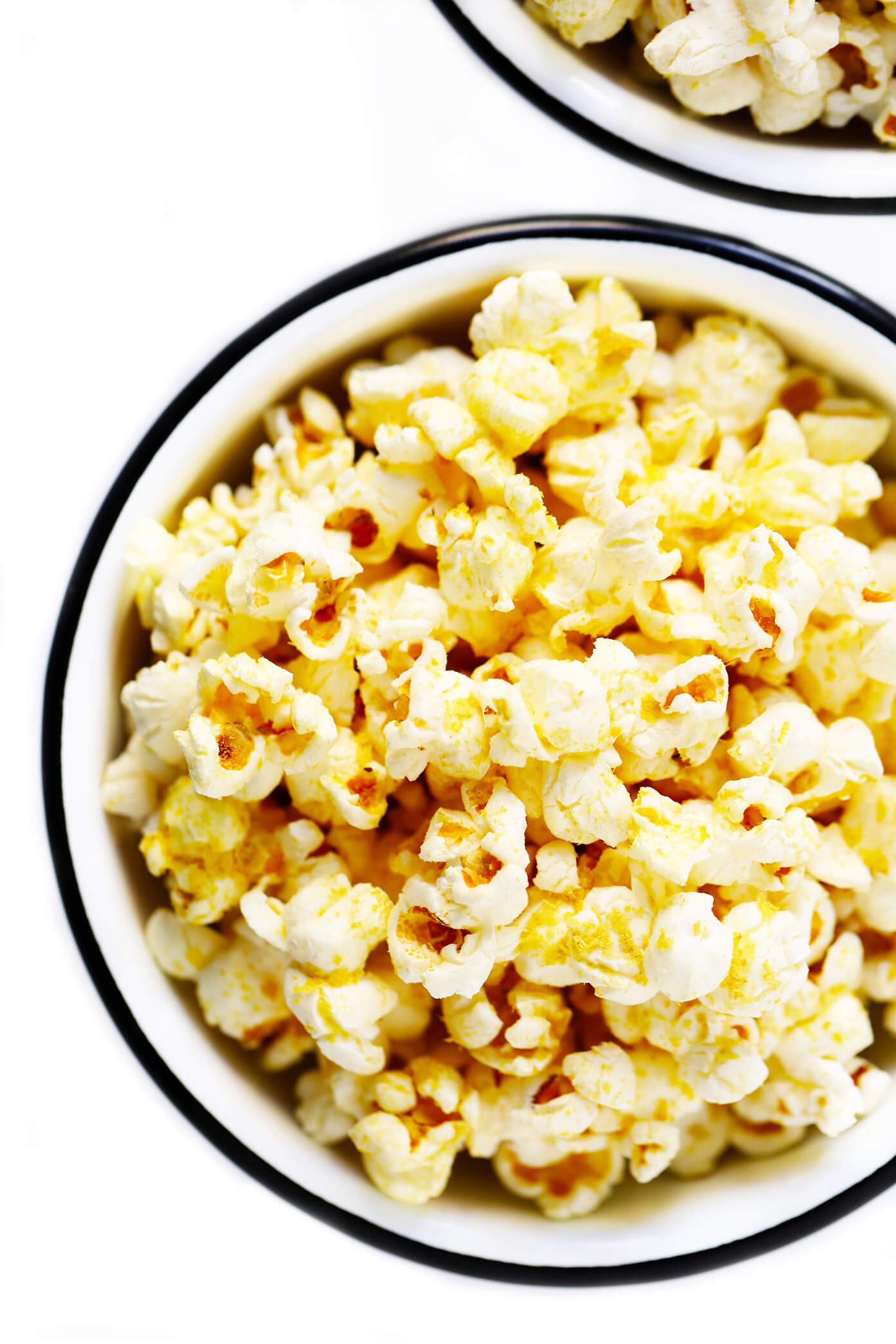 Possible Variations:
Want to customize your nooch popcorn?  Feel free to also add in some:
Freshly-cracked black pepper: So simple, but it kicks the flavor up a big notch!
Everything bagel seasoning: Always delicious.
Cayenne: Add a generous pinch of cayenne powder in with the nooch for a subtle kick.
Parmesan cheese: Not vegan, obviously, but always a winner on popcorn.
Other seasonings: Taco seasoning, Cajun seasoning, Italian seasoning, Za'atar seasoning, curry powder — whatever sounds good!  Seasoning blends are a fun way to jazz up your popcorn.
Finely-chopped fresh herbs: Basil, thyme, rosemary, cilantro, parsley or even mint can all be delicious!
Truffle oil: Drizzle a little on the popcorn after it has popped (and before shaking it up with the nooch) and the flavor is unreal.
Yield: About 8 cups
Nooch (Nutritional Yeast) Popcorn
Nooch popcorn is the BEST butter-free popcorn! It's also vegan, dairy-free, gluten-free, and made with no artificial ingredients.
Ingredients:
1/3 cup nutritional yeast
1 teaspoons fine sea salt, or more/less to taste
3 tablespoons coconut oil, or enough to thoroughly coat the bottom of the pan
1/2 cup popcorn kernels
Directions:
Add the nutritional yeast and salt to a large food storage container (with a lid).  Set aside.
Heat the oil in a medium saucepan over medium-high heat. Place 3-4 individual kernels in the pan.  Once the kernels begin to pop, add in the rest of the kernels so that they form a single layer on the bottom of the pan.  Cover the saucepan with a lid and give it a shake so that the kernels all get coated with the oil.
When the popcorn kernels start popping, give the pan a good shake every 15 seconds or so to help the un-popped kernels fall to the bottom. (This will also help prevent the popcorn from burning.)  Once the popping slows down and there are a few seconds between pops, immediately transfer the popcorn to the prepared food storage container.  Place the lid on the container, and give it a good shake for 10 seconds to coat the popcorn.
Serve warm and enjoy!
*I actually highly recommend adding 2-3 times as much nooch.  I like as much of it as possible to stick to my kernels, although quite a bit of it naturally falls off.
**If the nooch isn't sticking, you may also need to use a bit more coconut oil, or you can try closing the lid on the popcorn completely while it's cooking (which won't let the kernels dry out as much, which will help the nooch stick to them better).


All images and text ©Gimme Some Oven
If you make this recipe, be sure to snap a photo and hashtag it #gimmesomeoven. I'd love to see what you cook!
This recipe contains affiliate links.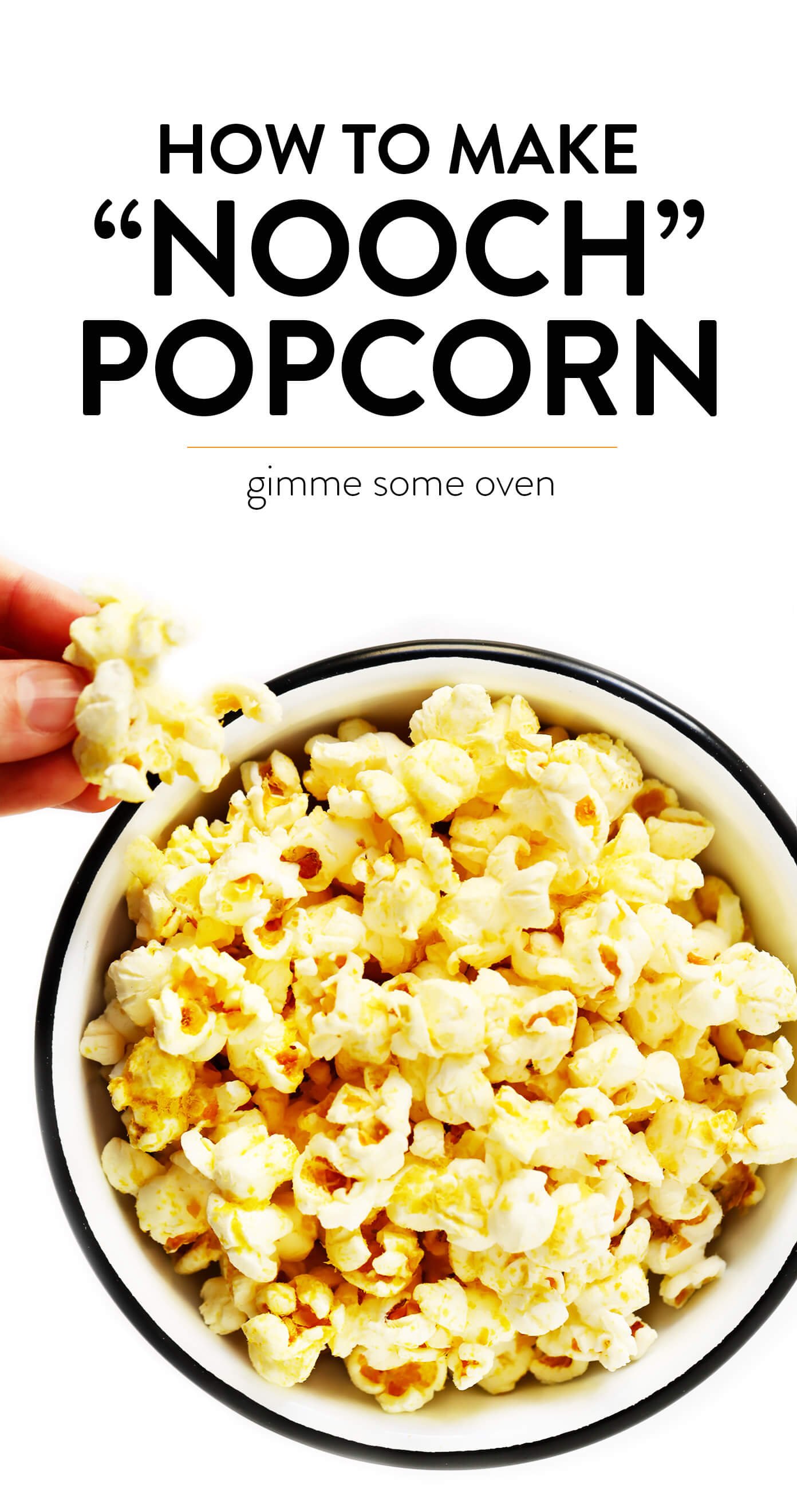 Link to the original: Source link