Easy1 hourVegetarian
This truly is the best carrot cake recipe!  It's perfectly moist and delicious, made with lots of fresh carrots, and topped with the most heavenly cream cheese frosting.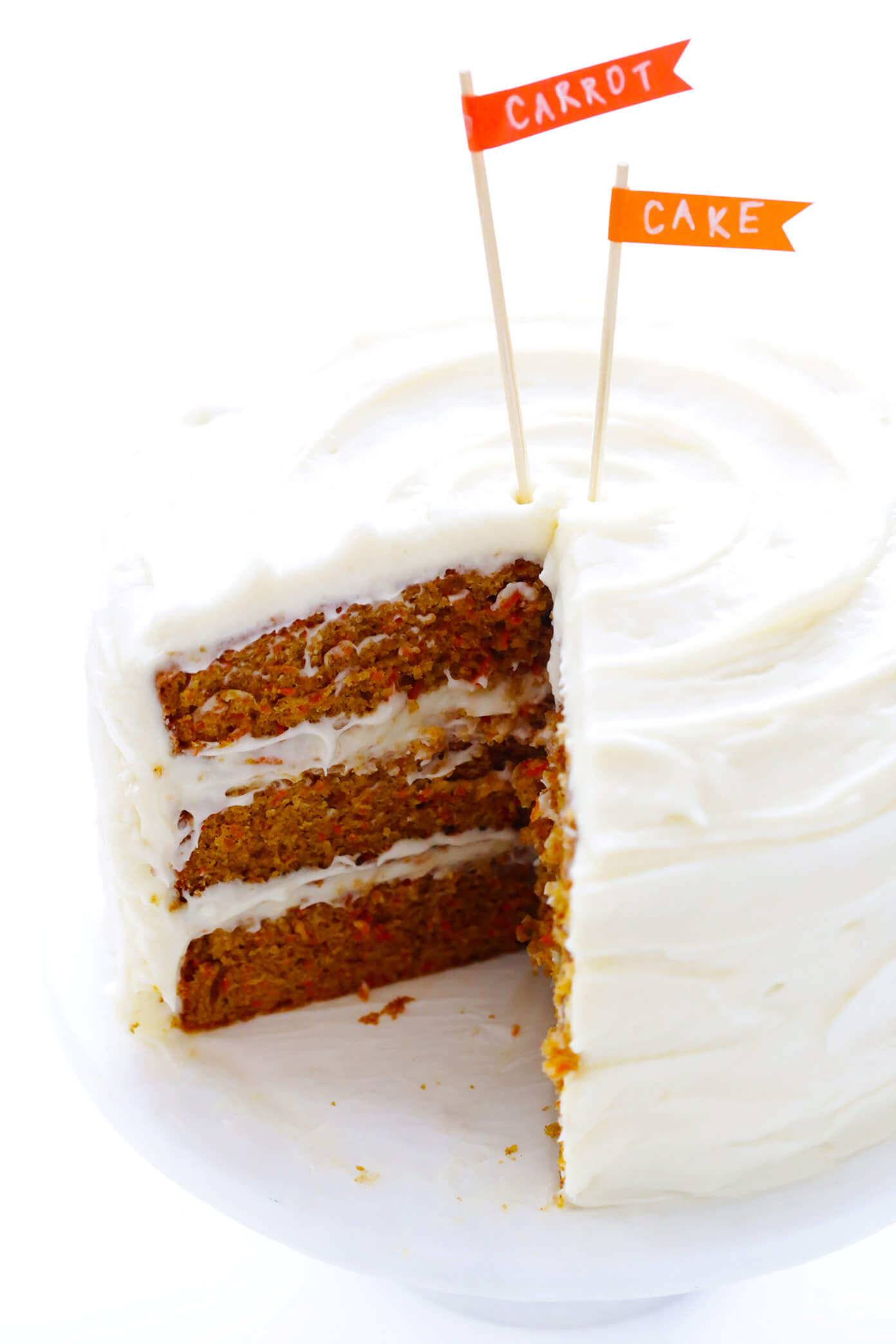 Oh hey. ♡ Just thought I would casually slide this recipe right here at the top of your feed in time for Easter.  Because if you happen to be looking for the world's best carrot cake recipe to make this weekend — or any delicious day of the year — look no further.  Hundreds and hundreds of our readers have agreed over the years that this homemade carrot cake recipe is a hands-down winner!
I mean, I should admit right off that I will forever-and-always be on Team Carrot when it comes to my favorite kind of cake, so I will always be extra-partial to carrot cake in any form (including cupcakes).  But because it's my favorite, I hold extra high standards when it comes to exactly what constitutes the perfect slice.

MY
LATEST VIDEOS
First off, the perfect homemade carrot cake must always be fluffy and legit extra-moist — no dry cakes allowed.  It must also be made with the coziest warming spices, but just enough so that the flavor of all of those fresh carrots can shine through.  And speaking of fresh carrots, a good carrot cake recipe must include lots of them speckled in every slice.  Most importantly, though, a good carrot cake recipe must be accompanied with a rich and buttery cream cheese frosting in every single bite.  Because in my book, a good moist carrot cake with cream cheese frosting is the ultimate dessert match made in heaven.
The other good news about this recipe?  It's much easier to make than it looks.  You can make the entire recipe — both cake and frosting — 100% by hand if you would like.  (No mixer required.)  You can also save yourself a step and purchase store-bought grated carrots or grate them in the food processor, if you don't want to grate them by hand.  And if you've never made a three-layer cake before, have no fear — I've detailed out the process below so to take out all of the guesswork.  You've got this.
Alright, let's make some carrot cake together!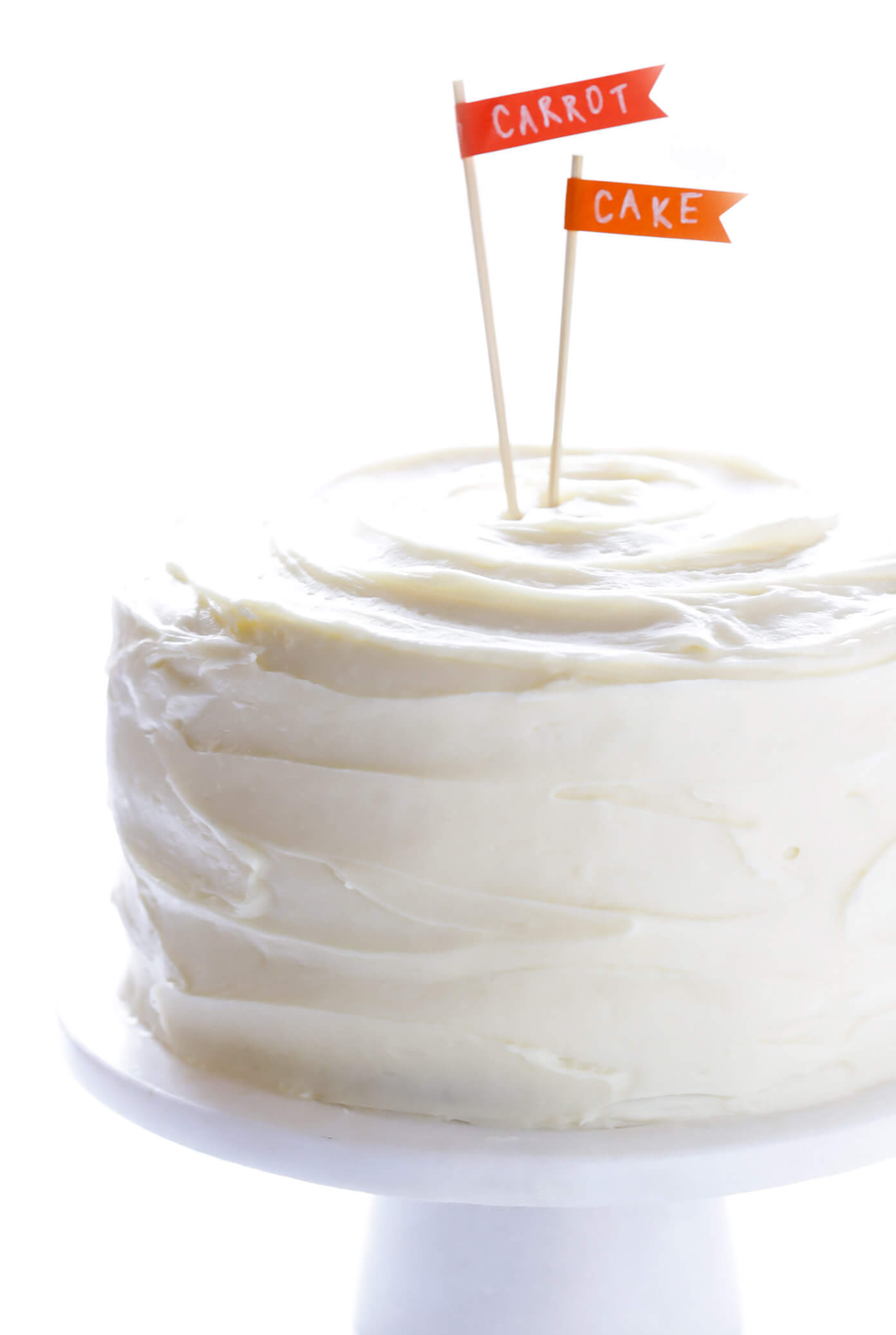 Homemade Carrot Cake Ingredients:
Alright, let's make our shopping list!  To make this homemade carrot cake recipe, you will need:
Oil: Any mild-flavored oil will do.  I typically use avocado oil, but vegetable or canola oil would work too.
Sugars: Both granulated (white) and brown sugar.
Eggs and vanilla extract: Because…cake.
Flour: I always indulge here with classic all-purpose flour.  But you're welcome to sub in white whole wheat flour instead.
Spices: Ground cinnamon, nutmeg and cloves.
Baking soda and baking powder: This recipe uses both.
Salt: I used fine sea salt.  If you only have iodized (table) salt, I would recommend using a little less.
Freshly-grated carrots: Either grate them by hand with a box grater, use the shredding attachment on a food processor, or save yourself a step and buy them pre-grated.
(Optional add-ins): Feel free to also include chopped nuts (such as pecans or walnuts), shredded coconut, and/or raisins if you would like.
Cream cheese frosting: Made easily with cream cheese, butter, salt, vanilla and powdered sugar.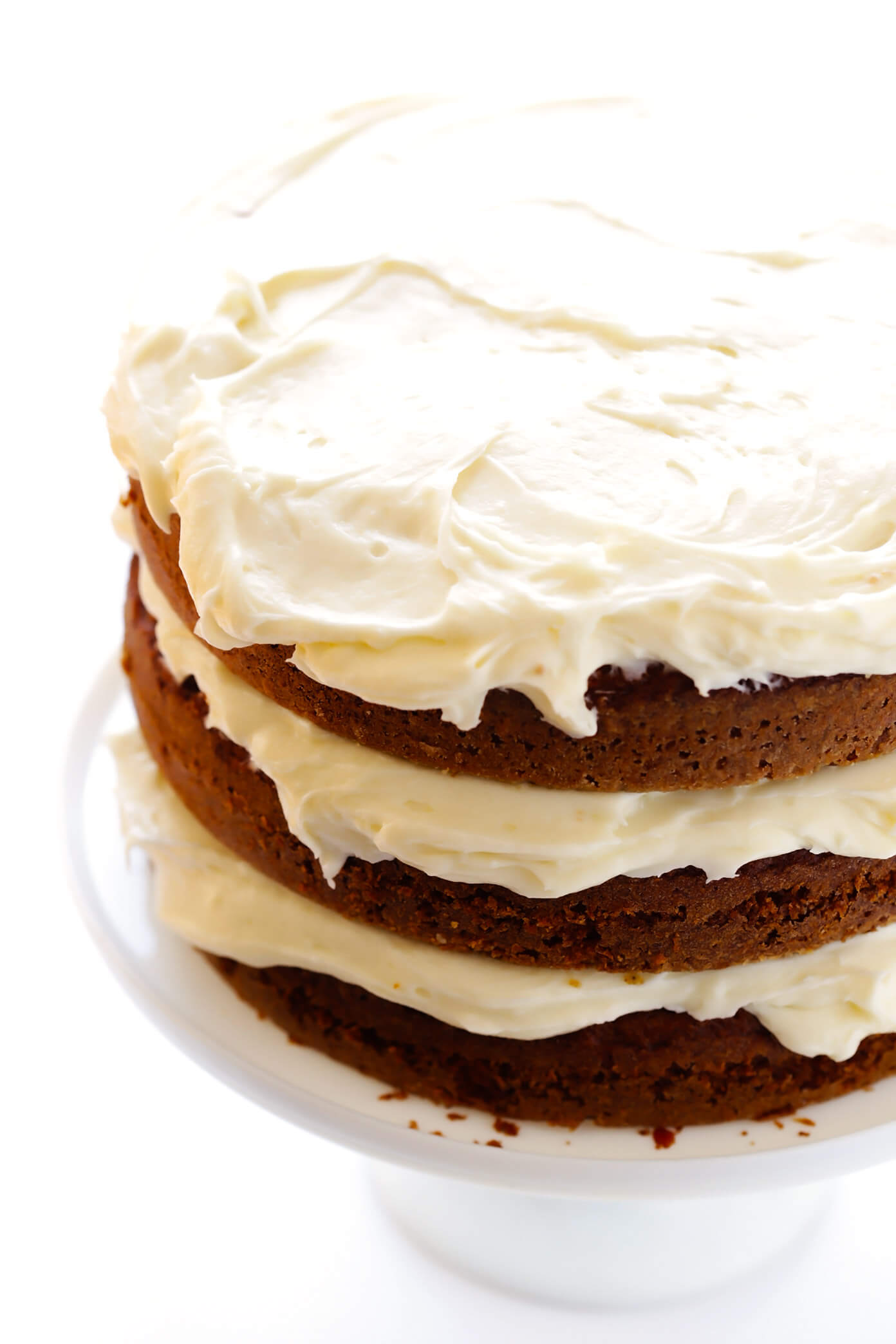 How To Make Carrot Cake:
To make this homemade carrot cake recipe, simply:
Prep your baking pans. Grease and flour three 8-inch round baking pans.  (Or save yourself a step and just use baking spray, which already includes flour.)
Make the cake batter.  Mix together the oil and sugars, followed by the eggs and vanilla, then the dry ingredients, and then the shredded carrots.
Fill and bake.  Portion the batter evenly into your three baking pans.  Bake for about 25-30 minutes, or until a toothpick inserted in the middle of the cakes comes out clean.  Remove the cakes from the oven and let them cool on a wire baking rack until they reach room temperature.  Meanwhile…
Make the frosting.  See notes below.
Assemble and frost the cake.  Once the cakes reach room temperature,* use a cake leveler or a bread knife to slice off the rounded tops of the cakes so that they are completely flat on top.  Place the first cake on your serving platter, add a large scoop of frosting on top of it, and spread the frosting so that it covers the cake evenly and extends a bit over the edges.  Repeat with the second and third layers of the cake.  Then use the remainder of the frosting to frost all around the side edges of the cake.
Serve and enjoy.  Then once you're ready to serve the cake, slice it up and enjoy!
*I find that it's easier to frost the cakes when they are slightly chilled.  So I recommend popping them in the fridge for 15 minutes before frosting if you have the time.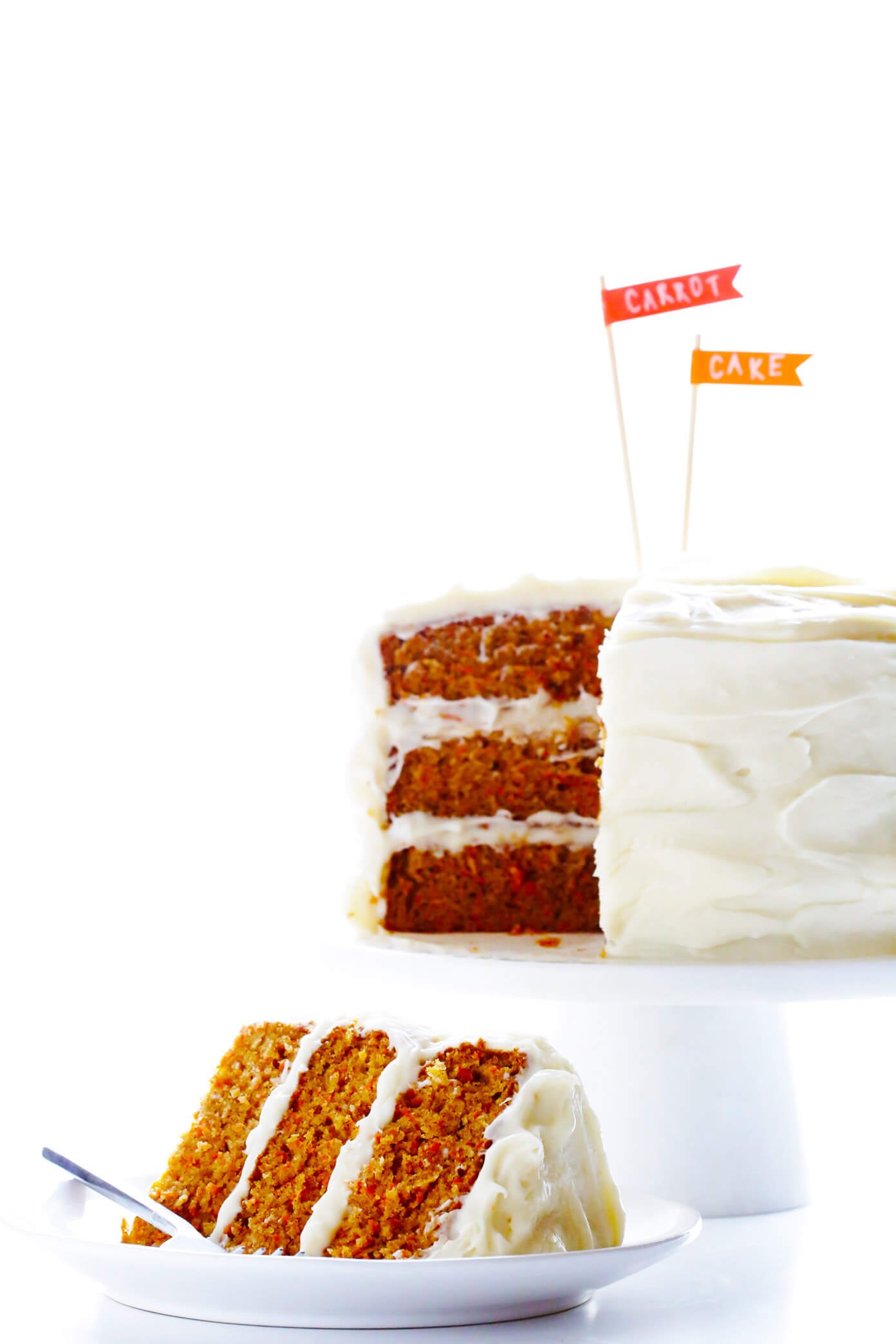 How To Make Cream Cheese Frosting:
This dreamy cream cheese frosting recipe can either be made by hand in a mixing bowl or in a stand mixer — you choose!  Just be sure that both the cream cheese and butter are both room temperature.  (And if you want your frosting to be super-smooth, I also recommend sifting the powdered sugar in advance.)
To make cream cheese frosting, simply stir the cream cheese and butter together with the vanilla until completely smooth.  Then add in however much powdered sugar you need to reach your desired consistency — about six cups, more or less.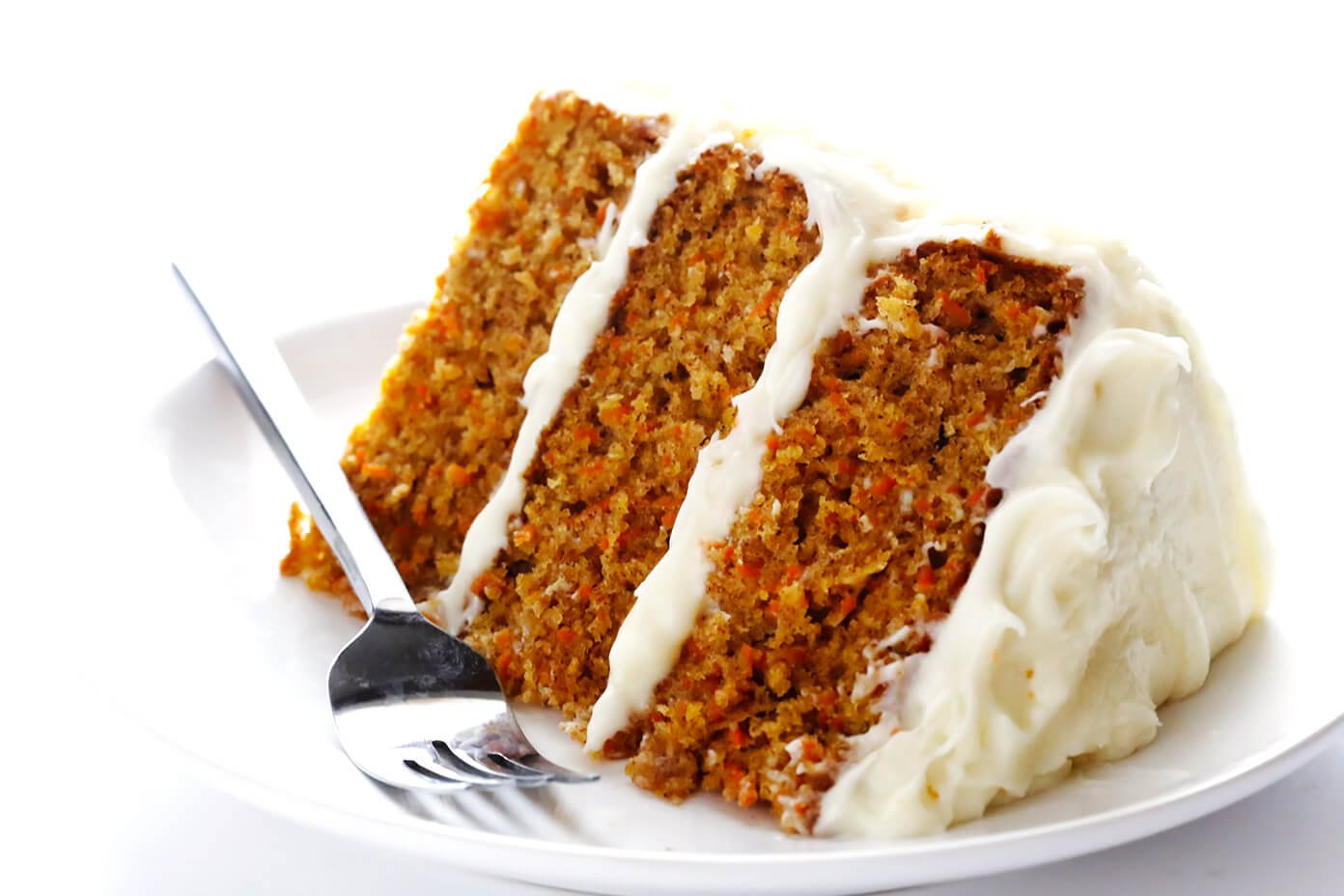 Carrot Cake Variations:
If you would like to customize your carrot cake, feel free to:
Add nuts: Feel free to stir 1/2 cup chopped nuts (such as pecans, walnuts, pepitas or hazelnuts) into the batter, and/or sprinkle extras on top of the frosting.
Add raisins: You could also stir in up to 1/4 cup of raisins.
Add coconut: Or up to 1/4 cup of toasted shredded coconut.
Spice the frosting: If you would like a bit of extra flavor in the frosting itself, I recommend stirring 1-2 teaspoons ground cinnamon and 1/2 teaspoon ground ginger into the frosting.
Make the recipe gluten-free and vegan: Use this recipe!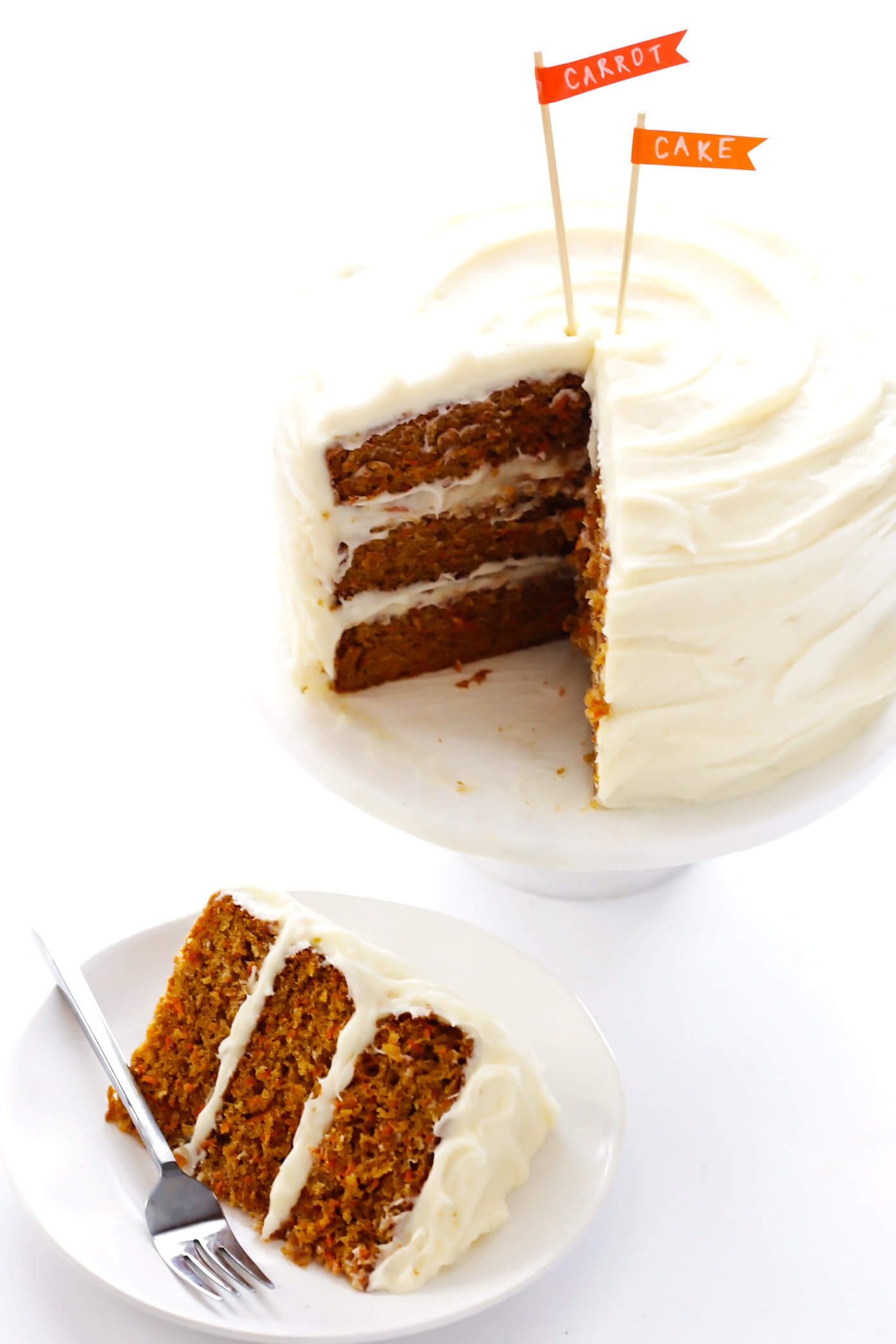 More Carrot Recipes:
Looking for more delicious sweet carrot recipes?  Here are a few of my faves! ♡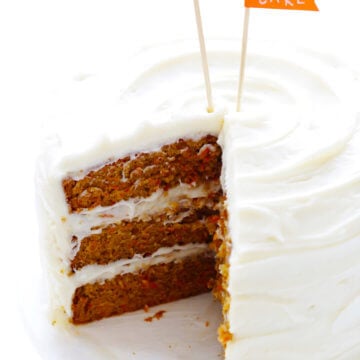 Yield: 16 servings
The BEST Carrot Cake
Ingredients:
Directions:


All images and text ©Gimme Some Oven
If you make this recipe, be sure to snap a photo and hashtag it #gimmesomeoven. I'd love to see what you cook!
This post contains affiliate links.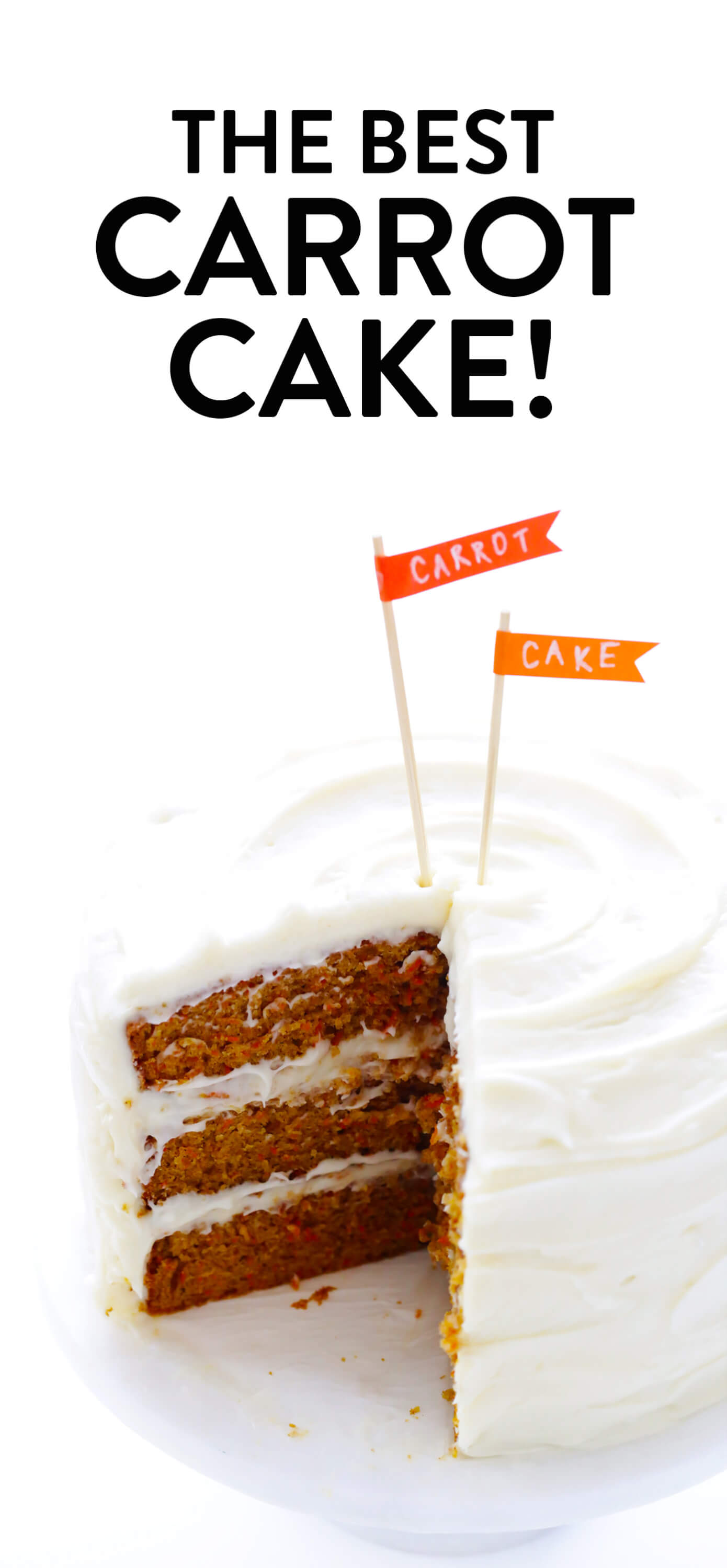 Link to the original: Source link