This pumpkin cream cold brew recipe, inspired by the new Starbucks drink, is made with your choice of iced coffee and the yummiest pumpkin spice foam — which is surprisingly simple to make homemade!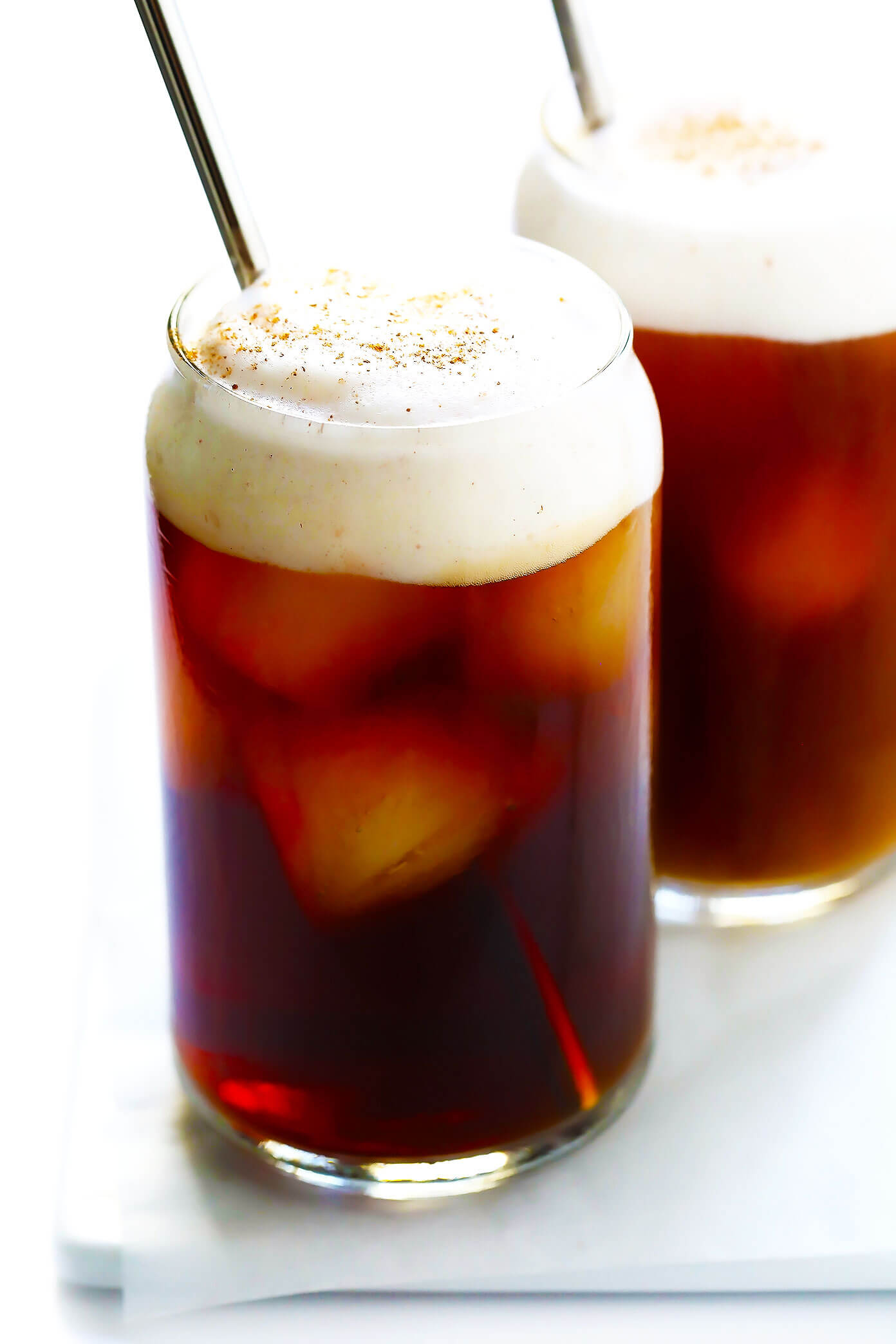 Raise your hand if you love Starbucks' new pumpkin cream cold brew coffee! ♡
Well, fun news — Barclay (who worked as a barista back in the day!) and I have been tinkering around with a copycat version this past week, and I think that we've finally nailed it!
Turns out that the drink's signature pumpkin foam is surprisingly easy to make in less than 5 minutes with just a few basic ingredients (milk, sweetener, vanilla, pumpkin purée, pumpkin pie spice and salt).  And of course, when making your own homemade pumpkin iced coffees, you have the added bonus of being able to mix and match your preferred brewing method, type of milk, and type (and amount!) of sweetener.  So whether you go the skim-milk-maple-syrup-iced-pour-over-coffee route like me, or maybe opt for an almond-milk-honey-nitro-iced-coffee combo, or just want to stay true to the original with a half-and-half-granulated-sugar-Starbucks-cold-brew — you get to call the shots with your coffee order here, and the the options for customizing are deliciously limitless.
I also have to say that I'm a huge fan of this drink because it is refreshingly not too sweet.  I actually make mine with even less sweetener than the Starbucks version (which is already has mercifully less sugary than its famous pumpkin spice latte cousin).  Yet my pumpkin cream cold brew still tastes just as refreshing and autumn-y and pumpkin-spice-y as ever.
I'm now convinced it's the perfect drink for transitioning from summer into fall.  And let's be real, conquering pumpkin foam at home is going to land you some major barista bragging rights. 😉
So round up these ingredients, and let's make some pumpkin cream cold brew together!
Pumpkin Cream Cold Brew Ingredients:
To make this pumpkin cream cold brew recipe, you will need (affiliate links included below)…
Iced coffee: Starbucks obviously uses cold brew for this drink.  But I say feel free to use store-bought or homemade cold brew, iced-pour-over, nitro iced coffee, or whatever kind of iced coffee you love best.  (If you want to make things extra-simple, you can always just brew a super-strong cup of hot coffee and add ice!)
Cold Milk: Fun barista fact — skim milk actually froths up to make the best foam, which is what I used for the photos below.  But any kind of cow's milk (1%, 2%, whole or half-and-half) would also work well.  Or we've also tested the foam with almond milk and oat milk, which can work too (although they don't foam up quite as well).
Sweetener: I prefer to use maple syrup to sweeten this drink, but you are welcome to add whichever kind (and amount) of sweetener you prefer.
Pumpkin puree: Soooo, from looking at Starbucks' ingredient list, I'm pretty sure that their pumpkin cream cold brew only contains a teeny tiny amount of actual pumpkin puree per serving.  But we've tinkered around with the foam recipe and have managed to get it to hold with a teaspoon of pumpkin puree included, so that you get a bit more of that pumpkin flavor.  (That said though, I would honestly say that the pumpkin puree is optional here.  If you don't have any on hand, the drink will still be delicious without it.)
Vanilla extract: Starbucks uses vanilla in both the pumpkin foam and the cold brew, but feel free to just use it in the foam to make things easy.
Pumpkin pie spice: 'Tis the season!
Sea salt: Don't forget to add a pinch to your foam — it makes a huge difference in the flavor. 🙂
Milk Frothing Equipment:
Ok, so I'm not usually one to encourage purchasing extra single-use kitchen gadgets.  But if you really want to nail your pumpkin foam game, it's worth it to purchase a milk frother.  Some options:
Handheld Milk Frother: We paid less than $10 for this handheld milk frother (affiliate link) on Amazon, and it frothed up that pumpkin foam like a dream.  
High-Quality Milk Frother: That said, there are plenty of higher-quality milk frothers on the market (such as this popular Nespresso frother) that I'm sure would work even better.
Other Options: We also tested this recipe with a few other frothing methods (a traditional blender, hand blender, French press, hand mixer, and just shaking it up in a mason jar), and unfortunately none worked as well as an actual milk frother.  But if you're in a pinch, they can all create a loose foam that works and still tastes delicious, even if it doesn't hold up quite as well.
Also, we kept things simple and just frothed our milk in a glass measuring cup.  But you're welcome to use a steaming pitcher if you have one.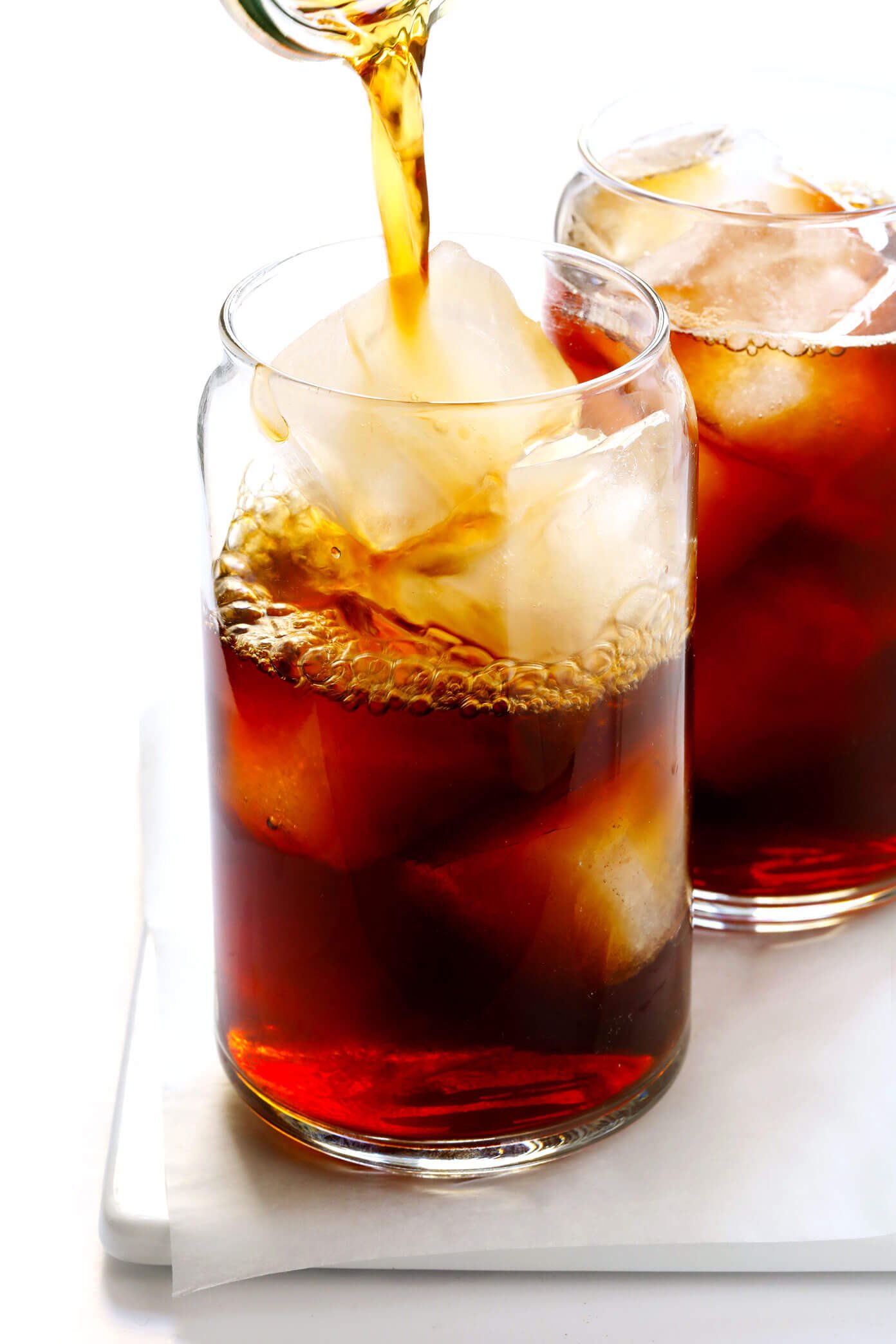 How To Make Pumpkin Cream Cold Brew Coffee:
To make this DIY pumpkin cream cold brew iced coffee, simply…
Make your iced coffee.  Whether that's cold brew, iced pour-over, nitro coffee, or just normal filter coffee (make an extra-strong batch and ice it down) — the coffee part here is entirely up to you.  Starbucks also sweetens their coffee with some vanilla syrup.  So if you would like, feel free to stir in a hint of vanilla and maple syrup too.  (I actually prefer this drink without the extra vanilla syrup, but it's up to you!)
Make the pumpkin foam. As mentioned above, there are many different ways to do this.  I simply added the cold milk, sweetener (maple syrup), pumpkin purée, vanilla, pumpkin spice and salt to a measuring cup.  Then used a handheld milk frother to froth the milk until it reached a tight whipped-cream-like foam consistency.  (For the first minute or so, I recommend holding the frother at a 45-degree angle, keeping half of the tip exposed and half submerged in the milk mixture, which will create a whirlpool with some large bubbles.  Then submerge the tip entirely until the foam at a 45-degree angle, and continue frothing the milk mixture until it reaches a tight, smooth consistency.)
Assemble the drink.  Pour the iced coffee over lots of ice, then spoon however much pumpkin foam you would like on top.  Sprinkle with a pinch of extra pumpkin pie spice or ground cinnamon.  Then serve and enjoy!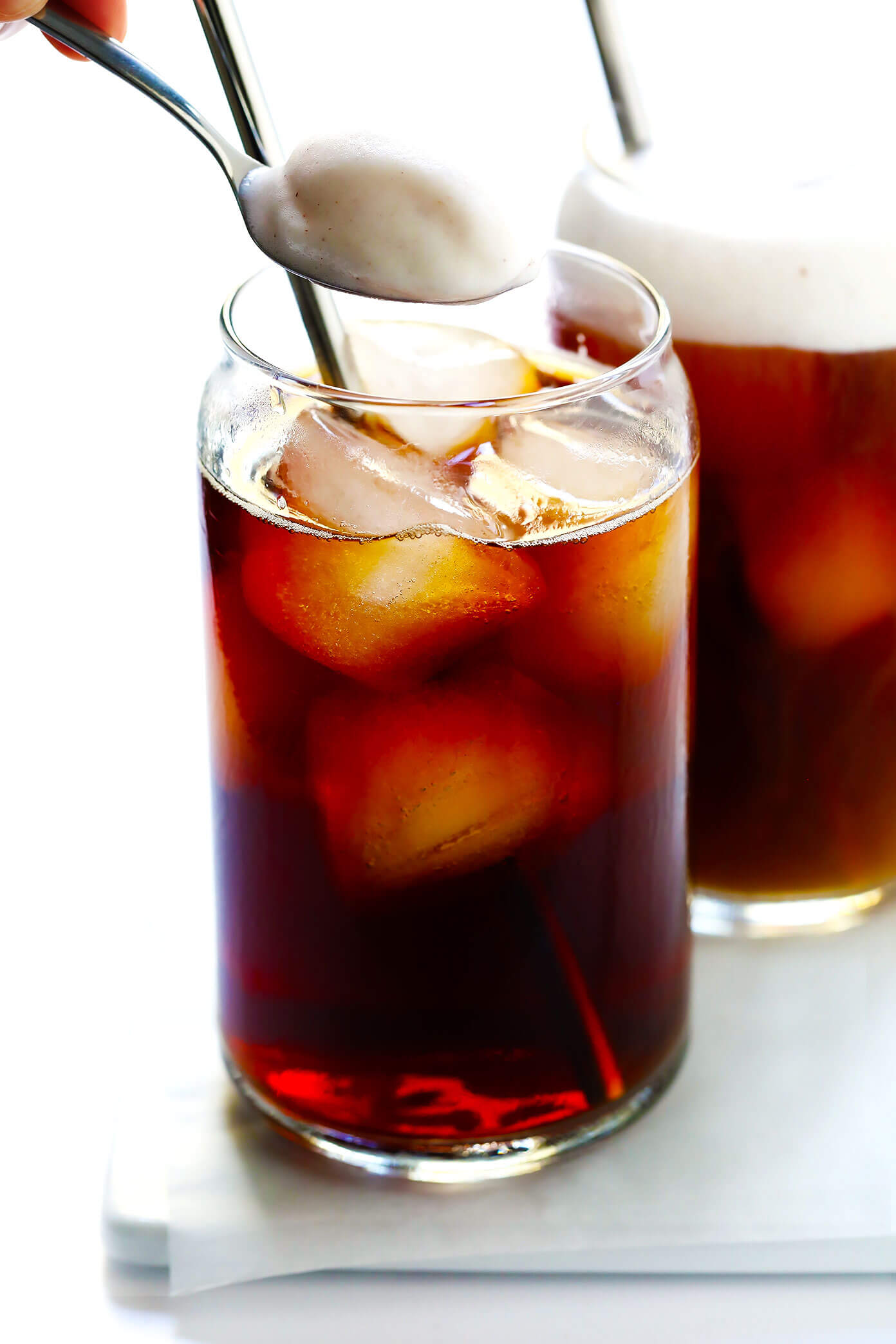 Pumpkin Foam FAQ:
Does the type of milk affect the foam texture? Yes.  As I mentioned above, skim milk is the easiest milk to foam.  But we've had success with other types of cow's milk (and half and half), almond milk and oat milk.  If using a non-dairy milk, I'd recommend trying a barista-blend (such as this one), which will foam up and hold its shape a bit better.
What to do if my pumpkin foam isn't foaming? Basically, the more ingredients that you add to your pumpkin foam, the harder it will be to froth up into a stable foam.  This is why I recommend using minimal sweetener and just a smidge of pumpkin puree.  The temperature of the milk also makes a big difference here, so double check that your milk is fresh-outta-the-fridge cold when trying to froth it.  And if the mixture really isn't frothing well, I recommend omitting the pumpkin puree entirely.
Can I make the pumpkin foam in advance? Nope, it's best made just before serving.
Can I make this without the pumpkin foam?  Sure thing, just stir the foam ingredients into your iced coffee and they will still be delicious!
How long will the pumpkin foam last? Totally depends on what kind of milk you use, as well as how tightly you froth the foam.  Ours lasted at least a good half hour when made with skim milk, but the almond milk version melted much more quickly.
Where did you find these cute cold brew glasses? We purchased these ones from Crate & Barrel and love using them for cold brews (hehe, of all kinds).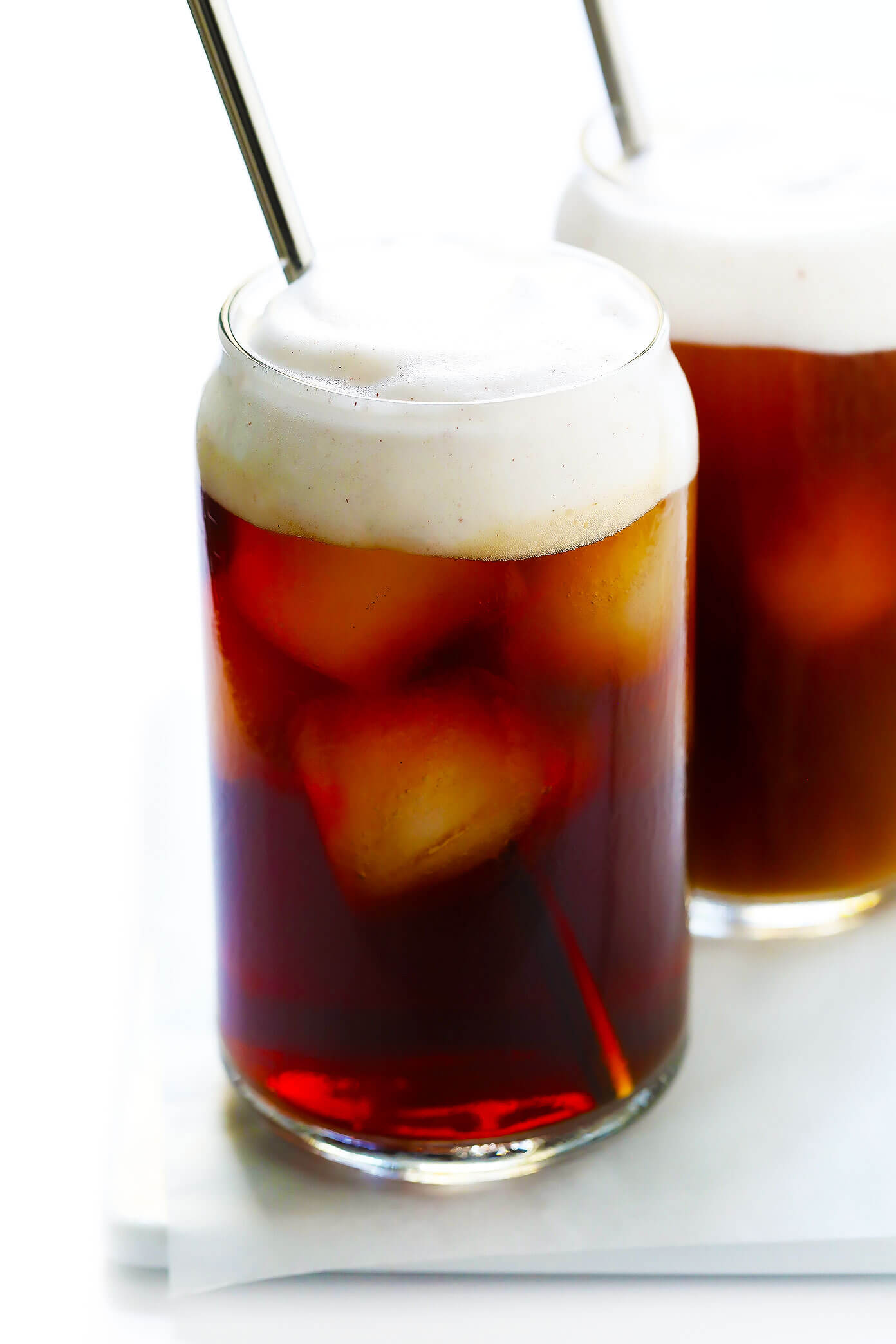 More Favorite Drink Recipes:
Looking for some more fun drink recipes to start your day?  Here are a few of my faves: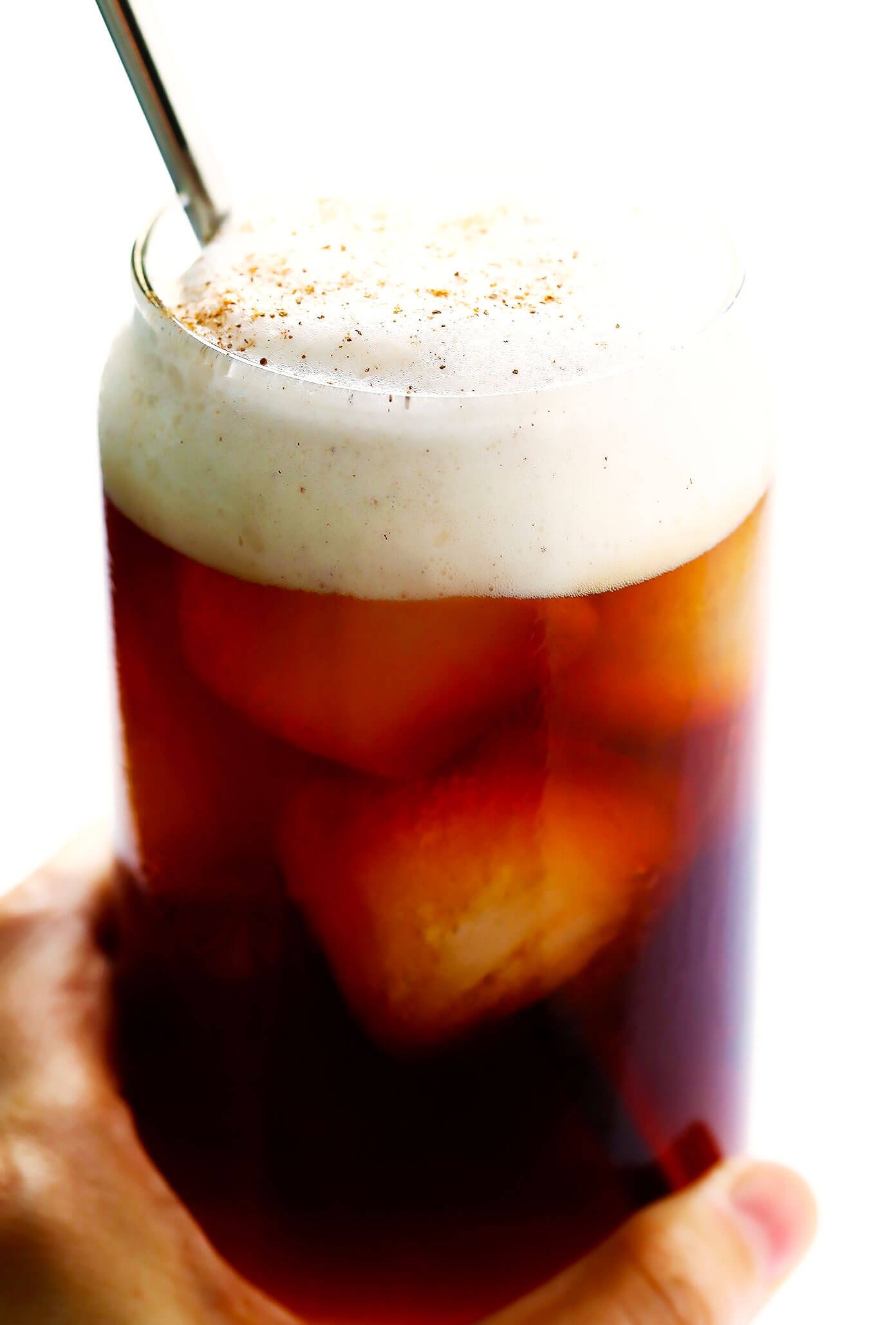 Link to the original: Original Source Link