Loaded with over 10 cups of vegetables (a good thing, I promise!), this easy cauliflower soup is creamy, cheesy, and super tasty!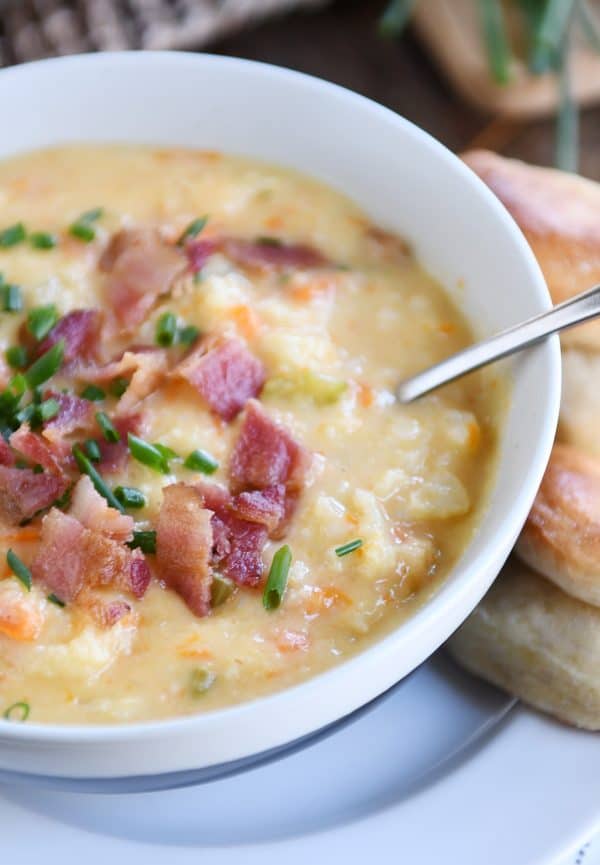 First of all, January is probably my least favorite month in the history of ever. I'm sorry to be a downer when right now when pretty much everyone I know is focused on happy goals and positivity and change and growth and removing sugar and toxic people from their lives forever.
I should view this month with more gratitude and purpose. But I really don't like it. Sorry. It's cold. It's dreary and brown (it'd be better if it would just snow, dang it). And there are no Christmas decorations and music to pep things up. 
However, let us not focus on the negative. No, not us. Instead, let's focus on the fact that the first recipe I'm posting in January (of a brand new decade, no less) is probably one of the most delicious soups of my existence. 
Now that's something to celebrate.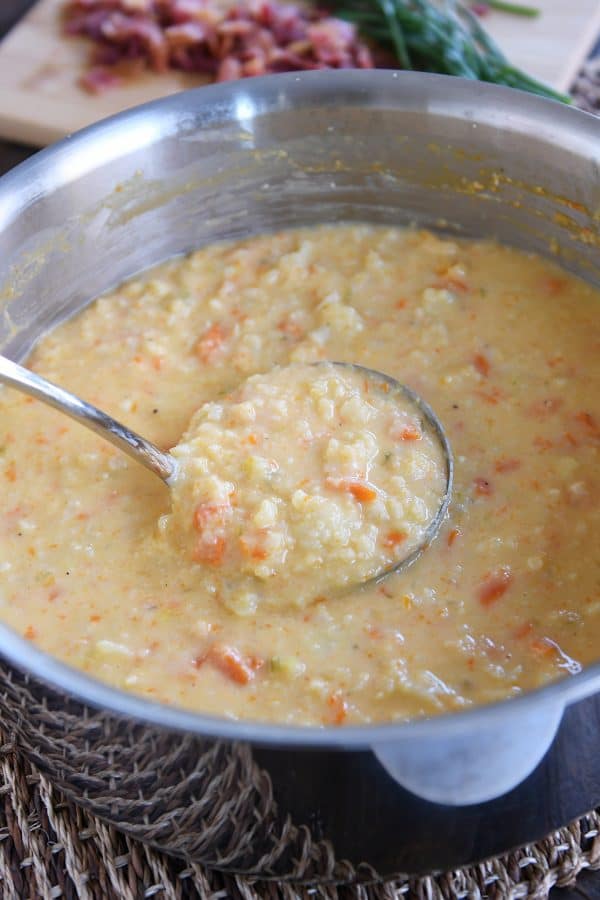 This loaded cheesy cauliflower soup may not look like much, but let me tell you: once you top it with all the optional (but not optional, if you know what I mean) garnishes, like bacon and chives and maybe a dollop of sour cream? Well, you're going to be very, very happy. 
Healthy vs Healthful
Also, while I wouldn't consider this soup extreme health food (which is definitely not my specialty anyway), it's definitely on the "healthful" side of the spectrum.
After all, it has over 10 cups of vegetables. And is crazy delicious. High fives all around.
It starts off with onions (or leeks – my favorite!), celery and carrots getting a quick sauté until they are just starting to get tender. They'll cook more in a sec.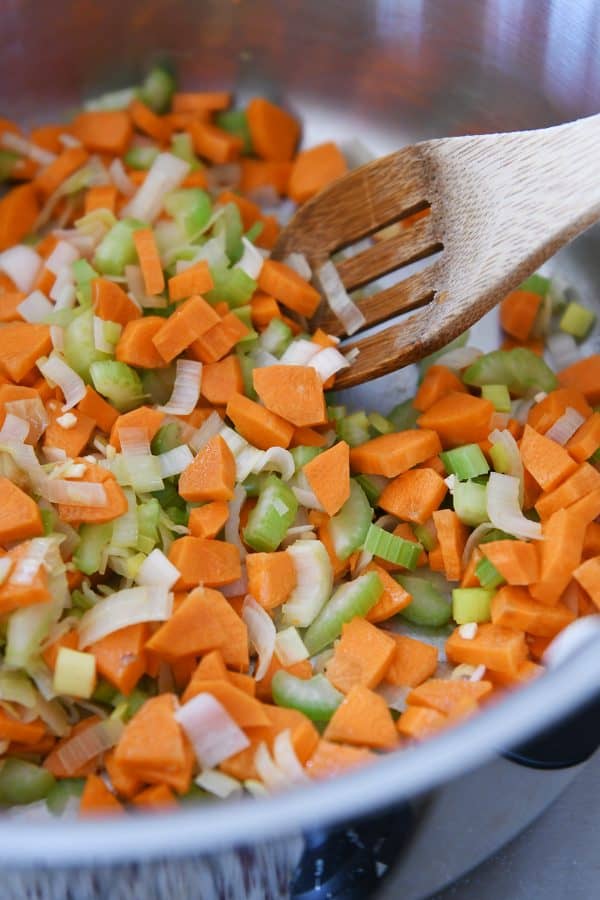 Loads and loads of cauliflower
This soup calls for a whopping 8-10 cups of cauliflower. That's about two medium heads of cauliflower chopped. Yes, that's a lot. No, it isn't a typo. 
The cauliflower will cook down a bit in the next step.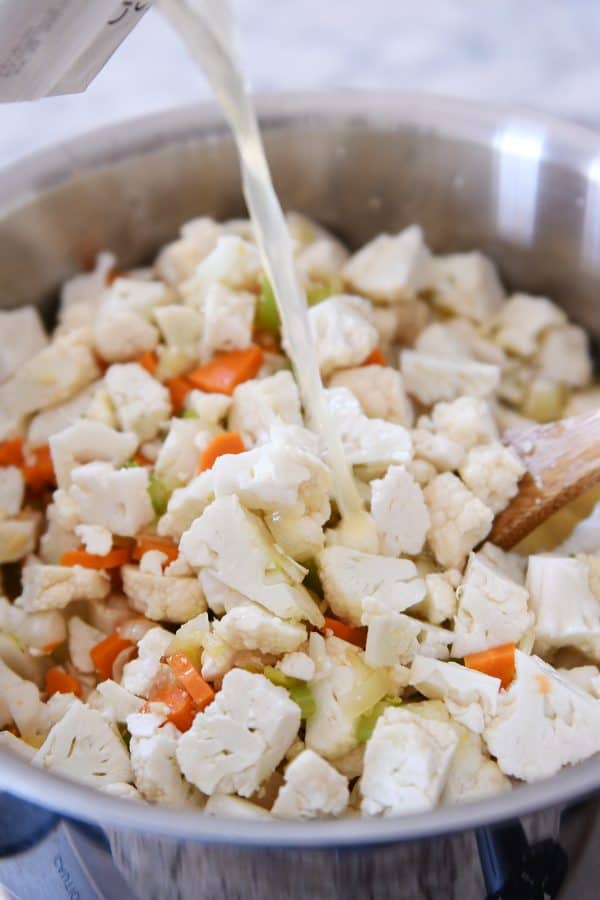 You can see the difference in the color, texture and size of the cauliflower after it simmers, covered, for about 10-15 minutes.
You want to cook it until it is very tender. Not al dente. Not kind of crunchy with tender spots. You want it very, very tender.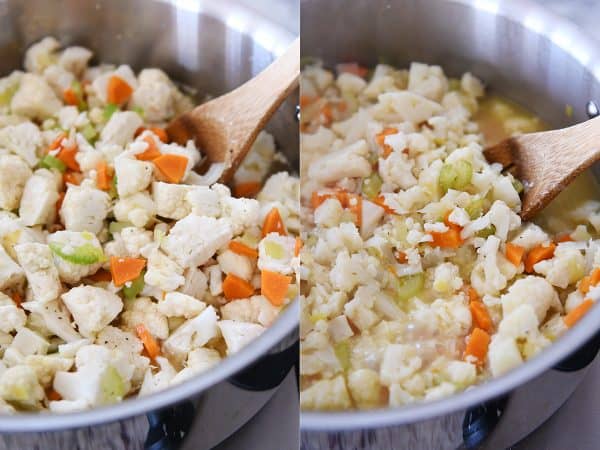 Blend vs Mash
You have a few options here:
You can use an immersion blender and blend the soup right in the pot. I prefer to blend just until there are some small bits of texture rather than blending until completely smooth.
You can transfer half (or more) of the soup to a traditional blender and process until however you like it (take care to vent the lid as blending hot soups can be a tad bit risky).
You can use a potato masher; since you already obeyed and cooked the cauliflower until very tender, the masher should make quick work of the vegetables. Added bonus: you can work out any anti-January aggression as you mash.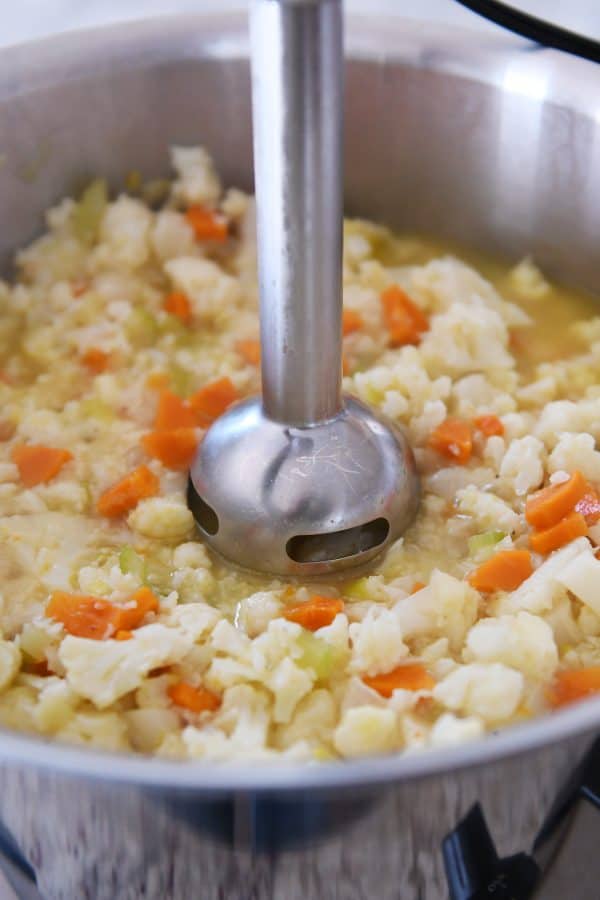 This is about how I like it.
Because there are carrots in this here soup, the blending action will turn the soup a slightly orange hue. Which is totally ok because we are going to enhance the color with some cheese in just a minute anyway.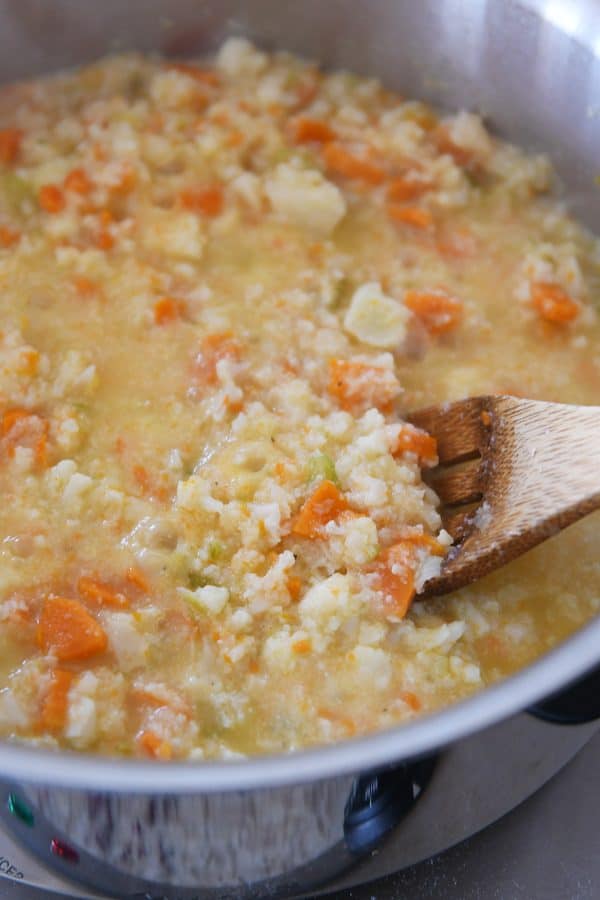 How to thicken the cauliflower soup
Instead of using heavy cream or making a traditional roux from butter and flour, I'm opting to cut a few calories here and instead use a quick-blended or whisked mixture of flour + milk. I use this method in a lot of other soup recipes, like this leftover turkey soup, and it works beautifully. 
Stir the milk mixture into the soup and cook it over medium heat for just a few minutes until slightly thickened.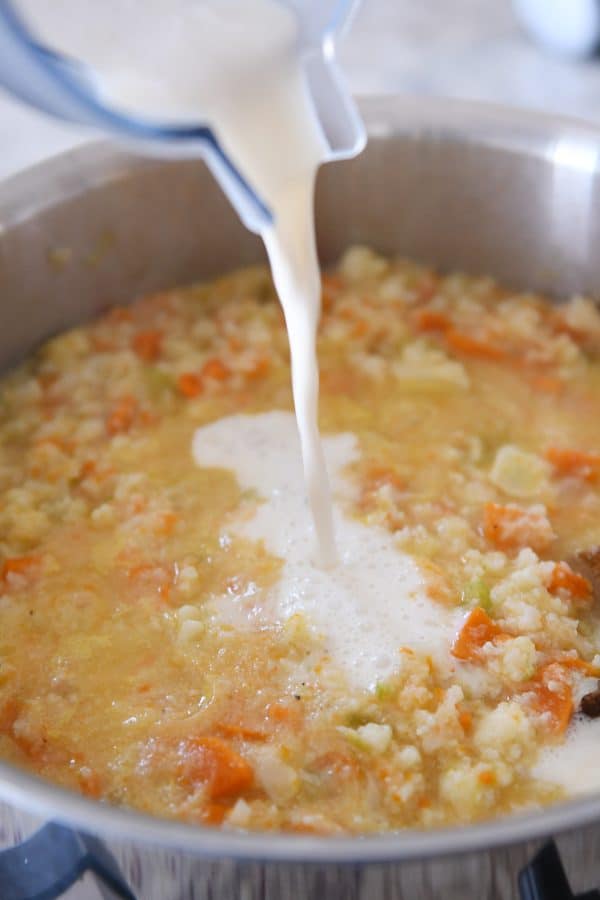 More or less cheese
Last step? Add that cheese! I add about a cup. Ok, a heaping cup. Fine, probably about two cups. 
You can add more or less depending on how you feel about cheese, life, and general happiness. 
I hate to do this (but I must): for optimal creaminess, use cheese you've grated yourself. Preshredded cheese (I know, I'm a broken record) doesn't melt as well because it's often coated with a powdery substance to keep it from sticking together. 
There. There you have it.
This loaded cheesy cauliflower soup is so insanely good. I can almost revise my January estimation now after all the positivity I've generated by thinking and talking about this soup. 
Of course, we like to enhance the natural flavors with loads of garnishes. Bacon, chives, sometimes even a little sour cream and extra cheese. You only live once.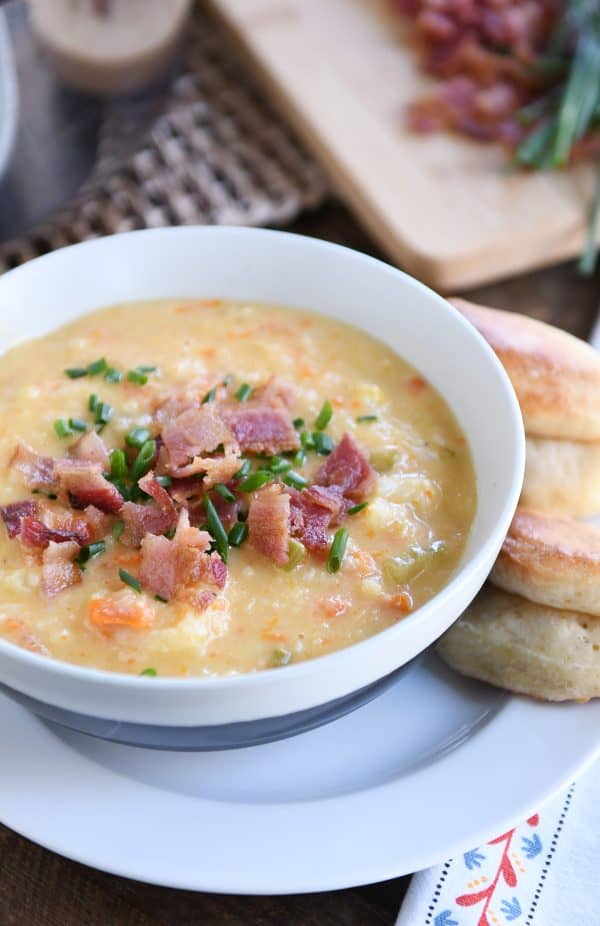 Divine Breadsticks or Fluffy Parker House Rolls
Fresh fruit or a green salad (like this romaine salad)
Yield: 6-8 servings
Prep Time: 20 minutes
Cook Time: 25 minutes
Total Time: 45 minutes
Ingredients
1 tablespoon olive oil
1 cup diced onion or leeks (about 1 medium onion or 1 large leek)
1 cup diced celery (about 3-4 medium stalks)
1 cup diced carrot (about 2-3 medium carrots, peeled)
3 cloves garlic, finely minced (or 1/2 teaspoon garlic powder)
8 cups chopped cauliflower florets, about 2 medium heads cauliflower
4 cups chicken or vegetable broth
1 teaspoon salt (I use coarse, kosher salt)
Pinch of black pepper
1 cup milk
1/4 cup all-purpose flour (see note)
1 cup shredded sharp cheddar cheese (see note)
Garnishes (optional):
Cooked, crumbled bacon
Chopped chives or green onions
Sour cream
Shredded cheese
Instructions
In a 6-quart or larger pot, heat the oil over medium heat until shimmering. Add the onion or leeks, celery, carrots and garlic, and cook, stirring often, until the veggies start to soften, 4-5 minutes.
Add the cauliflower, broth, salt and pepper to the pot. The broth won't fully cover the vegetables; that's ok. Give the mixture a good stir and bring to a simmer over medium-high heat. Reduce the heat to medium, cover the pot, and cook for 10-15 minutes until the cauliflower and other veggies are very tender.
Use an immersion blender, potato masher (or transfer half of the soup to a blender – taking care to vent the lid when blending the hot soup), and blend or mash the soup until the cauliflower is the desired consistency. I prefer some small bits of texture rather than blending until completely smooth.
Whisk or blend together the milk and flour until smooth. Pour the mixture into the soup, stirring constantly, and cook the soup over medium heat until slightly thickened, 4-5 minutes.
Off the heat, stir in the shredded cheese until melted. Add additional salt and pepper, to taste, if needed.
Serve the soup, if desired, topped with bacon, chopped chives or green onions, sour cream, and extra shredded cheese.
Notes
Cauliflower: if you end up with a bit more or a bit less cauliflower, it's ok. It doesn't have to be exact. You can also use the stems (might need a few extra minutes of cooking to soften).
Broth: I always use low-sodium broth (chicken broth for this recipe, but vegetable broth can be substituted for a vegetarian version)
Flour: for a gluten-free version, try 2 tablespoons cornstarch in place of the flour (or a gluten-free flour blend, although I don't know how well gluten-free flours thicken soups).
Cheese: sharp white or orange cheddar cheese will work in this recipe (so will medium or mild, but the flavor will be better with sharp cheddar). Using freshly grated cheese will melt better than using preshredded cheese (which is often coated with a powdery substance to keep it from sticking, but it also makes it melt less well).
Recommended Products
As an Amazon Associate and member of other affiliate programs, I earn from qualifying purchases.
Recipe Source: from Mel's Kitchen Cafe


Link to the original: Original Source Link