This post may contain affiliate links. Please read my disclosure policy.
This simple French Lentil and Mushroom Soup recipe is simmered with a cozy blend of veggies, herbs and greens.  It's healthy yet hearty, naturally vegan and gluten-free, and total French-inspired comfort food.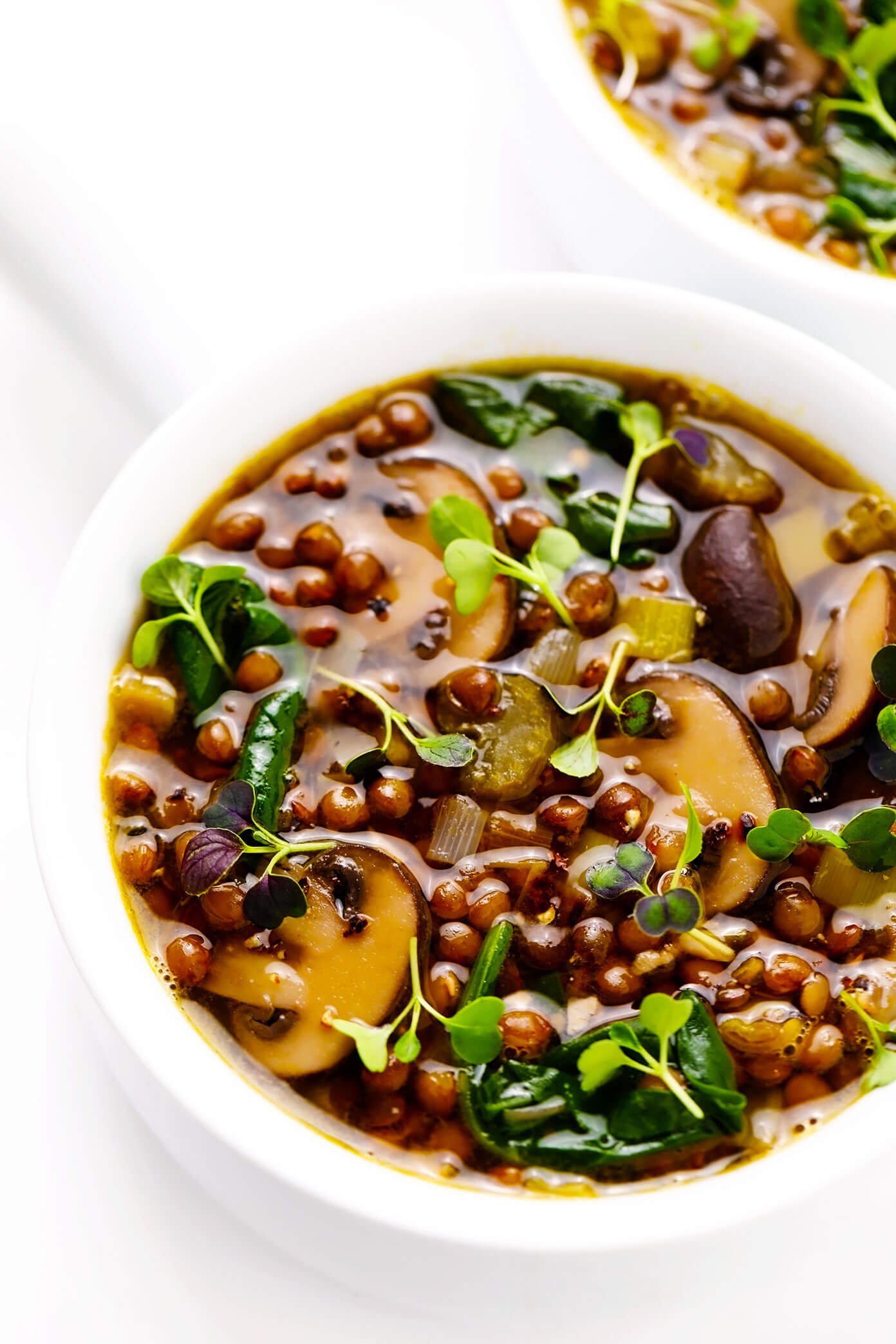 Anyone else "traveling" vicariously through your cooking lately?
Memories have been popping up on my phone the past few weeks from our trip to Provence, France a year ago when my husband's and my parents all came over to Europe to visit us.  And seeing photos of all of those beautiful countrysides, narrow cobblestoned streets, charming cottages, and dreamy local markets overflowing with fresh flowers, produce, breads, cheeses and wines has me feeling some major wanderlust again.  I'm so, so ready for the time to come when we can all safely travel again!!
Sigh, I know it's still going to be awhile.  So in the meantime, at least, Barclay and I have been re-living some of our favorite past adventures and dreaming about future trips to come through our meals.  And I have to say that this cozy French Lentil and Mushroom Soup recipe had us feeling all of those Provencal fall vibes again in the most delicious of ways. ♡
This lovely soup was inspired by our trips to the outdoor markets around Aix-en-Provence, where local mushrooms, leeks, greens and herbs were all proudly in season this time of year.  When simmered together with those beautiful marbled French lentils (my favorite type of lentils to use in soup) and finished with a splash of balsamic, they combine to make a simple yet wonderfully satisfying meal that we have been enjoying on repeat lately.  I intentionally wrote the recipe here to make a fairly large batch, since the leftovers keep beautifully for easy lunches and dinners later in the week.  And the recipe itself also happens to be naturally gluten-free, vegan, and packed with good-for-you-protein, making it the perfect healthier counterpoint to some of the more indulgent comfort foods we've been enjoying this time of year.
So if you could also use a bit of delicious taste of France in your life right now, gather up these ingredients and let's make a steaming pot of French lentil soup together.
French Lentil and Mushroom Soup Ingredients:
Before we get to the recipe below, here is a quick overview of the ingredients that you will need to make this French lentil and mushroom soup recipe:
Leeks: Leeks always remind me of our time in France and taste so lovely in this soup!  If you are new to working with leeks, here is a quick video tutorial for how to select, cut and clean leeks.  (It's quite easy!)  Or if you don't have a chance to pick up leeks at the store, you could alternately just dice one large yellow onion and add it to the soup instead.
Celery: Which we will thinly slice and sauté along with the leeks.
Mushrooms: I recommend adding lots of mushrooms to this soup — like, at least 1 pound.  Or if you really love mushrooms, you could add even more. ♡  I opted for baby bella mushrooms (also called creminis), but white button mushrooms, shiitakes, wild mushrooms, or a mix of any different varieties of mushrooms would work here.
Garlic: Because the seasonings for this soup are so simple, I recommend going big on the garlic here.  I used five large garlic cloves, but feel free to use more or less to taste.
White wine: I used a very generous pour of dry white wine to deglaze the pan, which also adds some rich flavor to the broth.  You could also use dry red wine instead.  Or if you prefer not to cook with alcohol, just add in some extra stock (plus maybe a bit more balsamic).
Veggie stock: Either veggie stock or chicken stock will do here.  And again, since the seasonings are so simple for this soup, I recommend purchasing some good-quality stock.
French lentils (or lentils de Puy): Fun fact — these are the same variety of lentils, but French lentils are technically grown in North America, while lentils de Puy are grown in France.  Whichever you choose, I love using these marbled lentils in this soup because they have a deliciously earthy and peppery flavor, they hold their shape when cooked, and retain a nice firm texture in this soup.  That said, if you can't get your hands on French lentils, you could easily substitute brown or green lentils instead.
Herbs: I kept things simple by just adding lots of fresh thyme and bay leaves to season this soup (along with salt and black pepper).  But the herbs in this soup are quite flexible.  Rosemary, tarragon, and/or herbs de Provence would all taste delicious too!
Greens: I happened to have baby spinach in the fridge, so added a few large handfuls to wilt down into the soup just before serving.  But chopped fresh kale or collard greens would be delicious options too.  (I also sprinkled some microgreens on top of the bowls before serving, which looked lovely!)
Balsamic vinegar: And finally, I highly recommend adding a drizzle of balsamic vinegar to the soup just before serving for a final burst of flavor.  (A tip I learned from Bon Appetit — merci!)  You can either add the balsamic to the large stockpot or drizzle some over each individual bowl of soup just before serving.  Delicious!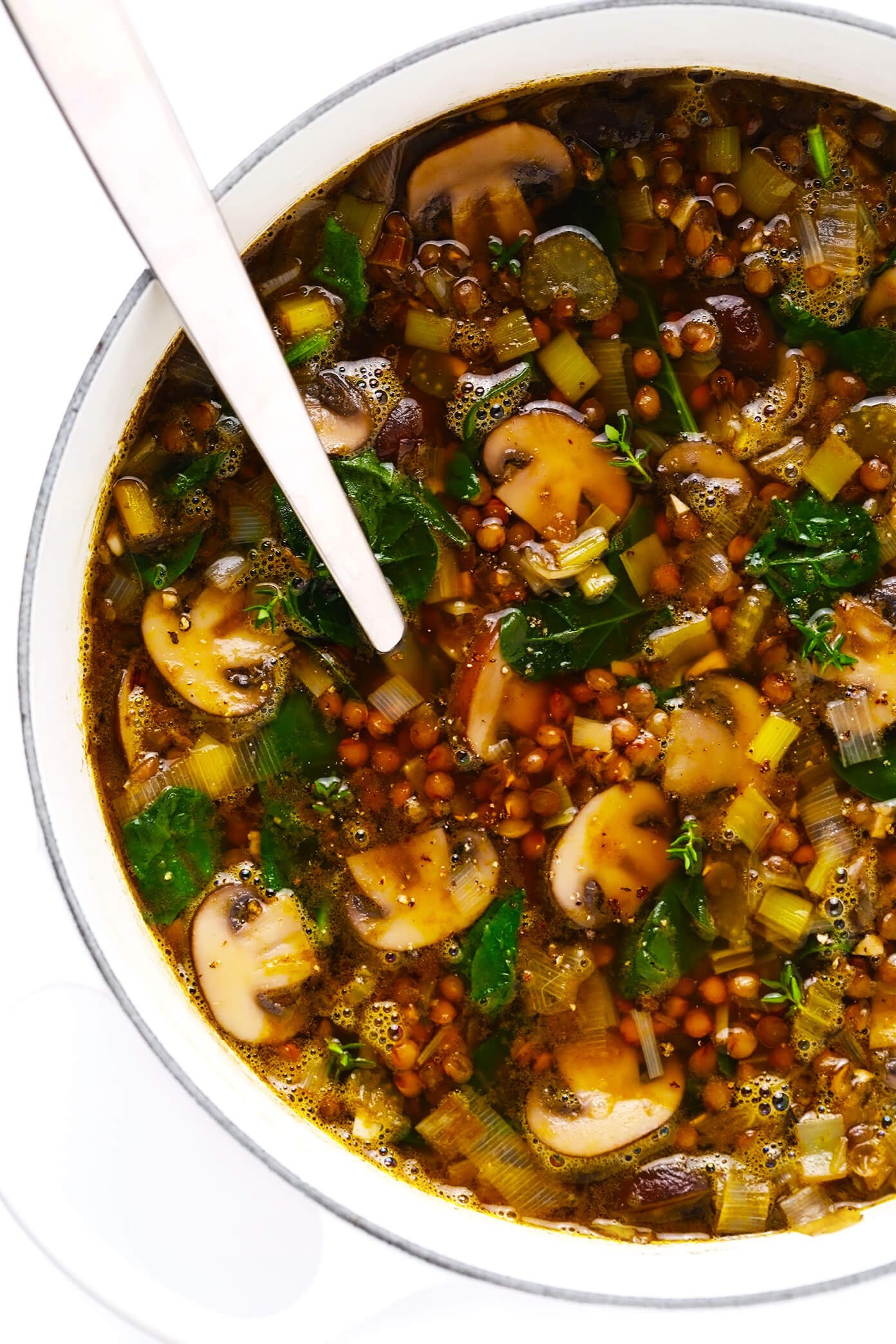 Possible Recipe Variations:
This simple French lentil and mushroom soup recipe is quite flexible, so feel free to customize the ingredients here however you might like.  For example, you could…
Add bacon or pancetta: If I wasn't making this soup vegetarian, I would have definitely added some diced bacon or pancetta (and sautéed the veggies in its leftover grease) to add some extra flavor and protein to this soup.  It would be delicious!
Add tomatoes (or tomato paste): Feel free to also add in a can of diced tomatoes or a tablespoon (or two) of tomato paste to add some tomato flavor to this lentil soup.
Add potatoes: You could also add in some diced potatoes to make this a bit more hearty.
Add cheese: If you happen to have a block of Parmesan on hand, some freshly-crated cheese would taste delicious sprinkled on top of each serving.
Purée the soup: Feel free to also use an immersion blender (or you could transfer the soup in small batches to a traditional blender) to purée part or all of this recipe to make the broth a bit thicker.
Omit the wine: If you prefer not to cook with alcohol, just add in a bit of extra stock plus an extra small drizzle of balsamic vinegar.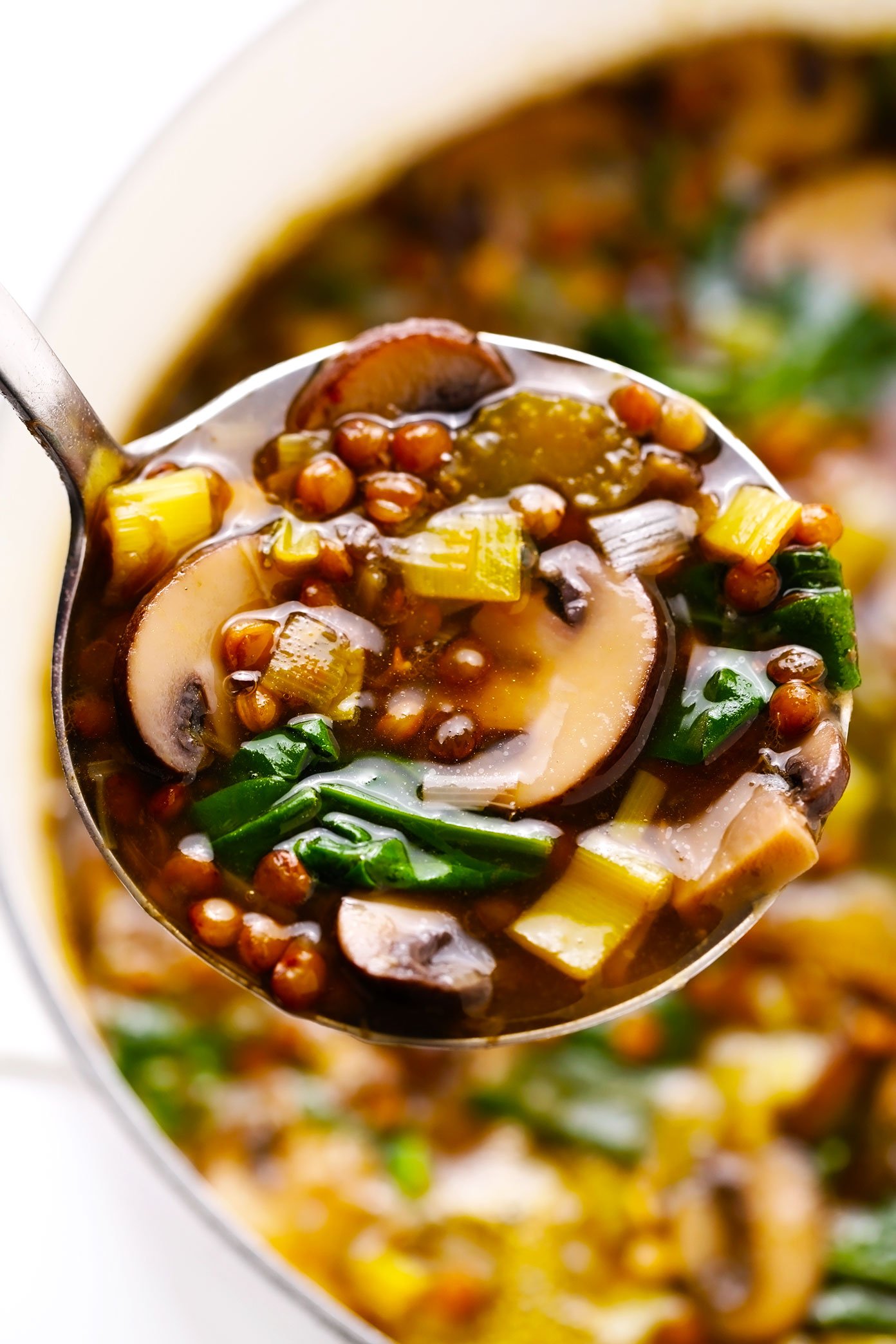 More Favorite Lentil Soup Recipes:
Looking for more lentil soup recipes to love?  Here are a few of my faves: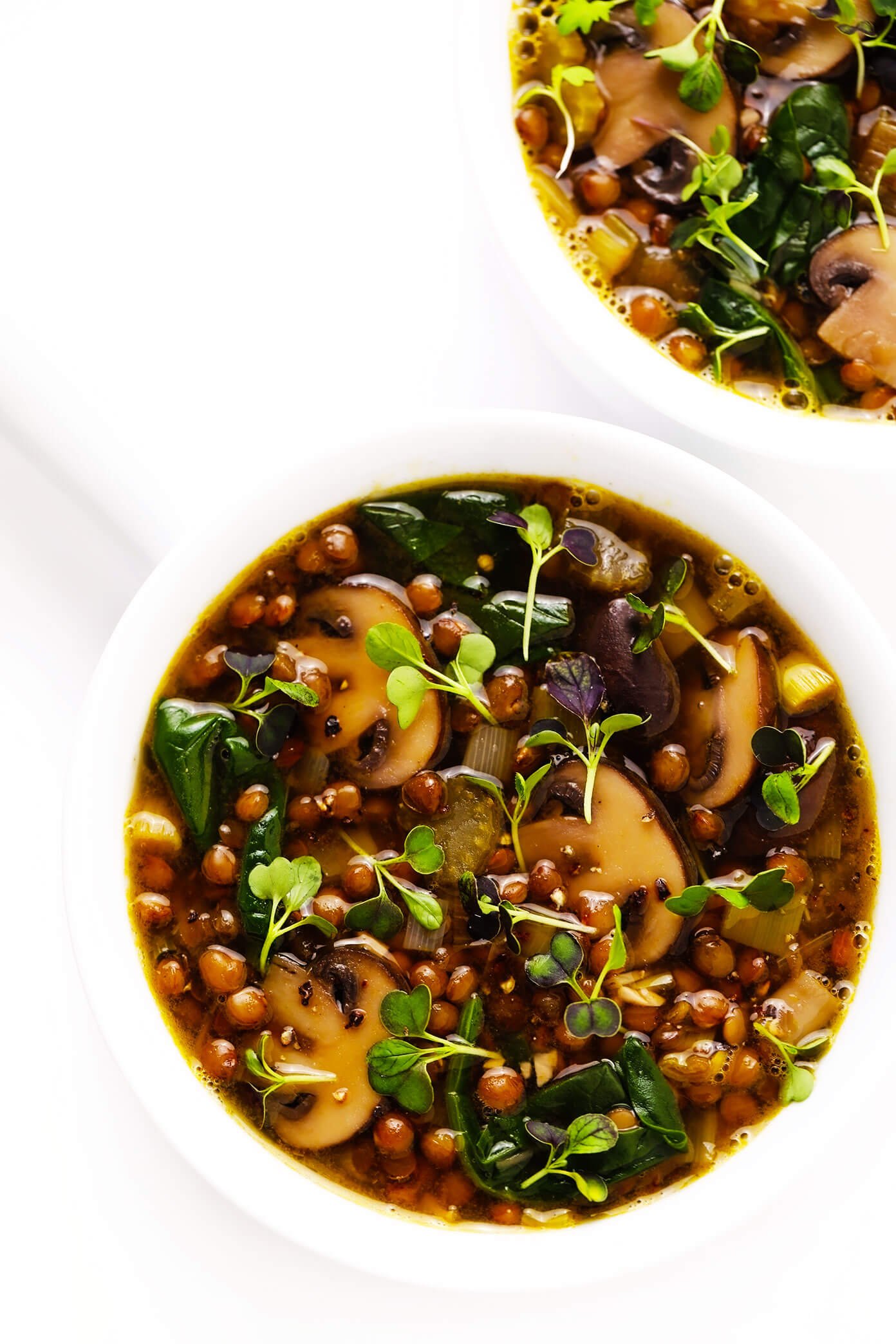 ---
Description
This simple French Lentil and Mushroom Soup recipe is simmered with a cozy blend of veggies, herbs and greens.  It's healthy yet hearty, naturally vegan and gluten-free, and total French-inspired comfort food.
---
---
Instructions
Sauté the veggies. Heat the olive oil in a large stockpot over medium-high heat.  Add the leeks, celery, mushrooms, and sauté for 6-8 minutes, stirring occasionally.  Add the garlic and sauté for 2 minutes, stirring occasionally.  Pour in the white wine and deglaze the pan by using a wooden spoon to gently lift up any brown bits that have stuck to the bottom of the pan.
Simmer. Add in the vegetable stock, thyme and bay leaves and stir to combine.  Continue cooking until the soup reaches a simmer.  Add in the lentils and stir to combine.  Then reduce heat to medium-low, cover, and simmer for 30 minutes or until the lentils are tender, checking back occasionally to stir the soup so that the lentils do not stick to the bottom of the pot.
Season.  Remove and discard the thyme sprigs and bay leaves.  Stir in the spinach and balsamic until the spinach begins to wilt.  Then give the soup a taste and season with however much salt, black pepper, and/or extra balsamic you think is needed.
Serve. Serve the soup warm,* garnished with an extra crack of black pepper (I also sprinkled some microgreens on top of mine), and enjoy!
---
---
Notes
Prepping the leeks: Leeks can often have dirt hiding between their inner layers. So I recommend first trimming off and discarding the dark green parts and the ends of each leek.  Then carefully slice the leeks in half lengthwise, slice each half into lots of thin half-moons, transfer the chopped leeks to a strainer and rinse with cold water (while tossing the leeks with your fingers to uncover any dirt), and drain.
Herb options: I recommend adding in lots and lots of fresh thyme to this recipe.  But you could use a few teaspoons (add to taste) of dried thyme instead, if that's what you have on hand.  Or rosemary, tarragon, and/or herbs de Provence seasoning would be delicious in this recipe too.
A note about broth: This soup will continue to soak up more broth the longer that it sits in a hot pot.  So if needed, feel free to add in some extra stock and seasonings to increase the amount of broth.
Storage instructions: Leftover soup can be cooled to room temperature and then transferred to food storage containers, then either stored in the refrigerator for up to 3 days or frozen for up to 3 months.


Link to the original: Original Source Link