This post may contain affiliate links. Please read my disclosure policy.
This make-ahead mushroom gravy recipe is naturally vegetarian (and vegan) and full of the best, rich, savory flavors.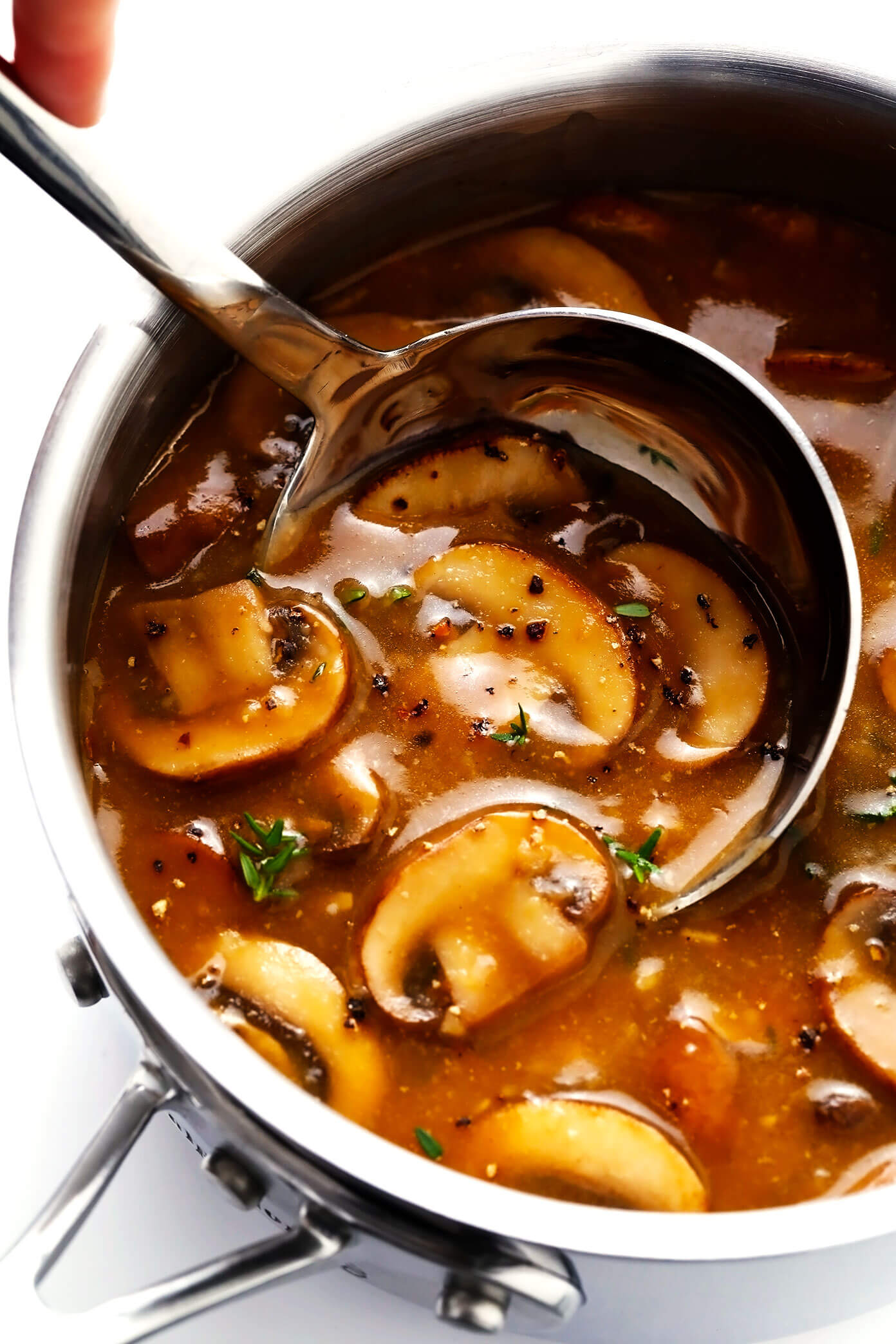 Last year for our big Friendsgiving dinner, I whipped up an improvised vegan gravy recipe to serve to our plant-based friends in the group, as an alternative to my traditional gravy made from turkey drippings.  And as it turns out, the vegan gravy totally stole the show that evening.  Everyone around the table absolutely loved this mushroom gravy!
So this Thanksgiving, I wanted to be sure and share the recipe with you all too. ♡
This vegan gravy is made with a simple base of mushrooms, onions, garlic, veggie stock, thyme, and butter (or vegan butter).  But to add in some extra depth of flavor, I deglazed the pan with a generous splash of white wine (or brandy or bourbon would also be delicious) and also added in a spoonful of miso paste (or you could use a dash of soy sauce) for extra umami goodness.  And together, all of those savory ingredients combined to make a full-flavored gravy that arguably rivals any meat-based gravy I've ever tried — no turkey required!
The other big bonus with this mushroom gravy recipe is that it's easy to make up to a few days ahead of time, which comes in very handy if you happen to be serving it around the holidays.  I've also included options below if you would like to make your gravy gluten-free or alcohol-free, plus tips for how to make your gravy more creamy if you would like.  And while I happen to love the hearty mushroom chunks in this gravy, you are of course totally welcome to purée yours if you prefer a silky smooth gravy too.
Let's make some!
Mushroom Gravy Ingredients:
Before we get to the full recipe below, here are a few notes about the ingredients you'll need to make this mushroom gravy recipe:
Butter (or vegan butter): We will use a few tablespoons of butter to sauté the veggies and mushrooms.  Then I also love melting in a pat of butter just before serving to make the gravy extra rich and creamy.
Onion and garlic: To season the broth.  If you prefer a milder onion flavor, feel free to sub in shallots, green onions or chives instead.
Mushrooms: I used a pound of baby bella (cremini) mushrooms, whose texture and flavor I always love.  But feel free to use white button mushrooms, shiitake mushrooms, wild mushrooms instead.  Or you could also rehydrate some dried porcini mushrooms too.
Flour: To thicken the gravy (or see a gluten-free option below).
Dry white wine: To deglaze the pan.  Alternately, you could use brandy, bourbon, or even some beer.  Or if you prefer not to cook with alcohol, you can just add in a bit of extra veggie stock instead.
Vegetable stock: To serve as the base for our gravy broth.  Alternately, feel free to use chicken or beef broth.
Thyme: I love the classic flavor of fresh thyme in this gravy (or you could use a few pinches of dried thyme).  But feel free to add in whatever chopped fresh herbs you have on hand that sound good.  Rosemary or sage would both be delicious alternatives.
Miso paste: To add some extra umami flavor to the gravy.  If you don't happen to have miso paste on hand, feel free instead to add in few teaspoons of soy sauce or nutritional yeast, to taste.
Salt and pepper: Don't forget to season taste and season the gravy with sea salt and freshly-cracked black pepper, as needed, to finish!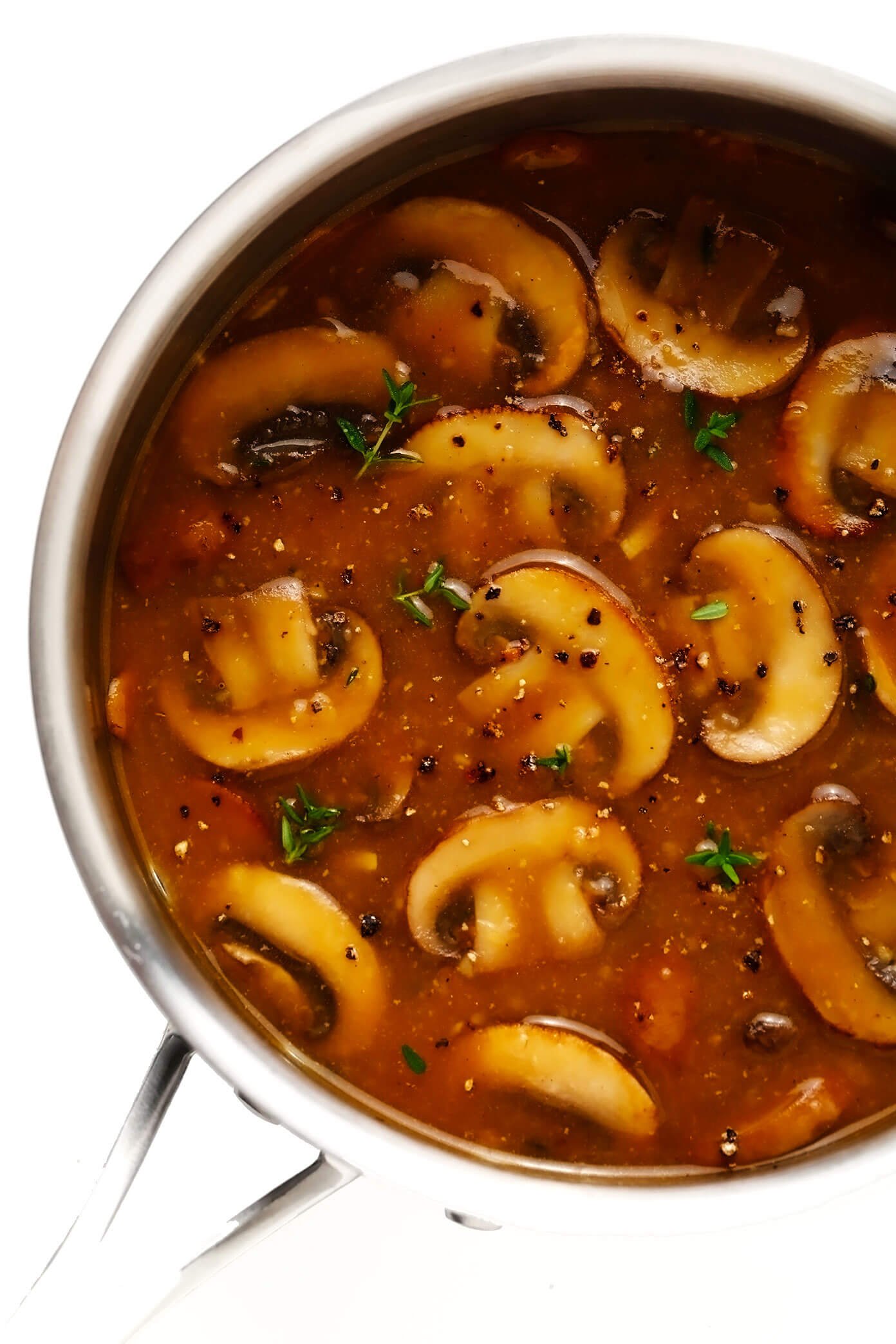 Possible Recipe Variations:
This recipe is quite flexible, so feel free to adjust ingredient amounts and customize things as you wish!  For example, feel free to…
Make it gluten-free: Instead of using the flour to thicken the gravy, you can make a cornstarch slurry with extra veggie stock (just whisk together equal parts room-temperature veggie stock and cornstarch until combined) and add it to the simmering gravy until it reaches your desired thickness.
Make it alcohol-free: Add in some extra veggie stock in place of the white wine.
Make it creamy: Add in 1/2 cup of heavy cream or coconut cream, if you would like to make this gravy more creamy.
Make it smooth: Use an immersion blender to purée the gravy until smooth.  Or carefully transfer the gravy to a traditional blender — being sure to tent open the cap on the blender lid so that hot air can escape — and purée until smooth.
Use different herbs: As mentioned above, fresh rosemary or sage would also be delicious herbs to use in place of (or combined with) the fresh thyme.
Miso paste alternatives: If you don't happen to have miso paste on hand, you could alternately add in a few teaspoons of soy sauce or nutritional yeast, to taste.
---
Description
This make-ahead mushroom gravy recipe is full of the best, rich, savory flavors and naturally vegetarian (and vegan).
---
Scale
Ingredients
3 tablespoon

s butter (or vegan butter), 

1/2 cup

diced white onion, diced

1

pound baby bella mushrooms, sliced

2

large cloves garlic, minced

3 tablespoon

s all-purpose flour

1/4 cup

dry white wine

2 1/2 cup

s vegetable stock

2 teaspoon

s fresh thyme leaves

2 teaspoon

s white miso paste*
fine sea salt and freshly-cracked black pepper
---
Instructions
Sauté the veggies: Heat 

2 tablespoons

butter in a sauté pan or saucepan over medium-high heat until melted.  Add the onion and sauté for 3 minutes, stirring occasionally.  Add the mushrooms and garlic and sauté for 5 to 7 minutes, stirring occasionally, until the mushrooms are browned and the excess liquid has mostly evaporated.  Add the flour and gently toss it with the mushrooms for 1 minute.
Deglaze the pan. Stir in the white wine and use a wooden spoon to gently scrape up any browned bits that have stuck to the bottom of the pan.  Add in the vegetable stock and thyme, and gently stir until no more flour clumps remain.  Continue cooking until the gravy reaches a simmer and thickens, then reduce heat to low.
Add the miso. Briefly transfer about 1/3 cup of the gravy broth to a separate bowl and whisk it with the miso until smooth.  Add the mixture back to the gravy along with the remaining 

1 tablespoon

of butter, and stir until combined.
Season. Taste the gravy and season with salt and pepper, as needed.  If the gravy is too thick for your liking, feel free to also add in extra veggie stock to thin it out.  (Note that the gravy will thicken more as it cools.)
Serve. Serve warm and enjoy!
---
---
Notes
Storage instructions: To store the leftover gravy, let it cool to room temperature.  Then transfer the gravy to a sealed food storage container and refrigerate for up to 4 days.  Gravy can be reheated either in a saucepan over medium-low heat or in the microwave.


Link to the original: Original Source Link